When professional truck drivers are paid by the mile or by the hour, truckers income is linear. This means that you're earning money one time, from trading your time or completing tasks.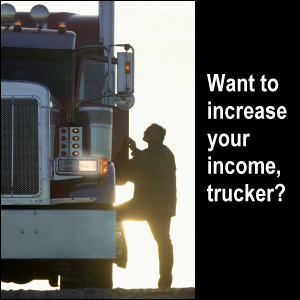 Once your time is spent, you can't get it back or do it over. It's gone.
One common complaint among truckers is not getting paid for all the work they do or the time they spend waiting to get loaded or unloaded.
So, we are going to discuss options for expanding your income because the more you earn, the more you can save.
Options for Increasing Income
Some truckers have begun to earn a second income (or extra income) while they're on the road.
They earn money by writing blogs or websites online — and possibly accepting advertising on them.
Once articles or reviews are published, many people can view them over and over again and thus provide the means by which to earn income over time.
For example, we designed our Truckers Savings Journalists program to help truckers earn money from advertising that appears with articles and reviews they've written and submitted to this site.
Other additional truckers income is generated from affiliate programs such as Amazon.com.
The trick is to find products or services that meet the needs of your customers.
You must choose the scope and quality of what you want to offer.
We're familiar with one diesel fuel additive that has helped truckers increase their fuel mileage, so they would naturally feel good about referring it to others.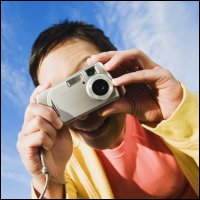 If you're into taking photos, making audio recordings or recording videos, your truckers income can increase depending on the financial model you choose.
Some folks earn money from these by selling products outright or taking paid subscriptions to or accepting advertising on podcasts.
The more options you explore, theoretically, the more money you can earn.
However, if you spread yourself too thin, you can wear yourself out.
Options for additional truckers income that may not work well are those that require you to be somewhere stationary while you need to be out on the road.
These may include selling hard goods through eBay or Craigslist.
(Of course, these opportunities might be perfect for truckers wives or other home support team members who are at home while you're on the road.)
Exploring Leveraged Income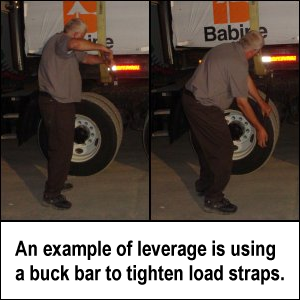 Some money making opportunities allow folks to earn what is called leveraged income.
This means that you're earning money from the efforts of others whom you have helped become successful, with payment on the basis of referral fees, network marketing, brokerage, etc.
Flatbed drivers who use a "buck bar" to cinch down the straps on their loads are very familiar with the concept of leverage.
In the photos shown here, Mike is using a buck bar to tighten a strap on a flatbed load.
Not all leveraged income opportunities — sometimes referred to as multi-level marketing businesses (or MLMs) — are suitable for professional truck drivers.
Because your truckers income, reputation and future depends on it, examine all aspects of a future business before you invest a single cent in a leveraged income opportunity.
A Closer Look
There were certain things that were very important to us when we were looking to increase Mike's truckers income.
Since trucking is one of the top 10 most deadly occupations in America, one thing that was particularly important to us when we were looking at expanding our business with a leveraged income opportunity was the ability to "will" (or bequeath) that part of our business to our heirs or legal representatives upon our death or incapacitation.
Another important factor was not being required to reach a sales quota from others each month.
We also needed a business that matched our personal philosophy and is "trucker friendly."
Of course, we wanted a business where we had unlimited income opportunity.
Think about the possibilities of a leveraged income opportunity as part of your truckers income.
What if you joined a network marketing company that:
produced products you believed in and
would pay you whenever people whom you refer to the company bought them?
What if you built an organization in which you referred just one, two or three other people who did the same, down through five levels?

What kind of network of wellness, purpose and abundance could you build?
In such a scenario, you wouldn't be dependent just on your own efforts at making money — and there would be no caps on your truckers income as you currently have in trucking.
---

Money saving tip: The wrong choices could end up costing you a lot of money.
Just because your best friend is earning money at something doesn't mean that you will.
Every person has his or her own path to forge.
What if you spend years building a business selling someone else's product and then you become incapacitated?
Will your residual income continue or cease?
If you are required to make purchases in order to earn commissions or bonuses from a leveraged income opportunity, look to see if you receive something in return.
If you receive something, find out if it is appropriate legally and size-wise to take it on the road with you.
Is the product or service something that can be used in every type of economy or only when folks have money to burn?
Does the product or service replace something that you're already using so that you don't feel that what you're buying is an "additional" cost?
Thoroughly read through each and every "distributor agreement" or legal contract that you intend to sign to make sure you know what you're committing yourself to.
Some people consider that the best network marketing opportunities stem from selling consumable products.
Do your own personal substantiation test before attempting to sell these products to others.
Based on our experience with the products, we encourage both truckers and truckers' wives to investigate the leveraged business opportunity we refer to through our Second Income page.
---
Return from Increasing Truckers Income: Linear Income vs. Leveraged Income to our Budgeting page or our Truck Drivers Money Saving Tips home page.
---