The Heavy Highway Vehicle Use Tax form can be filed electronically through 2290tax.com or manually (IRS Form 2290 and Instructions) or by other means. (Please note: This page has been updated with a new Promo code for 2013.)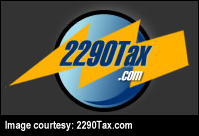 Abbreviated as HHVUT, it must be paid annually for every truck weighing over 55,000 pounds that drives on public highways in the USA.
It is painful enough to have to pay the tax every year.
Many professional truck drivers are willing to pay a little something in order to avoid the added pain of having to manually print out, fill out and send in Form 2290.
That's where services such as those provided by 2290tax.com come in.
We took the liberty of watching one of their videos (embedded below), which describes
the process of using their electronic filing system,
the cost of the service, and
how to get a discount on the service.

According to their Support Center's Frequently Asked Questions page,
"The 2290 is due every July, and is late if not filed by August 31st. Both the tax return and the tax must be paid by the deadline in order not to be considered delinquent and owe extra fines and penalties. This tax must also be paid anytime a new vehicle is added to your fleet for the remainder of that year. In this case the tax is due by the end of the month following the date the vehicle is first used on the public highways."
They recommend that to avoid late fees and penalties that filers "e-file a minimum of three business days prior to the filing deadline".
Of all the businesses that perform a similar service, some drivers may appreciate the fact that this one is "owned and operated by a trucking family."
Need a Boost? How About a Bigger Promo Code?
The folks at 2290tax.com have been kind in setting up a special promotional code (aka "promo code") to help professional truck drivers save money when filing their Annual Form 2290 (HHVUT).
Whereas the video above provided a promo code for $5 off, the following promo code — available exclusively here — will let drivers save $7 off the cost of the service: TDMST2013.
Just enter it in the web form, apply it and save.
And in case you're wondering, no, we don't get any kind of commission or referral fee making this available to you. It's just one more way that we at Truck-Drivers-Money-Saving-Tips.com help truckers save money.
Once you've used the service, please don't forget to review it below.
---

If you are a professional truck driver and you have used the services of 2290tax.com within the last year, we invite you to review it through the form below, answering questions such as these:
What did you like and dislike about the service?
How well did the service work to file your Heavy Highway Vehicle Use Tax form?
Did the service automatically fill in your information on all forms you needed to print based on your input?
How would you rate the quality of the service?
Do you think the service was worth the price you paid for it?
How much time did this service save you?
Would you buy this service again and why?
---
---

Return from Review of 2290tax.com for Filing Annual Form 2290 (HHVUT) to our Service Reviews page or our Truck Drivers Money Saving Tips home page.
---