Members of the heavy-duty trucking industry meet at the Mid America Trucking Show (MATS) for "face-to-face interaction between industry representatives and trucking professionals."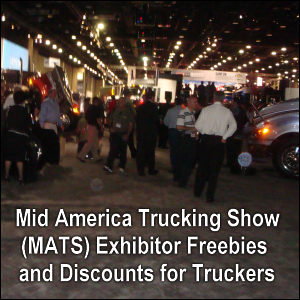 Vicki has attended this show for the purpose of researching the latest products and services that can provide professional truck drivers with a competitive edge (that is, to help them save money).
We encourage professional truck drivers to review products and services
they have purchased and used as a result of their having found out about them at this trucking show.
You can learn more about MATS online.
The purpose of this page is to provide a platform through which all MATS exhibitors can share info about the trucker freebies and trucker discounts they'll be giving away at this year's show.
Perhaps your business is
having a drawing for a big gift,
giving away freebies to everyone who stops by your booth,
taking trucker registrations for a raffle, or
issuing discounts toward future purchases of your products or services.
Whatever freebies and discounts you're planning to give to professional truck drivers at the Mid America Trucking Show, this is
your opportunity to let folks know about it!
After we get your information through the form below, we will do two things:
create (or update if you're listing here again) a page on our site containing your details
(except your email address and phone number) and
put a link to that page on our site and publicize it through our RSS news feed.
A few gentle requests about using our form:
Please make sure that only one properly authorized person from your business submits info from your business one time. (We don't want to goof up by having multiple listings from multiple people at your business.)
If your business plans to give away multiple types of things, make sure that truckers know the conditions
regarding — and/or how to register for — each type of freebie or discount.
Don't forget to tell us how much each of your freebies and discounts are worth (their value).

Remember, this is free publicity for you.

Please double-check what you have entered in the form before you hit the Submit button. (It may help you to type out your info separately and then just copy and paste the info into the fields.)
We have set up our form to automatically send you an email with the information you submitted. If you receive an autoresponder message by email, that means we received what you sent. We will do our best to publish your Mid America Trucking Show info as quickly as possible.
Please use the "Any additional info" section of the form to express your appreciation to Truck-Drivers-Money-Saving-Tips.com for providing this free publicity to you (and please also feel free to provide a backlink to us on your site 🙂 ).
If you know of a business that should publish their Mid America Trucking Show (MATS)
freebies and discounts here, please send them one of these as a tweet or Facebook post (including both hashtags, please):
List your Mid America Trucking Show Exhibitor Freebies and Discounts for Truckers online free: [link removed] #MATS #TDMST

List your MATS Exhibitor Freebies and Discounts for Truckers online free: [link removed] #MATS #TDMST
Thanks in advance for sharing information about your MATS exhibitor freebies and discounts with us and our readers.
Here's the form…
---
---
The list of MATS exhibitors may be found on our Trucking Shows sitemap.
---
Return from Mid America Trucking Show (MATS) Exhibitor Freebies and Discounts for Truckers to our Truck Drivers Money Saving Tips home page.
---