Every professional truck driver has certain needs that his or her home support team can help provide.
Before we discuss what can be provided, let's define who does the providing.
Who is on the Team?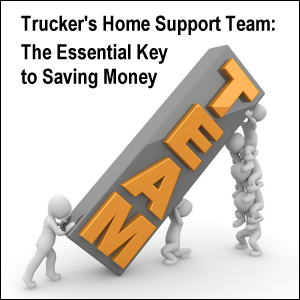 This driver's team may consist of his or her spouse (most often a trucker's wife) or entire family back home.
Yes, even a trucker's children can be valuable team members.
There are many husband and wife truck driving teams. Some of them have done the same kinds of things that a back-at-home team would — except they have to learn to flex and carry out the tasks from and in a truck.
Young drivers who have not yet married may think of their parents as their team members.
Other drivers may have an entirely different group of people who they "come home to" after having been out on the road for a while.
There may be drivers who stay out on the road solo for months at a time with no real home base.
These drivers may develop contacts on the road to help them or even carry out the same functions that a cost savings specialist would in a  non-in-truck environment.
No matter who is on your home support team, that's who we're talking about.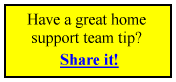 What Does the Team Provide?
The thing that is so essential about a professional truck driver's home support team is that they can help you save money.
The cost savings can be great or small, direct or indirect.
Every little bit saved helps.
In early 2012, Vicki found an article entitled "How Much is a Homemaker Worth?"
When the values of all of the services performed by the homemaker were added up, the total (according to the article) was $96,261 per year.
Even if only three of those services — Private Chef, House Cleaner and Laundry Service — were added together, the value (according to the article) is estimated to be $59,332 per year!
So, yes, the services that a homemaker — or in our case a home support team — carries out are very important and valuable.
In our case, Vicki has served as Mike's home support team both when she has been with him on the road or at home when he's been driving.
What Are Professional Drivers' Biggest Expenses?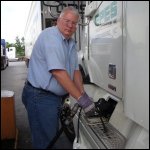 For an owner-operator, two of the biggest truck expenses are the truck and the fuel.
Finding diesel, retread tires or truck parts at the lowest practical cost might be critical.
(Note: Sometimes an item with the lowest "absolute" cost ends up costing more in the long run; that's why we said lowest "practical" cost.)
Prices are apt to fluctuate throughout the day, so up-to-date information is very valuable.
A few cents per gallon on a fill-up of 200 gallons or more can really add up.
If the owner-operator has an agreement to fuel and get repairs at the places offering the lowest prices through his/her company, that's great.
But if not, and if the driver doesn't have the type of communications device that can get trucker apps, the driver's home support team can do the research to find the best deals.
For a company driver, the cost of food and clothing may be the biggest expenses.
We have provided multiple options on this website for drivers to save on meal preparation and food and recipes.
Routing and Weather Updates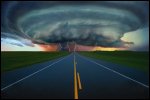 Both owner-operators and company drivers may have need of advice on routing or weather conditions for specific roads.
Many truckers now rely on cell phone applications (apps) and we have listed a number of trucker apps that can help drivers save time and money.
Even though many drivers have come to rely on GPS (global positioning system) units for routing, drivers should know the fundamentals of routing by using a Motor Carriers' Road Atlas (aka truckers atlas), that is specifically geared for commercial motor vehicles.
Also, any GPS unit used by the driver of a commercial motor vehicle (CMV) should be programmed specifically for CMVs.
Many a trucker has run a truck under a low clearance by relying too much on info from a non-truck-specific GPS unit.
We address GPS for truckers separately.
Even in spite of what seemed to be reliable information at the start of a trip, sometimes roads become closed (or traffic greatly slowed down) due to construction, weather-related problems, accidents, etc.
When a driver is en route, it is difficult to use a book to find an alternate route.
His or her home support team may be able to assist on a cell phone (as long as the driver is using a headset, not a hand-held phone).
There are software programs that can help a driver plan routes.
There are also online mapping services such as Google Maps and MapQuest to help drivers plan routes. (Please be advised that online mapping services are not foolproof and do not necessarily provide info on height, weight or truck restrictions.)
Drivers who have a CB radio with a built-in weather band can listen to weather updates; but unfortunately, the updates provided usually don't tell drivers which roads go through storm-affected areas.
A home support team can provide assistance.
Work Clothing
When Mike started working at a local truck driving job, the trucking company provided company uniforms and laundry service.
It sure helped us save money on washing and drying.
Eventually, the company did away with this service, but they provided the drivers with 5 company-branded t-shirts, one for each work day through the week.
It was up to Vicki to keep them laundered and ready for wearing.
When Mike drove regionally, Vicki helped Mike save money on work shirts by shopping for them at thrift stores.
One of her favorite places to shop for clothes  is a store that sells all garments for $1 (yes, a dollar) apiece — no matter what size or condition the piece is in.
Occasionally, she has found garments that are brand new or like new — including long sleeved dress shirts with brand names like Van Heusen! (Of course, Mike doesn't wear fancy dress shirts when driving a truck, but the point is that all of the garments at this thrift shop can be a really good value.)
You may be aware that many times clothing in big and tall sizes can cost more than the same style in standard sizes. Not so at the thrift shop where we like to shop.
One day in 2008, Vicki purchased from this thrift shop 10 shirts for Mike for $10 in various conditions, from practically brand new to well-loved. All but one of the shirts fit Mike well. She congratulated herself on being a good steward of their money.
In 2010, Mike and Vicki were able to visit this specific thrift store together. Instead of just guessing at Mike's size this time and hoping all the shirts fit him, he was able to try them on.
She sorted through the shirts on the racks for those she thought might be his size and made multiple trips to the fitting room. She even found one pretty shirt that fit her!
We bought only the ones that were a good fit and the right color to complement our coloring.
Of course, part of being the home support team includes mending the work clothes that develop rips, tears and holes — even on company uniforms — until they are no longer usable. We address separately how to patch jeans.
Laundry
When Mike drove OTR (being on the road on average for a week or two at a time), he took with him enough clothing to last 2.5 weeks.
When he came home, Vicki washed his clothes.
Twice during our time in trucking, we have been "homeless."
The first time is when we drove as a team. The second time, Vicki rode with Mike full-time. She packed about 2.5 weeks' worth of clothing during those times, too.
Naturally, when drivers (and their passengers) run out of clean clothes on the road, it is a smart thing to have supplies to do laundry on the road.
At a minimum, you will need to have
a way to haul dirty clothes to a laundromat (a plastic bag, laundry bag, box, basket, something);
money (either cash — usually quarters — or a credit card for machines that take those); and
additives of your choice (at least some kind of soap to wash clothes with).
Food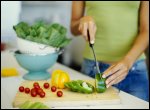 The most important way that Vicki serves as Mike's home support team is by supplying his meals in various ways.
When he was on the road regionally, sometimes he would eat out in a restaurant. But constant eating out can get very expensive. So we had a plan…
Before Mike left for time on the road, Vicki provided him (or us) with perishable food, frozen food and foods preserved by canning. (She enjoyed growing some food in her home garden.)
When she rode with him, she was his in-truck home support team and worked to make sure that we ate nutritious food.
Sometimes shopping for food on the road is a challenge, but it can be done (even if the only products at one's disposal are from the store in a truck stop).
When we went on the road, Mike loaded up our ice chest with perishable and frozen foods that had either already been prepared or could be prepared.
Those foods supplemented the foods that Vicki canned until those ran out.
Mike stored the canned foods under the bunk of his truck.
Those that needed it were heated or cooked in an appropriate cooking appliance.
Water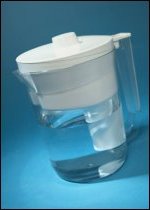 Depending on how much of it is used, a truck driver's home support team may find it challenging to procure the driver's water on the road.
During Mike's OTR days when we had a home, Vicki filtered all of his drinking water.
When she rode with him, we got it either from water vending machines or trusted indoor sources (such as a trucking company terminal water fountain).
We have two sizes of British Berkefeld (or "Berkey") water filters: a larger one for home use and a smaller one that we tried using in the truck.
We carried a number of gallons of drinking water with us when we traveled.
This water served for
drinking (staying hydrated is very important);
making milk from dry skimmed milk powder for food;
cooking and adding to foods to keep them from being too dry when cooked in certain ways (such as the microwave oven, hot pot, or crock pot ); and
washing our hands or faces — or washing dishes after a meal in a "small kitchen".
We never used the "good water" that we had with us to fill the reservoir in our portable toilet.
That water could come from an common tap outside.
Emotional Support and Sounding Board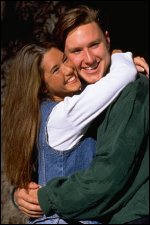 Besides the obvious direct cost savings that a home support team can provide, those folks can have a tremendous impact on the driver's mental clarity on the job — which will in turn prevent accidents — which is an indirect cost savings.
Because many truck drivers spend long hours behind the wheel with few interactions with family, there can be emotional tension.
Job-related stress, pick-up and delivery deadlines to meet, delays due to construction and weather, and traffic-related trouble can all take their toll.
If there are problems or emergencies at home, the situation can compound.
A driver's home support team would be well-served to understand what the driver goes through on the road.
A listening ear and an investment of time can do wonders in providing the positive encouragement and emotional support that the driver needs and wants.
Perhaps a different perspective can make all the difference. What driver wouldn't want a sounding board who listens without criticism?
Along these lines, we provide some ideas for a frugal Valentine's Day, which may also be applied year-round for long haul truckers and their families.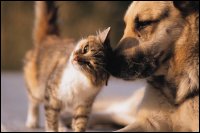 Speaking of loving companionship, some drivers — solo or not — like having a pet with them in their trucks.
We have a page dedicated to pet travel as a place to help you get and share money saving tips for in-truck pets. We have lots of questions just waiting to be answered by drivers experienced in this.
Although it may sound a bit awkward, it is necessary — since trucking is one of the deadliest occupations in the USA — that a driver and his/her home support team make preparations for the driver's death and dying on the job.
Preparing in advance can save a lot of agony later.
Mail Processing and Data Entry
Vicki does the preliminary processing of all our mail. (Please note that opening someone else's mail is a federal offense in the USA.)
When Mike was paid by the mile, she paid special attention to recording details from Mike's settlement sheets in her spreadsheet.
Unique Money Saving Opportunities
A home support team that stays at home while the trucker in the family is on the road can:
watch store ads for weekly or seasonal sales;
take advantage of time-limited coupons;
monitor sites like Craigslist and eBay for certain types of products that will help the team save money; and
earn money by engaging in a part-time business or renting out available space in the home through a reputable online matching service.
By helping to manage their budget, Vicki does what she can to maximize their family's savings.
There is an old proverb that says, "Dishonest money dwindles away, but he who gathers money little by little makes it grow." (*)
Additional Resources Regarding Home Support Team
Some of these resources have been provided by others.
---

Money saving tip: A professional driver's home support team can help save the driver money on the road. Look for opportunities that are unique to your situation.
The sky is the limit.
For example, if you are a classic movie buff who likes to watch full-length movies on the road, perhaps your support team can search for specific good quality but used titles online (perhaps through online auctions).
---