You're hungry and loading your truck will take hours. But the trucker food and recipes you have in your truck will let you enjoy eating and cooking what you want to eat, when you need to eat it while parked.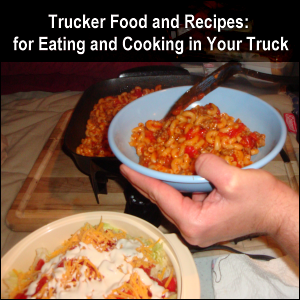 There's no waiting to get to a truck stop restaurant only to eat what someone else decides to put on the menu or a buffet.
Not only will you take advantage of the time on your hands, you'll save money in the process!
We saw this scenario played out over and over again in the days when we teamed.
Mike continued to see it as a solo regional driver for his trucking company when he was by himself in his truck.
We have seen it together whenever Vicki has ridden with him.
Yes, the job demands that professional drivers face make it challenging to eat frugally on the road, but it's not impossible.
This page contains an overview of ideas about food and links to recipes that you can fix in your truck.
It is meant to be used in tandem with our meal preparation page.
What you fix depends upon:
your individual preferences,
the tools at your disposal, and
help from your home support team.

Simple to Complex
Some professional drivers want simple meals with only a few ingredients while others don't mind preparing more elaborate recipes.
On this Trucker Food and Recipes page, we'll provide:
easy recipes and food choices on the road;
recipes that require only a few ingredients; and
where you can get loads of recipe ideas.
Since we have experience in cooking food in a truck, you can learn from our successes and failures in trying to prepare home cooked meals.
Discover which combinations we thought were sensational and which were absolute flops!
Mike loves to cook and he'll show you how to make food and recipes in your truck that are "Dee-lish [short for "delicious"] to the nth degree."
Breakfast Foods
Here is a list of Breakfast foods we have prepared in a truck:
You can also cook hot cereals like oatmeal, grits and farina (commonly called Cream of Wheat) in a hot pot.
Entrees
Here are Entrees we have enjoyed cooking and eating in a truck for lunch or dinner (sometimes called supper):
Need more ideas? Try RoadCookin', which you can buy through Amazon.com, with whom we have an affiliate relationship.
Whole Meals
Need full-scale Meal ideas? Here are our favorites:
Some folks are content with making sandwiches, putting a slice or two of meat and maybe a slice of cheese between two slices of bread.
Sides
Vegetables, fruits and sides are also possible:
Besides heating up canned vegetables, we've also steamed raw vegetables like we did when we cooked our Thanksgiving dinner.
Canned Foods
Vicki has warmed up many home canned meals in our trucks over the years.
If you're pressed for time and need something commercially prepared, we have tried:
Beverages
On the Beverage side, you might be interested in our recipe for hot chocolate mix, which you can add to hot water.
Desserts and Snacks
What about Dessert and Snacks? A delicious and low cost warm dessert is peach crisp. We provide some ideas about snacks, too.
Additional Resources on Food and Recipes for Truckers
Some of the following resources have been submitted by others.
---

Money saving tip: More often than not, you can buy and cook food to eat in your truck that is far less expensive than any meal you could ever hope to buy in a restaurant.
Consider, for example, meals consisting of soup and salad; a grilled cheese sandwich; a steak and baked potato.
Your choice of food and recipes is practically limitless!
We've found that being prepared to eat in the truck is not only good during long loading or unloading times, but also just to save money and eat healthfully.
Unless your circumstances dictate otherwise, you can do the same if you really want to.
We also think it's a great idea to track how much money you're saving by eating food you prepare and eat in your truck — if only from time to time — compared to spending money on restaurant food.
Get a copy of our Meal Savings table by requesting it through our free downloads page.
---
Return from Trucker Food and Recipes — In-Truck Eating, Cooking, Saving to our Truck Drivers Money Saving Tips home page.