Why should you subscribe to our free monthly email newsletter?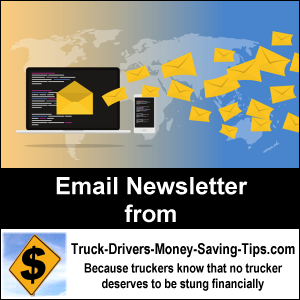 We provide real world tips that help professional truck drivers save hard-earned money and personal reporting about products and services for use on the road.
We update our site regularly.
So to learn each month about the new information that we have added — including interesting stories and money saving tips submitted by professional truck drivers — you will want to subscribe to our publication.
Did we mention that our website also provides professional truck drivers with many opportunities to submit their own money saving tips?
Simply click on just about any link in our navigation bar, scroll down to the form, and submit your tip, idea, opinion or review.
You may even ask a question.
Also, check out what's new on our website at any time without having to wait for the newsletter to be published, by visiting or subscribing to our Truckers' Savings Blog.
---
Because our email newsletters were published in HTML, we have made the Back Issues of Truck Drivers Money Saving Tips Email Newsletter available separately.
---
Return from Free Monthly Email Newsletter with Truck Drivers Money Saving Tips to our Truck Drivers Money Saving Tips home page.
---