Whether you drive a truck or manage a fleet, knowing which semi truck parts provide the best value is extremely beneficial.
This page contains reviews written by professional drivers sharing such details as pros and cons, experiences, where purchases were made, and more.
We invite professional truck drivers to submit reviews in the form below on any part of a big truck.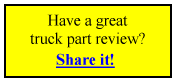 Here is a list of parts that you may wish to review:
After market parts
Air compressors
Air conditioners (A/C)
Air coolers
Air deflectors
Air dryers
Alarms and anti-theft equipment
Alignment equipment
Alternators
Axle parts
Axles
Batteries
Bearings
Belts
Blowers
Body parts
Bolts
Brake parts
Brakes
Chassis
Clamps
Clutches
Cockpits and dashboards
Crankshafts
Drivelines
ECMs
Electrical parts
Electronic controls
Emissions and DPF Regen related
Engine parts
Engines
Exhaust system parts
Exhaust manifolds
Filters
Fittings
Flywheel equipment
Fuel heaters
Fuel injection pumps
Heating and bunk heaters
Hoses
Hydraulic parts
Instruments and gauges
Lights and lamps
Mud flaps
Oil pans
Power steering pumps
Pumps
Radiators
Rivets
Scales
Seats
Sleepers and equipment
Steering
Suspension
Tanks
Tires
Tow hooks
Transmissions
Wheels
Windshield wipers
Windshields and windows
Defining and Differentiating Truck Parts
We define a truck part as anything that
comes equipped on, is added to, or replaces an existing part on a heavy duty truck (such as a semi tractor trailer),
is essential for making the truck run or to be driven, or
is required by law to be on a truck.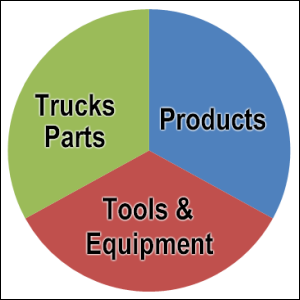 We differentiate truck parts from:
There are certain items that may be considered by others to be a truck part that the vehicle may not come equipped with but are necessary in some phase of operation.
We may break out some of the these things separately later.
If you find that there is something missing from our list, please feel free to contact us or simply write a review below and we'll place it in the most appropriate spot on our site.
We appreciate your willingness to share.
The Necessity of Having Valuable Truck Parts Reviews
There's nothing worse than investing a significant amount of money in parts only to find out that other drivers have had problems with them, or that other parts from a different manufacturer work better, last longer, or provide a better value.
In order to save money, we have dedicated this page on our site to reviews written by professional drivers about parts for big trucks — and a list of where truck parts may be found.
Sometimes the experience of one professional driver may be completely different from the experience of another.
As we have learned from Amazon.com, everyone's experiences are valuable.
Truck Parts Inventory
Do you need a truck part? Check out this extensive list of inventory.
Additional Resources About Truck Parts
Some of these resources have been provided by others.
---

Money saving tip: One method of getting the best value on truck parts is to shop around (if you can) to get the lowest price on the same item.
Another is to buy a comparable part from an aftermarket source (not one branded by a truck manufacturer).
Note: Not every tip will work in every case, so you should use your own best judgment.
---
---
Return from Truck Parts Reviews for Best Value, Written by Pro Truckers to our Truck Drivers Money Saving Tips home page.
---