A truck stop (or truckstop) may be defined as a business that caters to travelers — often professional truck drivers — by selling products and services that they or their vehicles need.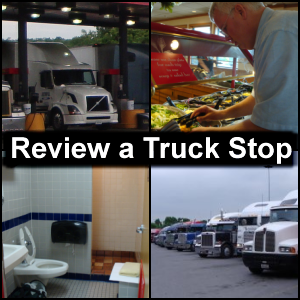 Although some chain operations have adopted names like "travel centers" and "stopping centers", these locations are best known as places where large trucks can stop because of parking lots designated for them.
Among the chain operations in the USA are:
AMBEST,
Bosselman,
Flying J,
Giant,
Love's,
Petro,
Pilot,
QuikTrip (QT),
Rip Griffin,
Sadler,
Sapp Brothers,
Sinclair,
Speedway,
TA (TravelCenters of America) and
WilcoHess Travel Centers.
There are also stops for trucks within the North American Truck Stop Network (NATSN) and independent operations.
Even some convenience stores are thought of as truck stopping centers because they have a parking area for one or more large trucks nearby.
However, they may not necessarily sell products or services that truckers need or want.

Products for Sale
Not all locations sell the same products or services, even within the same chain.
Some of the common products that we have seen sold at a truckstop are fuel, fuel additives, truck parts and accessories, security devices, maps and atlases (including truckers atlases), office supplies, electronics (particularly CB radios and GPS systems), clothing, food, snacks and candy, drinks, cleaning products, tools and equipment, appliances, ice chests, cooling and heating products, cell phone equipment and accessories, tobacco-related and smoking-alternative products, books, CDs and DVDs, magazines, cards, gifts and toys.
We are seeking product reviews on these and other items that drivers find at these locations.
Services for Sale
Among the services we have seen sold at a truckstop are truck washes, truck repair,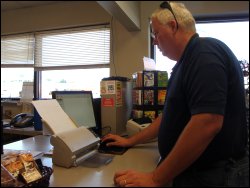 gift cards, cell phone services, fax, permits, showers, certified truck scales, ATMs, audio book rental, CB radio tuning and repair, load boards, haircuts and shoe shines.
Some locations also have self-serve laundry facilities where drivers can wash and dry clothing.
We are seeking service reviews on these and other services that drivers find at these locations.
Among the trip-related services that may be available at travel centers are TripPak Express and TransFlo.
Some locations may also make employment information available.
Fuel Islands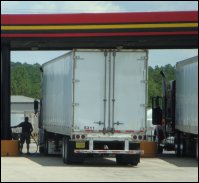 Big rigs require fuel to operate.
We list on our site the links to chain truck stop diesel fuel prices.
But there's usually more to do when stopping for fuel than just getting the fuel.
What about the cleanliness of the fuel bay, the availability of paper towels in working dispensers when you check your oil, sufficient soapy water and a working water hose for you to clean your windshield and windows, and non-overflowing trash barrels?
Fuel island reviews done to date.
Showers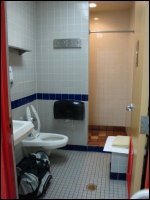 We have found it generally true that a driver may obtain a free shower with a minimum purchase of 50 gallons of fuel.
While there is great variety in commercial shower layouts and accents, we have found that they all provide a shower stall, a sink, a toilet, a mirror, and an electrical outlet.
Each driver is issued a towel and washcloth.
Some chain truck stops provide a paper bath mat and a bar of soap.
We particularly like one chain's automated queuing system.
A driver swipes his truckstop chain-issued card through the kiosk and may "sign up" to be on the shower list.
Some truck stops have an automated service that announces when "shower customer number [whatever the next number is]" is assigned to a particular shower number.
We wish all travel centers would use this automated shower service because it reduces the work load on the cashiers and makes getting a shower faster.
Shower reviews done to date.
Restaurants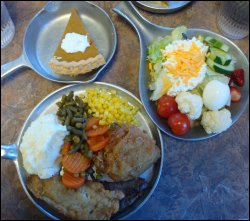 Truck stop restaurants have a blend of products and services.
The product part is the food; the service part comes from the server.
In chain locations, a buffet is often available.
These self-serve counters generally feature a variety of meats, vegetables, soups, breads and desserts.
The vegetable section may contain a salad bar.
Many sit-down restaurants also offer menu items in case you don't want the buffet.
In recent years, numerous truck stops have brought in fast food offerings such as Arby's, Chester's, Dairy Queen, McDonald's, Pizza Hut, Subway, Taco Bell and Wendy's. Depending on the location, drivers may be able to use their rewards points to buy this kind of food.
Truck stop restaurant reviews done to date.
Driver Rewards Programs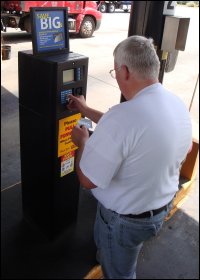 Chain locations usually have their own branded version of a driver reward program.
These programs usually work this way: for every gallon of fuel purchased, the driver receives on his personally issued card one point, which may then be used like cash for selected products or services.
The rewards card must be presented prior to the purchase of fuel in order to be issued the rewards points and a shower credit.
One point is equivalent to one cent.
So a 100-gallon fill-up would be 100 points or $1.00.
Depending on the location, points will be issued for other types of products or services, such as restaurant meals and truck services.
You will need to review the terms and conditions for each location separately.
Some locations have incentives for a limited time, such as "double points," so be on the lookout for this for even more savings.
Parking
Professional drivers often seek out a large place in which to park during their mandated rest breaks.
Parking lot layouts vary, as do some parking space sizes.
If you would care to review a travel center on the basis of its parking lot, please do so.
We suggest that you answer such questions as:
How easily can you maneuver your truck around the facility?
How easy was it for you to get into and out of truck parking spaces?
How well-lit was the parking lot at night?
Savings Opportunities
We have found that, in general, the garments in most truckstop travel stores have high price tags.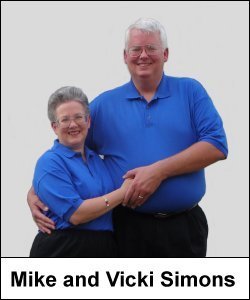 One can generally find good quality clothing in retail stores for less.
(Additionally, truckers' home support teams can find bargains at consignment stores, thrift shops, and resale or second hand establishments.)
However, in mid-summer 2009, we found one Virginia truck stop was selling the polo-type shirts that we are wearing in the photo shown here (even the large shirt Mike is wearing) for just $5 apiece.
They also had t-shirts on sale for $3 each.
Granted, it was a clearance sale, but we saved money nonetheless.
When we were looking to buy a laptop workstation, we looked around at a number of truck stops and found one chain in November 2009 that was selling a specific brand for $30 less than the others.
Where to Find a Truck Stop
We strongly recommend that drivers obtain the most recent copy of the National Truck Stop Directory (aka "The Trucker's Friend).
It has a comprehensive overview of all truck stops in the USA, including with each truck stop listed a classification as to the number of truck parking spaces.
More dynamic information than an annually printed book in some classifications can be obtained through some SmartPhone truckers apps.
However, one must be in a place where one has good receptivity in order to access SmartPhone data.
A book has no receptivity issues.
[adinserter block="3″]
---
Read truck stop reviews that have already been written to date or write your own truck stop review (to help all of us when you comment on your customer satisfaction):
---

Money saving tip: If you have ever pulled up product reviews or customer ratings on a website to see what the editors, experts or users have written, you know that people sometimes take great pains to give the pros and cons of using various items to encourage or warn future buyers, as each case may warrant.
The magazine Consumer Reports contains "reviews and comparisons of consumer products and services based on reporting and results from its in-house testing laboratory."(1)
In this case, you are the consumer; you do your own testing. Just because a truck stop has room for trucks to park does not mean that it provides a good value for drivers.
If you find something particularly appealing or disturbing, your review can mean the difference between a fellow driver frequenting that location or not.
Think of it as either a personal recommendation (like a money saving tip) or a personal warning like you would give face-to-face.
Good truck stops deserve business.
Even the ones that aren't so good deserve to receive positive criticism so that improvement opportunities can be implemented.
You decide which is which.
---
Return from Review a Truck Stop for Best Value, Money Saving Opportunities to our Truck Drivers Money Saving Tips home page.
---
Reference
1. http://en.wikipedia.org/wiki/Consumer_Reports