Drivers, you eat food prepared either by others or yourselves. While meal preparation in your semi tractor trailer requires advanced planning, it can be rewarding from at least two perspectives:
you can save a lot of money over restaurant meals and
you can control your food choices.
We are living proof that meal preparation on the road can and does work to save us money and keep us healthy.
We're sharing the information with you here in hopes that you can benefit.
This page focuses on the mechanics of meal preparation, while our food and recipes page focuses on the actual food being prepared, cooked and eaten.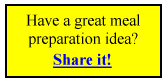 Meal Preparation Differences Between Truck and Camper
Food preparation is not done quite as easily in a truck as in a camper (unless you happen to have a custom tractor with a refrigerator, oven/stove and sink).
Even though you can simulate a small kitchen, you will have to provide and pack all the tools you need.
Check out all of our resources on:
Equipment to keep food cold:
In case you keep your perishable food on ice, we also cover the issue of using ice vending machines and even using a portable ice maker in your truck to make your own ice.
Equipment to cook food, boil water or make coffee:

Burton Stove to Go;
Hot plate or burner;
Jet Stream Oven;
Microwave oven; and
Coffee pot.
Meal Preparation Solutions for Truckers
We also cover:
Some cooking equipment will require power from an inverter either plugged into a 12-volt cigarette lighter or connected directly to the battery.
This is one of those items we have on our packing list page.
We plan to refute excuses for eating meals out of the truck.
Yes, you, too, can be fixing meals in your truck, saving money and eating healthfully!
Additional Resources Regarding Meal Preparation
Some of these resources have been provided by others.
---

Money saving tip: Consider the average price of a meal out compared to what you would spend if you fixed a comparable meal in your truck.
In terms of money:
What would it cost if you ate a breakfast at a restaurant comprised of

two eggs,
two slices of bacon,
a slice of buttered toast, and
a cup of coffee?

What would it cost to cook up the eggs, bacon and toast, and brew up coffee, right in your truck?
In terms of time:
How many minutes would you spend

walking to the restaurant;
waiting for the wait staff to bring you a menu;
taking your order;
having your food cooked and brought to you (or for you to get your food from the buffet);
eating your food;
getting your check;
leaving your tip;
paying your bill; and
walking back to your truck?

How many minutes would you spend doing food preparation in your truck, including

getting out your food, cookware, and utensils;
cooking your food;
eating your food; and
cleaning up afterward?
What if you could "pay yourself" for the meal preparation and clean-up instead of paying someone else for the cost of a meal and tip?
Why not prove it to yourself by keeping records?
---