This is the TDMST Weekly Round-Up of news affecting professional truck drivers, written by Vicki Simons for the week ending April 15, 2017.
We welcome your comments, thoughts and feedback on the items of your choice below.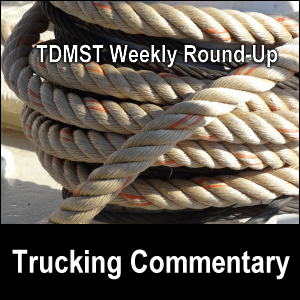 1. According to an April 13, 2017 article, a letter that was signed by 17 organizations — including the OOIDA — was sent to Transportation Secretary Elaine Chao.
It said "the ELD mandate and proposed speed limiter rule … would collectively cost $2.845 billion to implement without providing 'any meaningful safety or economic value to our members or the American public.'"(a)
The article further states: "Trucking Alliance carriers can verify that a typical over-the-road truck driver spends about 6.5 hours each day actually driving. The other 4.5 hours which could legally be spent on the road are spent at the shipper location, sitting in the truck and waiting to load or unload freight."
According to an April 11, 2017, article, "Industry implementation of electronic logging devices ahead of the December 18 deadline for adoption is still expected to cut trucking's productivity and drive up rates, said owner-operator analyst Todd Amen last week."
Have you calculated the total cost of implementing an ELD and speed limiter on your truck(s)?
If so, what is the cost?
Please share.
2. "At least six major wrecks have happened in the past five years near the Peninsula Corp. Drive overpass that leads to Congress Avenue in Boca Raton," stated an April 12, 2017, article.
Drivers are ignoring clearly posted signs and failing to slow down when leaving the interstate.
Unless you're traveling on an on-ramp to merge into moving traffic, slow down whenever you preparing to transition to another road.
3. An April 12, 2017, article said, "The truck driver involved in the fatal church bus crash last month stated he had been on [prescription] medication and was texting before the accident, a Texas Department of Transportation report shows."(b)
While the medication was supposedly prescribed, medicine always has an impact on the user's body.
It was up to the trucking company that considered hiring him to determine if these prescriptions could impair the driver's ability to do his job.
However, by texting while driving a commercial motor vehicle, the trucker clearly engaged in unsafe behavior that could result in his termination.
The FMCSA states, "Using a hand-held mobile phone while driving a CMV can result in driver disqualification. Penalties can be up to $2,750 for drivers and up to $11,000 for employers who allow or require drivers to use a hand-held communications device while driving."
Texting or using a handheld phone while driving a commercial motor vehicle can be injurious or even deadly.
It can cost you a lot of money, your job, and even your trucking career.
Don't do it.
4. An April 8, 2017, article stated that "18 people were hospitalized…, seven with life-threatening injuries" in a railroad accident in Poland.
It was caused by a trucker who "apparently disregarded signs banning heavy loads from an unguarded railway crossing" and whose truck got stuck on the tracks.(c)
The fast "train carrying 300 passengers" struck the stuck truck.
The trucker was "charged with causing a traffic catastrophe" and "could face up to 10 years in prison if convicted."
Pay attention to and understand the road signs.
And make sure that you follow truck routing.
5. A California trucker is facing "a minimum sentence of 10 years in prison and a maximum of life" after pleading guilty to "a charge of possession of methamphetamine with intent to distribute", according to an April 10, 2017, article.
Don't haul illegal drugs.
Period.
6. "Sociologist Steve Viscelli believes the turnover [in the trucking industry] exists due to low wages, as drivers are paid only by the mile, rather than inclusively, such as when waiting to enter a dockyard or unloading cargo.
Signing bonuses are helpful, but do not completely ameliorate the issue", according to a March 8, 2017, article.
Do you think that truckers are underpaid for their work?
Please comment below.
7. A trucker has been "issued a citation for several traffic violations" including excessive speed following his truck's crash "into a highway bridge in southern Oregon", according to an undated article.
Remember Newton's first law of motion: "In an inertial reference frame, an object either remains at rest or continues to move at a constant velocity, unless acted upon by a force" (link).
8. "The U.S. DOT has increased fines across the board for violations of federal trucking regulations, it announced Wednesday", stated an April 11, 2017, article that included several tables that listed:
Violations;
New penalty values; and
Former penalty values.
New penalty values range from $314 to $182,877, depending on the violation. Ouch!
9. An April 12, 2017, article stated that the Truckload Carriers Association has written a letter to lawmakers about keeping maximum truck weight at 80,000 pounds.
"Carriers are unlikely to see rate increases that fully offset the cost of moving the additional weight," the letter stated.
In addition to increased potential operating costs, is there the possibility that increased truck and freight weight could result in an increased potential for accidents?
Feedback?
10. Do you realize that the "Surface Transportation Assistance Act… allows drivers to refuse to drive when his or her ability to drive is impaired"? This includes illness, especially when one is taking a "doctor's advice".
So, when a driver was ill twice and the trucking company "improperly used its attendance policy to discipline the driver" — according to an April 13, 2017, article — the Occupational Safety and Health Administration (OSHA) determined that the company must pay the trucker "$10,000 in punitive damages, $1,500 in compensatory damages and $5,915 in attorney's fees."
Never let a trucking company bully you into driving when your ability to drive is impaired.
On behalf of my husband Mike and me, we wish you safe travels and lots of money saving opportunities on the road.
---
---
Return from TDMST Weekly Round-Up: 2017.04.15 to our TDMST Weekly Round-Up Trucking Commentary or our Truck Drivers Money Saving Tips home page.
---
Reference
a. www.thetrucker.com/News/Story/ELDspeedlimiteropponentsdrawireofTruckingAlliance (no longer online)
b. www.kvue.com/news/local/txdot-truck-driver-in-fatal-church-bus-crash-on-pills-texting-before-accident/430506600 (no longer online)
c. strib.mn/2ob14BT (no longer online)