This is the TDMST Weekly Round-Up of news affecting professional truck drivers, written by Vicki Simons for the week ending May 16, 2020.
We welcome your comments, thoughts and feedback on the items of your choice below.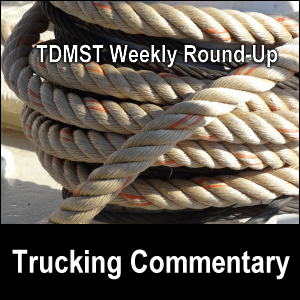 1. Regarding new federal Hours of Service:
A May 14, 2020, article states, "the U.S. Federal Motor Carrier Safety Administration has updated the Hours-of-Service (HoS) rules that officials say will offer more flexibility to drivers and increase safety on America's roadways."
An extreme overview of the key revisions are:
30-minute break rule "flexibility";
Sleeper berth exception modification;
Adverse driving conditions modification; and
Shot-haul exception change.
The reasons why the HOS are important are revealed in the statistics about the U.S. trucking industry as stated in the article:
"employs more than 7 million people"; and
"moves 70% of the country's domestic freight."
The new regulations are expected to take effect in late September.
---
The Teamsters criticized the new rules, saying that they "would lead to reduced roadway safety," as was also reported here.
Some truckers were not happy about these new rules — especially because of the inflexibility of the 14-hour rigidity.
In one article about the new HOS rules change, we read two driver's reactions:
"Robert Ferguson commented, 'A good start. But it would have been better if you would eliminate the 30-minute rule, and have the 14-hour clock stop whenever you go off duty or sleeper.'"
"Carlos Velez said, 'These changes are to the benefit of shippers/receivers that take forever to get you loaded/unloaded. I really don't see how extending my workday w/o additional pay is better for me.'"
---
My husband Mike received an email from OOIDA about the new federal Hours of Service regulations.
Quoting parts of what they said:
Under the new rules, the 30-minute rest break is only required after 8 hours of driving instead of 8 hours on-duty. When necessary, the new rules allow you to log the 30-minute break as on-duty not driving, which means you can take it during a fuel stop, at a loading dock, etc.

We also like the added 7/3 option to split your sleeper-berth time. The existing rules only allow 8/2. Yes, we were hoping for a 6/4 and 5/5 option, but we didn't get it. However, the change will effectively mean 1 less wasted hour stuck at a truck stop, rest area, etc.

The adverse driving provision was changed by extending the 14 hour clock by 2 hours. Meaning, if you use the adverse driving provision your 14 hour clock becomes a 16 hour clock. So if you have to pull over for bad weather or drive through it slowly, it won't count against your 14 hour clock.

… OOIDA will be holding the [FMCSA] accountable in … ensuring that drivers are fully paid for all their time.

Land Line: FMCSA Releases Final Rule on Hours-of-Service:

Final HOS Rulemaking – Summary
---
You may read more about this topic here, here, here, here, here, here, here, here, here, here, here, here, here and here.
A poll asked: "Which hours of service change will benefit you most, if any?"
2. Regarding losses and historic low:
Two sets of trucking job losses have been reported:
6,800 in April in Canada; (link) and
The title of one of the articles states that "COVID-19 [was] blamed" for the trucking industry job losses, but again I stress that it was elected officials who shuttered many businesses, which in turn led to job losses.
---
According to a May 15, 2020, article:
April trailer orders plunged to 300 units, the lowest level in the modern era, according to preliminary data from FTR. … April's orders were down 95% month-over-month, and 98% compared to last April.
This article stated that "FTR reports that preliminary net trailer orders for April are at the lowest level since 1990…"
Another article about trailer orders being down was written here.
---
A May 14, 2020, article stated: "Prices for Class 8 used trucks continued to fall in April, though some improvement in auction activity gave hope the bottom of the market is near."
We also read: "Owner-operator pay held strong in 1Q before economic fallout."
One article stated that "More than five years of truck employment growth erased in one month."
Ouch!
"Container volumes could fall 25%," according to a May 13, 2020, article.
Even the US Postal Service is hurting, having lost $4.5 billion in the second quarter of 2020.
3. Regarding potential ups?
Reporting on "the takeaway from a Mid-Year Economic Outlook webinar," the author of a May 14, 2020, wrote: "Trucking conditions likely bottomed in mid-April, but a speedy recovery isn't anticipated."
Another article is titled: "Worst truckload linehaul data in 15 years may mark the bottom."
If trucking conditions have "bottomed [out]," it can't go lower, right?
---
A May 12, 2020, article stated, "In its North American Commercial Vehicle Outlook, ACT Research predicts 2021 will be a transition year for global economies and North American commercial vehicle demand."
Let's hope that by a "transition year," some trucking companies and truckers will have learned what makes for better business and capitalized on that, like this article indicates:
A May 13, 2020, article state: "The convulsions that COVID-19 has sent through the economy and supply chain have made it imperative for carriers to diversify their customer base, shed weak areas of their business and adapt to changing retailer behavior."
---
This is encouraging, that there is hope for getting to the other side:
The "Ports [are] laying [the] groundwork for post-coronavirus business.
---
DAT reported on May 11:
For the first time since late March, pricing on the top 100 van lanes included more increases than decreases. National load-to-truck ratios for all equipment types are also trending upward, signaling that demand for truckload shipments is returning, as produce season picks up and some states begin to reopen businesses.
4. Regarding COVID-19 and emergency info:
According to articles written here, here, here, here, here, here and here, the U.S. FMCSA has extended its emergency declaration until June 14, which "eases Hours-of-Service (HoS) rules for motor carriers assisting in emergency relief efforts in response to Covid-19."
5. Regarding broker transparency, price gouging, trucker protests:
The following articles addressed some aspect of the problems that truckers and small business truckers are having with brokers and freight rates:
Protesters 'dig in' on Day 12, demand meeting with Trump administration(a)
---
Other articles about the trucker protest going on in Washington, DC:
Brokers pocketing profits, truckers say
From the article Truckers honk over shipping rates, not 'in favor of' Trump
"But the drivers who have lined Constitution Avenue with their big rigs didn't come to Washington for Trump. They're in the nation's capital to protest low shipping rates that they say could force many of them out of business."
From the article 'He lied on national television': Trump falsely claims truckers protesting industry problems are honking to support him:
Greg Anderson, who said he has been in the trucking business for 33 years, told CNN earlier on Friday that Trump had "lied on national television" with his remark to Bartiromo about how the protesters are not protesters at all.

"This is a protest," Anderson said. "Mr. Trump elaborated that we were here to support him. Our message to him would be this is a protest against bad regulation, broker transparency, truck insurance, so on and so forth. This is not here to support Trump. We're here to get resolution and bring awareness to our problem and fix our problems."
---
Finally, since their 2020 top research priorities certainly don't address it (link, link), I'm wondering when ATRI is going to set as one of its research priorities the situation having to do with broker transparency.
6. Regarding CDC guidelines for truckers:
"The Centers for Disease Control and Prevention has published guidelines for over-the-road commercial truck drivers in the wake of the COVID-19 pandemic," states a May 13, 2020, article.
More on this topic was written here, here, here, here, here, here and here.
Just curious: Why has the CDC only just now come out with this?
Hmm…
7. Regarding CVSA's 2020 Operation Safe Driver Week:
According to a May 13, 2020, article:
The Commercial Vehicle Safety Alliance's 2020 Operation Safe Driver Week will go on as scheduled, July 12-18, focusing on what CVSA called an "alarming trend of increased speeding on our roadways during the pandemic."
More on this topic was written here, here, here and here.
8. Regarding adjustments:
Many truck events have been canceled or postponed this year, but the organizers of one event are doing things differently.
According to a May 14, 2020, article, the 2020 Walcott Truckers Jamboree has been made virtual.
You may read more about this here, here and here.
Hurray! That's thinking outside the box!
Does that inspire you to think outside the box?
9. Regarding retaliation:
A May 13, 2020, article reveals that "A truck wash owner is under investigation after an incident between he and a trucker resulted in the 'malicious' contamination of 160 gallons of diesel fuel."
This situation was also reported here.
If I understand it correctly, this entire situation could have been avoided had:
communication between the two parties been clearer; and
there been some mutual respect between them.
10. Regarding self-driving truck HOS exemption comment period ending:
May 20 is the last day that comments can be made on the Hours of Service of Drivers; Application for an Exemption for PRONTO.AI, INC..
11. Regarding personal protection:
It is very important not only that truckers be able to defend themselves on the road, but that they do it legally.
According to a May 13, 2020, article, a truck driver "pled guilty to a charge of possession of an unregistered firearm in September 2019."
12. Regarding driving and parking in the Northeastern USA:
A May 12, 2020, article states:
"Multiple bills in the New York State Legislature cover concerns of certain New York City residents and businesses about trucks parked illegally"; and
"Parking of tractor-trailers or semis in the city, including residential areas, now is limited to three hours. Nighttime parking on a residential street is prohibited between 9 p.m. and 5 a.m."
More on this was reported here.
My question: Where are the truck stops for these truckers to be able to park their trucks legally?
Meanwhile, we read that "A coalition of 10 metropolitan planning organizations and councils" in 4 northeastern states — and other transportation-related entities — need feedback from truckers about truck parking.
13. Regarding downloading your ELD records:
A recent announcement that an ELD service provider is discontinuing is service gave rise to the advice that it is important to regularly download your information from an ELD to keep for your records.
If you don't know how to do that, please:
ask your trucking company (if you drive a company truck);
read the manufacturer's product manual (assuming you have it or can get a virtual copy); or
contact the ELD manufacturer directly.
14. Regarding dash cam acceptance in trucks:
A May 15, 2020, article addressed the fears that truckers have about dash cams being installed in their trucks for potentially punitive purposes — as well as the need for transparency and incentives for having one in one's truck.
15. Regarding 10 "Not Preventable" crash types:
A May 10, 2020, article states:
The Federal Motor Carrier Safety Administration (FMCSA) is making its Crash Preventability Determination Program (CPDP) permanent and allowing ten different crash types to be eligible for review.
Among the 10 types of crashes that could be "not preventable" are:
"Struck in the Rear,"
"Parked or Legally Stopped," and
"Failure of the other vehicle to Stop."
This is good news for truckers and carriers!
More on this topic was written here.
My husband Mike and I wish you — and all professional truck drivers — safe travels and lots of money saving opportunities on the road.
---
---
Return from TDMST Weekly Round-Up: 2020.05.16 to our TDMST Weekly Round-Up Trucking Commentary or our Truck Drivers Money Saving Tips home page.
---
References:
a. stagetrucker.wpengine.com/trucking-news/the-nation/protesters-dig-in-on-day-12-demand-meeting-with-trump-administration (no longer online)