This is the TDMST Weekly Round-Up of news affecting professional truck drivers, written by Vicki Simons for the week ending December 11, 2021.
We welcome your comments, thoughts and feedback on the items of your choice below.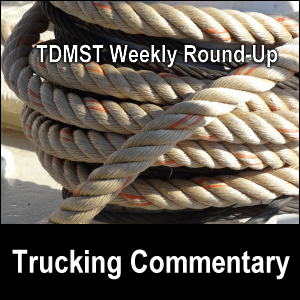 1. Regarding supply chain, capacity, ports, National Guard, and border:
The supply chain issue is complex, but it has been exacerbated by people being fired or somehow relieved of their job duties due to ridiculous "mandates" that don't protect anyone and only make the issues we face more difficult.
Supply chain
---
Capacity
---
Ports
---
National Guard
I saw the first article listed in this section and had to go looking for information about what the Army National Guard actually does.
While the National Guard is supposed to help in an "emergency," I'm not sure that helping out with America's ports constitutes an emergency.
Furthermore, is port or dock work a proper use of the Army National Guard?
---
Border
When delays like this happen — whether at a border, a port, or just because of bad weather — wouldn't it be a good idea to know how to earn a second income from the cab of your truck?
2. Regarding COVID-19, employment, detention, retention, and shortage:
COVID-19
The information on this topic changes daily, so please stay current.
Upholding the spirit of freedom and liberty, I absolutely oppose mandatory jabs in order to stay employed or travel.
Once a poisonous substance has been injected into your body, it may be impossible to reverse its effects.
As of the time when this is being written, it has been reported that there have been:
19,886 COVID Vaccine Reported Deaths; and
946,461 COVID Vaccine Adverse Event Reports.
Do your due diligence before you accept a jab.
And please remember that the goalposts have been continually moved since this whole ordeal began.
Your acceptance of one jab may imply your consent to accept more and more jabs, ad infinitum, ad nauseum.
If your employer is offering you money to take a jab, please ask them if they are paying for this out of their own pockets or if they are getting the money from another entity.
If the latter, please find out who and report it through the form below.
Thanks.
---
Employment
---
Detention
---
Retention
---
Shortage
There are many aspects to the so-called trucker shortage, including (but not limited to):
involuntary separation from companies due to vaxxine mandates;
increasing truck regulations;
not being paid for all work and all waiting time;
being held responsible for things outside a trucker's control;
not being able to find adequate truck parking;
being required to be away from home for long periods of time; and
being classified as "unskilled labor" in the Fair Labor Standards Act.
Meanwhile, here are some of the most recent articles about this topic:
3. Regarding accident, staged, drugs, smuggling, alcohol, stupid, and gotcha:
Accident
As you read these articles, please learn what you can so that you will not repeat the actions that led up to the accidents.
Is is possible that a proper pre-trip inspection could have prevented one accident, slowing down could have prevented another, etc.?
---
Staged
While I appreciate the effort to do away with staged accidents, this is a matter that needs to be handled on the state level!
---
Drugs
Never, ever agree to haul illegal drugs, no matter how much incentive you are offered!
---
Smuggling
Never, ever agree to haul illegal aliens, no matter how much incentive you are offered!
---
Alcohol
How is this going to happen?
Is the trucking company going to put a form of a breathalyzer in every truck — and that the vehicle cannot be started if the reading is above a certain level?
---
Stupid
If you see someone coming up fast from behind you — even when there is a solid double yellow line separating two lanes — slow down so that the impatient motorist will not involve you in an accident!
---
Gotcha
Sometimes, things work out just right.
4. Regarding politics, state, weight, violations, prevention, and HOS:
Politics
If any of this concerns you, please get in touch with your elected officials!
---
State
---
Weight
---
Violations
---
Prevention
---
HOS
5. Regarding lawsuit, inspections, and insurance:
Lawsuit
It took nearly a year for this woman to file a lawsuit and when she did, she seeks damages only in excess of $75,000 (when it could have been much more!).
---
Inspections
---
Insurance
6. Regarding Amazon and technology:
Amazon
It was previously thought that Amazon was infallible, but this incident proved that they are fallible after all!
---
Technology
7. Regarding pay, bonuses, taxes, tolls, and inflation:
Pay
---
Bonuses
---
Taxes
---
Tolls
---
Inflation
8. Regarding autonomous vehicles, electric vehicles, fuel, and emissions:
Autonomous vehicles
I most definitely oppose driverless, self-driving, or autonomous commercial motor vehicles sharing the roads with the motoring public.
That being said, here are some of the most recent articles about autonomous vehicles from trucking sources, to keep you current on the topic.
---
Electric vehicles
Before you invest in an electric vehicle, do your due diligence.
---
Fuel
---
Emissions
This action is not one authorized by The Constitution.
9. Regarding economy, predictions, and event:
Economy
---
Predictions
---
Event
MATS is coming back! Yay!
10. Regarding rates, roads, and last mile:
Rates
---
Roads
---
Last mile
11. Regarding recall, sustainability, theft, and violence:
Recall
---
Sustainability
---
Theft
Please be sure to lock up your tractor and trailer at all times:
your tractor, even while you're out of it for only a minute; and
your trailer, even when it is empty.
Do not advertise anything that you are hauling and always park in safe places.
If you need to drop your trailer when you're home, be sure to install a king pin lock before you leave.
---
Violence
While we advocate self-defense, please be careful not to incite violence.
12. Regarding recognition:
We gratefully acknowledge and recognize all of those who helped truckers and/or their families — or honored them.

My husband Mike and I wish you — and all professional truck drivers — safe travels and lots of money saving opportunities on the road.
---
---
Return from TDMST Weekly Round-Up: 2021.12.11 to our TDMST Weekly Round-Up Trucking Commentary or our Truck Drivers Money Saving Tips home page.
---