TDMST Weekly Round-Up 2022.07.30 is the trucking commentary on news affecting professional truck drivers, written by Vicki Simons for the week ending July 30, 2022.
We welcome your comments, thoughts and feedback on the items of your choice below.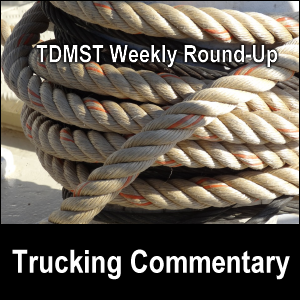 1. Regarding AB5, protest, under 21:
AB5
Despite the fact that the trucker protest over AB5 in Oakland did not achieve the result sought, options to overturn it are still at truckers' disposal, including contacting state-level California legislators and the California Governor.
Once the effects of AB5 start to be felt in the state, there may also be an outcry from other Californians.
---
Protest
Meanwhile, in Texas…
---
Under 21
While I am sure that there are some very mature prospective truck drivers below the age of 21, there is a reason why insurance rates for younger drivers — especially younger males — are higher than for older drivers.
I oppose this pilot program and shudder to think of the detrimental effect that it is going to have overall.
If elected officials, unelected bureaucrats, and those in the trucking industry were serious about alleviating the "trucker shortage," they would fix the major concerns that truckers have.
Among them is increased pay, reclassification within the FLSA, and more respect.
2. Regarding inspections, collisions, accidents, and low clearance:
Inspections
If truckers keep their trucks and themselves in a perpetual state of readiness for an inspection at any time, they will never be caught off-guard for an inspection.
---
Collisions
The first step on the list is: "Plan for collisions before they happen".
---
Accidents
Please look over these articles and learn what you can from the accidents described so that you can avoid getting into a similar set-up yourself.
---
Low clearance
Both of these situations were completely preventable:
the first by the driver lowering his truck's bed; and
the second by the trucker using only truck routes!
3. Regarding weather, snow chains, and parking:
Weather
We extend our deepest sympathies to the families of those who died as a result of weather events.
---
Snow chains
According to the website of the Colorado Department of Transportation:
"From Sept. 1 through May 31, all commercial vehicles traveling on I-70 between the Dotsero exit (mile point (MP) 133) and the Morrison exit (MP 259) must carry sufficient chains to be in compliance with the Colorado chain law."
---
Parking
Yay! There's a new Connecticut truck stop with truck parking!
Other articles on this topic are also listed below.
Regarding the third article from the bottom of the section above, I wrote the following in a truckers' Facebook group on July 29, 2022:
Quote from article:
—–
A 2016 study from the American Transportation Research Institute says that the average truck driver spends 56 minutes per day looking for parking, which translates to $4,600 in lost wages every year. A long-haul truck driver, of course, has to park each night to sleep — and the growth of trucking has outpaced how many parking spots are available to America's 2 million truck drivers.
As a result, more than half of truck drivers park illegally at least three times a week, according to the American Trucking Associations. The shoulders of freeways or on- and off-ramps are the most common. "You're parking someplace where it's not really safe and where somebody can hit you," said U.S. Rep. Mike Bost, R-Ill., in a phone interview with FreightWaves.
—–
I understand the proposed "efficiency" solution described in the article, but I don't think that many truckers — especially long haul truckers — would want to go that route.
I've said it for years and I'll say it again here:
Why don't folks look into building truck parking near established industrial parks and distribution centers where the trucks are already congregating?
I think the time is going to come when truckers demand that their trucking companies arrange for parking solutions ahead of time.
I see this as a cottage industry.
Think about a real time truck parking solution, where Trucker 1 is picking up a load at Point A, going to Point B, and needs to stop about 350 miles from Point A.
"Find My Truck Parking Spot"
And if it is a paid solution, trucking companies who own the rigs need to pay for the truck to be safely parked.
---
Insurance
4. Regarding autonomous vehicles, electric vehicles, fuel, oil, ICE, and emissions:
Autonomous vehicles
I absolutely oppose the use of autonomous, self-driving, or driverless commercial motor vehicles on the same roads as the motoring public, but share these articles with you to help you stay current on the topic.
---
Electric vehicles
Some people and groups are calling for more and more electric vehicles, but please bear in mind that the batteries in these vehicles only store energy, meaning that a type of energy has to be converted to electricity for charging purposes.
Also, electric vehicle batteries may — over time — lose their ability to full charge and/or fully discharge.
---
Fuel
---
Oil
---
ICE
---
Emissions
5. Regarding economy, pay, business, size, chips, posts, Sundays:
Economy
This is a long list of articles today:
---
Pay
Quote from the last article linked above:
What we learned confirmed much of what we suspected: 2021 was a remarkable year for owner-operators, and 2022 is shaping up to be potentially treacherous. More than 80% of respondents believe it will be less profitable than last year.

That doesn't mean a bloodbath is in store for everyone. After all, 2021 was abnormally good (both mean and median owner-operators in the survey netted six-figure incomes), so a slight contraction in revenue would not necessarily spell doom. But at large, owner-operators are feeling the strain, and it seems a safe bet this latest market shift will thin out those less equipped to weather the storm.
---
Business
---
Size
---
Chips
I emphatically disagree with federal level elected officials taking action on this — and especially putting any taxpayer money toward it — because it is unconstitutional to do so.
In my opinion, this situation should be left up to the free market, the states, and the people (the last two courtesy of the Tenth Amendment).
---
Posts
---
Sundays
6. Regarding drugs, smuggling, fire, and theft:
Drugs
Never ever haul illegal drugs, no matter how much money you're offered.
---
Smuggling
Never ever treat people like they are cattle or cargo.
Each person is created in the image of God and should be treated with dignity and respect.
---
Fire
---
Theft
7. Regarding roads, railroads, politics, and ports:
Roads
---
Railroads
A quote from the first article linked above:
For the economy as a whole, a railroad strike of more than a few days would be like an economic heart attack.
Quotes from the third article linked above:
Any prolonged rail strike could cripple the supply chain that has been slowly recovering from the backlogs and delays that became common during the pandemic because of worker shortages at the ports, trucking companies and railroads as demand for imports surged.

…

A railroad strike could jeopardize the health of the economy.
---
Politics
---
Ports
8. Regarding technology, dash cams, mirrors, side guards, and steering wheel:
Technology
---
Dash cams
---
Mirrors
---
Side guards
---
Steering wheel
Quote:
Ford and General Motors are asking the National Highway Traffic Safety Administration to allow up to 5,000 Level 4 vehicles without steering wheels to operate on the nation's interstates.
I am most definitely opposed to this!
9. Regarding legal, limiters, and HOS:
Legal
---
Limiters
---
HOS
10. Regarding tires, trailers, and training:
Tires
One "secret" from the first article linked in this section is "Consider the loads as well as pressure".
---
Trailers
---
Training
11. Regarding custom and Walmart Restored:
Custom
This tractor has an extra long wheelbase.
With a built-in toilet, the tractor will also need to eventually get to a place where the waste can be drained off in a suitable place.
---
Walmart Restored
12. Regarding contest and awards:
Contest
---
Congratulations
We thank those who helped out their fellow human beings in a time of need and congratulate those who demonstrated skill so as to be recognized or awarded.
My husband Mike and I wish you — and all professional truck drivers — safe travels and lots of money saving opportunities on the road.
---
---


Return from TDMST Weekly Round-Up: 2022.07.30 to our TDMST Weekly Round-Up Trucking Commentary or our Truck Drivers Money Saving Tips home page.
---