Here's how one trucker set about researching trucking companies who advertise truck driving jobs on Craigslist.
First Step: Contact Info
The first step is to bring up Craiglist.org online and then select the metropolitan area (city) that is closest to the location you want to search. (For locations in the USA, click here.)
If the area you want to search is between two major areas, you can search both locations (but preferably one at a time).
Then, select Jobs and then Transport.
There are a number of options that may help you find a job that matches the type of trucking job you want.
After you've narrowed down your choices, you can click on individual links.
The following is an image of a listing that has had certain key information blotted out.
Depending on the listing, here's what contact info may be provided:
a phone number;
an email address;
a URL with or without a referral code; or
no contact info at all.
If an ad has no visible contact info in the ad, click the "reply" button (highlighted in red in the image) to see if there is a Craigslist-supplied email address or phone number.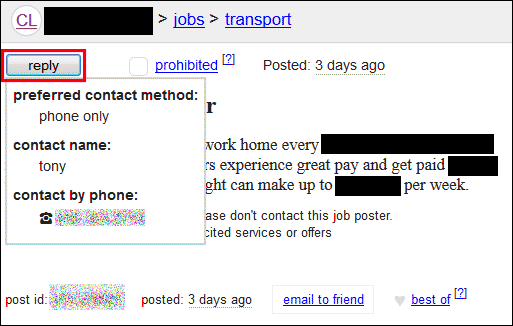 A Craigslist-supplied email address may be a red flag.
Why does the carrier want to hide its identity?
The post from which the image above came supplied a phone number that was visible in a drop down box only when the reply button was clicked (as shown).
The trucker who was researching trucking companies was able to do an online search for that specific phone number.
A number of listings came up, including the trucking company's website and a couple of resources under FMCSA.
Second Step: FMCSA's Info
Let's press on in how to research trucking companies.
What you're looking for is a US DOT number for the company so that you can dig for more info.
For purposes of this step only, the links below will be for Schneider National Carriers, Inc. (USDOT Number: 264184).
The Safety and Fitness Electronic Records (SAFER) Web part of the FMCSA's website allows folks to research trucking companies based on their unique USDOT number. See Schneider's Company Snapshot.
The Analysis and Information (AI) part of the FMCSA's website allows folks to research trucking companies (again by USDOT number) for such things as their safety rating and Out-of-Service rates. See Schneider's AI.
Third Step: Operating Status
The trucker who was conducting research on trucking companies found two key things on the SAFER page for the specific company advertising for drivers on Craigslist:
A definition for the Operating Status of any company; and
The operating status of that particular trucking company.
Interestingly, that trucking company had an operating status of "Not Authorized" (name blotted out):

When the trucker saw that the carrier was not authorized to operate, he knew that he should go no farther.
He wondered why the trucking company even bothered to advertise for drivers on Craigslist.
In other words, this process of researching trucking companies paid off regarding this specific company in at least two respects:
He didn't waste his time trying to get a job with a trucking company not authorized to operate; and
He didn't besmirch his integrity as a professional truck driver by being hired by a less-than-reputable firm.
Fourth Step: Other Resources
Your trucking company research will not be complete unless you also consult some third party resources.
The trucker found — by searching the phone number of the trucking company — two non-trucking business websites that allow users to rate them:
Depending on the age of the carrier, there may or may not be any user rating attached.
You may also search for truckers' experiences with trucking companies on trucking forums.
See the Video
---

Money saving tip: It is ultra important that you understand the reputation and rating of a trucking company before you hire on.
You are aligning your values with the values of the company for which you drive.
In the process of researching trucking companies, if you find that a company has had many Hours of Service compliance issues, then guess what?
Most likely, you may be asked to violate your Hours of Service, too. (And, yes, the HOS regulation can still be bent with Electronic Logging Devices or ELDs.)
Don't put yourself in that kind of compromising situation!
Some less-than-reputable trucking companies may try to hide behind anonymous ads on Craigslist (or other online ad sites).
Always look for a USDOT number, whether in the ad or on a website that you find connected with the ad.
If you can't find the info for which you seek, consider moving on.
Consider, too, that some trucking companies may lure potential drivers into submitting their info just so that they can harvest their contact info.
The ways that your info can be used may vary.
Never ever submit your Social Security Number by email or on a resume attached to email as these means are not secure.
If you intend to submit an application for a truck driving job online, make sure that you are confident of the trustworthiness of the company through whose website you plan to submit it.
Research each and every trucking company thoroughly.
Be wise.
---
Return from Researching Trucking Companies Who Advertise on Craigslist to our Truck Driving Jobs page or our Truck Drivers Money Saving Tips home page.