Over the years, one condition of employment after another has been thrust upon professional truck drivers.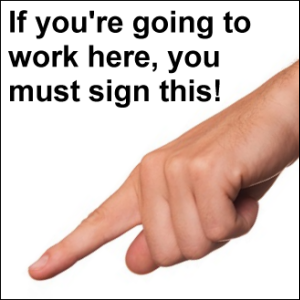 In order to continue driving professionally, these hard working professionals have had to accept and abide by these conditions.
Whether they come in the form of federal regulations, state regulations or just a new company policy, we think that the burden of these conditions is getting so heavy that many truckers are simply leaving the trucking industry.
Below, we will classify some of these conditions.
Each one of them has some kind of cost involved.
Federal Regulations as a Condition of Employment
CSA;
Hours of Service regulation; and
Electronic log books (e-logs) or Electronic Logging Devices (ELDs).
In addition to these, there is possibly going to be some kind of regulation or law regarding sleep apnea in the future.
State Regulations as a Condition of Employment
These include:
Truck Cam as a Condition of Employment
One trucking company put a cab-facing truck cam in one truck which a trucker chose to cover with his wallet. (We hazard a guess that he thought he would never be caught.)
The reason why he didn't want to be seen was because he was "looking at photos of scantily clad women on Facebook at the time of the crash" when he "crashed his semi into parked emergency vehicles on an Arizona highway."
As a result of the crash, an Arizona Department of Public Safety officer was killed.
This trucker knew that the correct use of the truck cam was a condition of employment, but he tried to thwart it.
It wasn't the truck cam's fault; it was the trucker's distracted driving that caused the crash.
By virtue of the fact that the trucker was driving the truck with the cab-facing camera in it was his consent or agreement to drive for a company with that as a condition of employment.
New Company Policy as a Condition of Employment
In October 2013, all of the truckers at a multi-location trucking company were required to agree to a new company policy as a condition of employment.
The company policy book (employee handbook) was being updated to include this new policy as a direct result of what happened to one of their drivers.
The company, according to the truckers, had a poor track record of keeping its trucks maintained — even when the truckers reported equipment problems and maintenance issues.
One driver pulled into a weigh station, had his truck inspected and a whole bunch of violations were found.
We don't know the exact amounts, but the fine was evidently quite steep and the cost to fix the violations probably cost a good bit, too.
Federal Regulation About Equipment
Now granted, "§ 392.7 Equipment, inspection and use." of the federal regulations states (emphasis added):
(a) No commercial motor vehicle shall be driven unless the driver is satisfied that the following parts and accessories are in good working order, nor shall any driver fail to use or make use of such parts and accessories when and as needed:

Service brakes, including trailer brake connections.

Parking (hand) brake.

Steering mechanism.

Lighting devices and reflectors.

Tires.

Horn.

Windshield wiper or wipers.

Rear-vision mirror or mirrors.

Coupling devices.

(b) Drivers preparing to transport intermodal equipment must make an inspection of the following components, and must be satisfied they are in good working order before the equipment is operated over the road. Drivers who operate the equipment over the road shall be deemed to have confirmed the following components were in good working order when the driver accepted the equipment.

Service brake components that are readily visible to a driver performing as thorough a visual inspection as possible without physically going under the vehicle, and trailer brake connections..

—Lighting devices, lamps, markers, and conspicuity marking material.

—Wheels, rims, lugs, tires.

—Air line connections, hoses, and couplers.

—King pin upper coupling device.

—Rails or support frames.

—Tie down bolsters.

—Locking pins, clevises, clamps, or hooks.

—Sliders or sliding frame lock.

[33 FR 19732, Dec. 25, 1968, as amended at 60 FR 38746, July 28, 1995; 73 FR 76823, Dec. 17, 2008; 74 FR 68708, Dec. 29, 2009]
Questions About Financial Responsibility of Company-Owned Equipment
What should a trucking company do if a company driver pulls into a weigh station and the company-owned truck gets inspected and a whole bunch of violations are found?
Is it reasonable for company policies to be updated such that more financial responsibility is put back on the drivers?
(Note: All of the drivers for this company are company drivers, not owner-operators.)
The following is an image (edited to remove the name of the trucking company) and then the text of the new company policy that all truckers were required to sign as a condition of employment.
Image of New Company Policy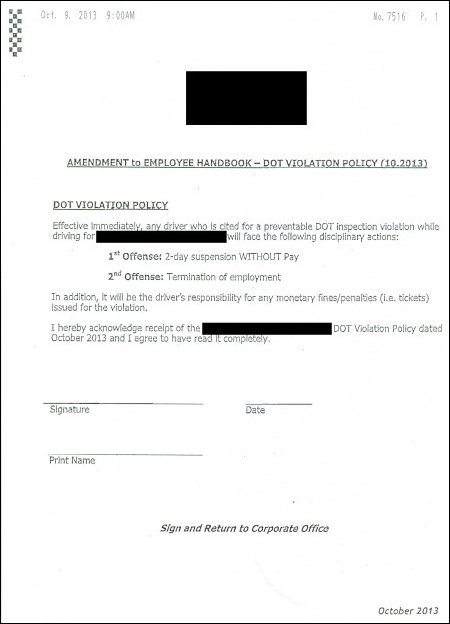 Text of New Company Policy
AMENDMENT to EMPLOYEE HANDBOOK – DOT VIOLATION POLICY (10.2013)
DOT VIOLATION POLICY
Effective Immediately, any driver who is cited for a preventable DOT inspection violation while driving for _____ will face the following disciplinary actions:
1st Offense: 2-day suspension WITHOUT Pay
2nd Offense: Termination of employment
In addition, it will be the driver's responsibility for any monetary fines/penalties (i.e. tickets) issued for the violation.
I hereby acknowledge receipt of the _____ DOT Violation Policy dated October 2013 and I agree to have read It completely.
_____
Signature
_____
Date
_____
Print Name
Sign and Return to Corporate Office
October 2013
---
Result of the New Company Policy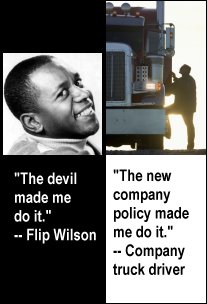 By signing the new company policy, the truckers knew — until they left their jobs — that they were going to be financially responsible for any inspection violations connected with the trucks.
In order to keep from paying this money out of pocket, they were going to force the trucking company to spend the money to bring the company's trucks into compliance.
A rash of mechanical work — including the replacement of numerous tires and brake work — was the first thing that happened.
It was not right of the trucking company to let its equipment get so run down.
Neither was it right of the truckers to take equipment on the road that wasn't roadworthy according to clearly established regulations.
What the Company Doesn't Yet Understand About Its New Policy
If the company takes its own condition of employment seriously, they could be in for a rude awakening at any time.
Since some of their locations are small — having only a few drivers at most — it takes only one or two drivers being suspended or terminated at the same time to make pick-ups and deliveries practically impossible.
Not only that, but we are told that at times, a yard supervisor also becomes a road driver.
If a yard supervisor is suspended for even one day, things could become very difficult.
If this supervisor is terminated, there will be no one knowledgeable enough to take his place.
We will be interested to learn when (not if) this policy implodes through the suspension or termination of truckers who would ordinarily have remained good employees for many years to come.
In the meantime, it would do the company well to put in place a better method of making sure that all of their trucks stay in compliance!
---

Money saving tip: Whenever a company trucker is not "satisfied" that the company truck assigned to him/her is in "good working order," it is his or her responsibility to put the truck "out of service" until such time that it is in good working order.
If the company is inconvenienced, if a customer's load is not picked up or delivered in a timely manner, or if it costs the company money in the process, all the driver has to do is point to two things:
the federal regulation and
the "new company policy."
End of discussion.
---
Return from Condition of Employment and New Company Policy for Truckers to our Truck Driving Jobs page or our Truck Drivers Money Saving Tips home page.
---