The RoadPro Portable Stove is a 12-volt-powered device that can be used to cook food in a big truck.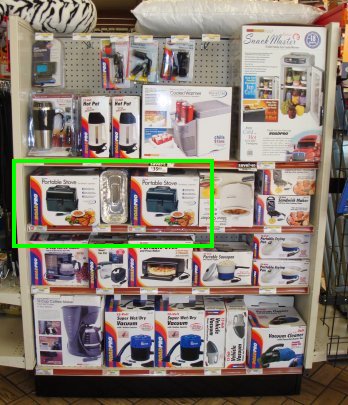 This product is sold in many truck stops, usually in a cluster of other RoadPro products, as shown here.
You can see that we have highlighted the photo of the display with a lime green box to show the part of the shelf with two stoves on either side of replacement aluminum pans.
While we have personally used 12-volt cooking devices in the big trucks we have driven, we have never used this specific product.
This smaller photo shows that potential customers show great interest in this product.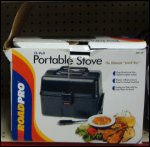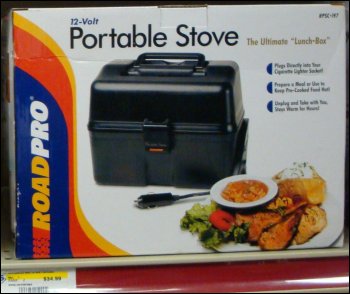 According to the information on the box's front panel:
– This unit is "The Ultimate 'Lunch-Box'";
– It "Plugs Directly Into Your Cigarette Lighter Socket!"
– It is used to "Prepare a Meal or Use to Keep Pre-Cooked Food Hot!"
– The user can "Unplug and Take with You, Stays Warm for Hours!"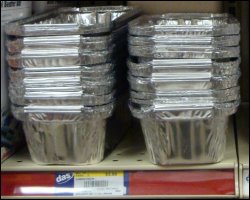 This is a display of disposable aluminum pans that fit down inside the RoadPro Portable Stove.
The boxed portable stove may or may not have aluminum liners included.
After use, these can either be thrown away or cleaned and reused.
For your convenience, we are listing here links to products on Amazon.com, with which we have an affiliate relationship.
We have three comments about the RoadPro Aluminum Pans for the 12V Portable Stove – Pack of 3:
One user whose comment we saw online said that the pans do not nearly fill the interior space of a 12V portable stove (they're too small), although it looks like a good fit in the photo below;
Another user said that lining the aluminum pan with aluminum foil will increase the pan's life; and
Truck stops sell these replacement liners at slightly higher prices than you can buy them for online and in some
grocery stores.
We wish that we had taken photos of other panels of the box, such as one that includes a list of the specifications.
Since we did not, we refer you to another online source (trusting that it is accurate) for this information.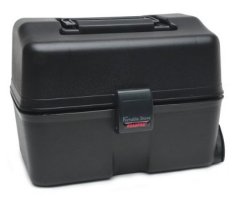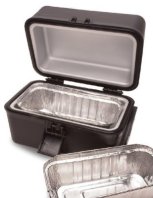 The photos here, courtesy of Amazon.com, show
– at left, the unit closed and latched; and
– at right, the unit open with one disposable pan inserted and another outside.
We are showing below two different listings for this product from Amazon.com.
We can't tell any difference between them except the price.
The price of the unit in the truck stop as shown in the photos above was $34.99. (It may have changed since then.)
The features of the unit that was listed on Amazon.com (as of February 2012, and which may not match the listing below) were:
Powered from Your Vehicle's Cigarette Lighter Socket
Insulated Design Keeps Food Warm While the Outside Stays Cool
Cooks and Warms Food to 300°
15 Amp Fused 5.5′ Power Cord
90 Day Limited Warranty
Koolatron 12V Black Heating Lunch Box Stove 1.6 Qt (1.5 L), Classic Construction Worker Lunchbox for Car, SUV, Truck, RV, Boat
---
If you are a professional truck driver and you have used a RoadPro Portable Stove within the last 6 months, we invite you to review it through the form below, answering questions such as these:
What are the top 3 reasons why you bought and used one?
Did it function as advertised?
How would you rate the quality of the product?
What was your experience with the disposable aluminum liners?
Do you think the product was worth the price you paid for it?
How did this product save you money?
Would you buy this product again and why?
---
---
Return from RoadPro Portable Stove: Reviews from Professional Truck Drivers to our Product Reviews page or our Truck Drivers Money Saving Tips home page.
---