Vicki was pleased to learn about the Time Bandit Electronic Cargo Strap Winder just before going to the 2012 Mid America Trucking Show.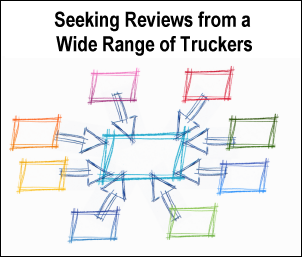 Considering that at that time, Mike was hauling a flatbed upon which he has to strap his loads, she thought that this device was ingenious for saving drivers time (and hence money).
There's a bit of background on how the inventor of the device came to design it in a June 29, 2012 article on Overdrive Online.
According to the article, it was minus 6 degrees (well below freezing) in St. Cloud, Minnesota, on the day that Johnny White got stopped by the DOT for not having his straps rolled up.
The fine for him was $368. (Ouch!)
According to their YouTube video embedded just below,
The Time Bandit is a 12 volt device that can roll up a cargo strap in 8.4 seconds. Setup and operation are quick and easy and its uses are limitless. Made for the trucking industry it can also be used in the agricultural industry where cargo straps must be used to secure loads such as hay, tractors or lawnmowers. With the accessory reel, it can also be used to roll up extension cords, power cords, Christmas lights, and even to re-roll electric fencing for live stock.
The website as stated in the video is www.time-bandit.net (link no longer online).
Another is www.timebanditstraps.com (link no longer online).
---
If you are a professional truck driver and you have used the Time Bandit Electronic Cargo Strap Winder within the last 6 months, we invite you to review it through the form below, answering questions such as these:
Did you use the moveable or installed version of this product?
How well did it work to roll your straps compared to manual rolling?
How much time did you save on average per load using the product?
Was the electronic aspect of this device a positive or negative for you?
How would you rate the quality of the product?
Do you think the product was worth the price you paid for it?
Would you buy this product again and why?
---
---
Return from Reviews of Time Bandit Electronic Cargo Strap Winder by Truckers to our Product Reviews page or our Truck Drivers Money Saving Tips home page.
---