This is the TDMST Weekly Round-Up of news affecting professional truck drivers, written by Vicki Simons for the week ending April 29, 2017.
We welcome your comments, thoughts and feedback on the items of your choice below.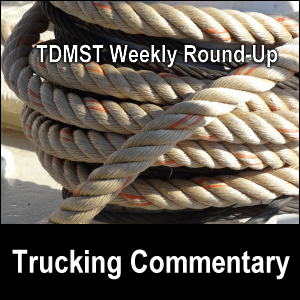 1. There is an image that reveals the number of "Heavy and Tractor-Trailer Truck Drivers Per Metro Area" on a page entitled "How Autonomous Driving Will Affect the Trucking Industry".(a)
This image shows the number of professional truck drivers who may eventually be put out of work when autonomous freight-hauling trucks are fully operational.
In a related April 27, 2017, article, two U.S. Senators asked the Government Accountability Office "to assess autonomous trucks' potential to displace workers."
2. According to an April 25, 2017, article, a "three mile stretch of Interstate 90, just east of Snoqualmie Pass" in Washington state is riddled with pot holes and "deep ruts".
If a truck is damaged by hitting a deep pot hole on an interstate highway, who is responsible to pay for timely truck repairs?
Please share your thoughts.
3. If you haul water in your truck, don't try to refill it from a municipal fire hydrant.
This April 29, 2017, article revealed how a trucker got a written warning for doing so.
4. "The California Labor Commissioner ruled that XPO Cartage must pay four drayage truck drivers $855,000 for improperly classifying them as independent contractors when they should have been considered employees," according to an April 28, 2017, article.
Besides individual payments, "In the ruling, the Labor Commissioner included awards to the drivers for their nonproductive time of around $38,000 each in wages for unpaid hours."
When will these trucking companies learn to classify and pay their drivers correctly?
5. According to an April 27, 2017, article, "A Lakeside man is suing his former employer, a trucking company, claiming that its managers retaliated against him and fired him because he refused to text and drive."
The driver "claims he was twice scolded by his manager for not reading or responding to his manager's texts while driving for work."
However, the company's chief operating and financial officer "denied that texting and driving was required of its employees" and called the employee "disgruntled."
We'll be interested to learn the outcome of this.
6. No matter from where you get your truck, always make sure that it is legal.
This April 27, 2017, article stated that the "driver was charged with a 1,000 yuan (£112) fine" for driving a truck in China with only half a cabin.
7. An April 27, 2017, news release was titled, "Keep Highways Safe Identifies The 25 Most Dangerous Trucking Companies In Pennsylvania".
yhoo.it/2ptalqJ (no longer online)
"Surprisingly, despite being involved in hundreds of crashes across the United States, some trucking companies remain in operation," the release stated.
Attorney and Keep Highways Safe founder, Jay Solnick, stated, "Trucking companies with repeated violations should be shut down for good." One of the companies cited was Swift Transportation.
I wonder what will happen as a result of this information.
8. Are you thinking of outfitting your truck with wide-single tires where dual tires are now?
Check out this April 2017, article.
9. An April 27, 2017, article opened with, "Wheel alignment is critical to tire life. Proper alignment decreases irregular tire wear and improves tire mileage by decreasing rolling resistance."
Besides checking tire pressure and tread depth, also check your tractor's wheel alignment as scheduled.
10. Dr. Chris Singh wrote in an April 26, 2017, article that "knee injuries are second only to lower back injuries among [professional truck] drivers."
This type of injury can be experienced:
in the "clutch leg of city drivers, due to the repetitive nature of the job and frequent clutch applications"; and
by those who haul flatbed loads "due to their constant climbing up onto the deck of the trailer".
As part of your overall health and wellness, take care of your knees!
11. A "class action lawsuit against New York's Department of Taxation and Finance" resulted in New York being ordered to pay over $44 million, according to an April 24, 2017, article.(b)
OOIDA had "challenged the taxes [for unconstitutional registration and decal fee] as … discriminatory against out-of-state truckers who drive their trucks mostly in other states–in contrast to New York-based truckers who drive a disproportionately higher number of miles in New York."
A related article is here.
What do you think?
12. Regarding a commentary dated April 26, 2017, entitled, "We can't attract more drivers while automating the profession", I'm glad that somebody "gets it" on this topic!
Selected quotes from the site are:
"The way to attract new blood into our industry is to market a clear career path to prospective drivers."
"Technology is not going to replace drivers. It will reduce the number of drivers required."
Doesn't "reduction" mean that some drivers will be "replaced"?
Please share your thoughts.
On behalf of my husband Mike and me, we wish you safe travels and lots of money saving opportunities on the road.
---
---
Return from TDMST Weekly Round-Up: 2017.04.29 to our TDMST Weekly Round-Up Trucking Commentary or our Truck Drivers Money Saving Tips home page.
---
Reference:
a. fortunedotcom.files.wordpress.com/2017/04/truck_drivers_graphic2.png?w=720&quality=85 (no longer online)
b. www.landlinemag.com/Story.aspx?StoryID=33243 (no longer online)