This is the TDMST Weekly Round-Up of news affecting professional truck drivers, written by Vicki Simons for the week ending September 4, 2021.
We welcome your comments, thoughts and feedback on the items of your choice below.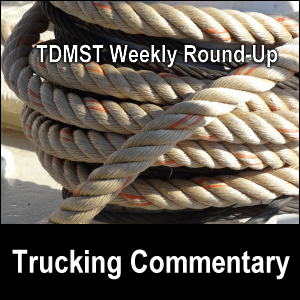 1. Regarding Hurricane Ida and weather:
Hurricane Ida
Even though Hurricane Ida has dissipated and moved off the eastern coast of the USA, Wikipedia states (as of this writing) that this was the 6th costliest Atlantic hurricane.
I have provided below a list of articles from trucking sources regarding this storm.
Please note that there are still almost 3 entire months left of "hurricane season" (which runs through November 30).
So if you travel near the Gulf Coast or eastern seaboard of the USA, please monitor the weather and take necessary precautions by having the following in place: food, drinking water, emergency kit, emergency fund, first aid kit, etc.
Also, be extremely careful about driving in high winds, heavy rains, and areas where the roads may have washed out.
Never, ever drive on flooded roads.
Also, please thoroughly understand all of the terms and conditions before you haul any FEMA loads.
---
Weather
Bad weather, stormy weather, and extreme weather can happen at any time.
Please stay safe.
2. Regarding snow chains, inspections, and theft:
Snow chains
There are a number of different kinds of traction devices, including snow chains, automatic snow chains, snow cables, snow socks, truck claws, etc.
Before you use any one of these, make sure that they are approved for use where you plan to use them.
Some trucking companies let truckers put chains on their trucks and keep driving, while others insist that their drivers park until the conditions pass that would otherwise require "chaining up."
---
Inspections
Be ready for an inspection at any time and you'll never be caught off-guard.
---
Theft
The Labor Day weekend — as of this writing — is upon us.
Would-be thieves are eager to take advantage of truckers who do not take precautions to keep their trucks and freight safe.
3. Regarding brakes, maintenance, and tires:
Brakes
---
Maintenance
---
Tires
4. Regarding accidents, death, and smuggling:
Accidents
Please review these article titles and endeavor to ensure that you do not get in the same situations that lead to accidents.
We'd also like to know more about the accident that resulted from a truck having a blown steer tire.
Could this blow-out have been prevented — and if so, how?
---
Death
---
Smuggling
Never, ever haul people the way that you do any other freight.
5. Regarding fuel, fuel cell, fuel economy, energy, Run on Less, and final mile:
Fuel
---
Fuel cell
---
Fuel economy
---
Energy
---
Run on Less
This is an interesting take on the previous "Run on Less," because the whole point was "running on less diesel."
How can one determine how much "less" one can run on, when one is using electric power?
Hmm…
---
Efficiency
---
Final mile
Some people prefer to call them "final mile" deliveries and others like to call it "last mile" — but as far as I know, they all refer to the same thing.
FWIW, I spoke briefly with a "final mile" type driver once, outside a Walmart.
I asked her if she literally just drove the "final mile" of the trip — and she laughed, "No!"
Before you take on this kind of work, learn exactly for what you'll be responsible.
6. Regarding economy and employment:
Economy
These are some of the most recent articles about the economy from the trucking industry's perspective.
---
Employment
7. Regarding carbon, climate, and facts:
Carbon
---
Climate
---
Facts
8. Regarding electric vehicles and autonomous vehicles:
Electric vehicles
Please be aware that there is a huge push — politically and supposedly environmentally — to get people driving electric vehicles instead of those powered by fuel.
Previously, I quoted at least one article that indicated that electric vehicles are not really as helpful as manufacturers or others claim..
As "bad" as diesel and other fuels may be, the infrastructure is already in place for diesel distribution.
Unless truckers are ready for someone to "turn off the electricity" at powering stations, always be ready for what comes.
---
Autonomous vehicles
I adamantly oppose self-driving, driverless, and autonomous vehicles — especially commercial motor vehicles — on the same roads as the motoring public.
I share this information as a courtesy to help our readers stay informed.
9. Regarding technology, aerodynamics, and HOS:
Technology
---
Aerodynamics
I'm just wondering how many of our readers use more than one aerodynamic device on the truck they drive to improve fuel economy.
---
HOS
Why does the FMCSA have to keep changing the Hours of Service regulation every single time there is a major weather event or some other special situation?
Why not let truckers decide when to drive and when to park to get good sleep?
I guess that federal bureaucrats (FMCSA and DOT) love to feel important through their endless regulations.
10. Regarding surcharges, pay, rates, and signing bonuses:
Surcharges
---
Pay
---
Rates
---
Signing bonuses
11. Regarding consumers, protests, and tolls:
Consumers
---
Protests
---
Tolls
12. Regarding awards/recognition and NTDAW:
Awards/Recognition
Congratulations to all truckers who are looking to be nominated for a contest, have been narrowed down as a finalist in a contest, or have won some recognition or award!
Congratulations also to the trucker who drove 8.7 million trucker miles until he was 90 years old!
---
NTDAW (National Truck Driver Appreciation Week)
Be watching for special discounts, prizes, and more, that are set up (or will be) to help celebrate truckers during this special week.
Personally, I wish that people would value professional truck drivers all year long (as my husband Mike and I do).
My husband Mike and I wish you — and all professional truck drivers — safe travels and lots of money saving opportunities on the road.
---
---
Return from TDMST Weekly Round-Up: 2021.09.04 to our TDMST Weekly Round-Up Trucking Commentary or our Truck Drivers Money Saving Tips home page.
---