This is the TDMST Weekly Round-Up of news affecting professional truck drivers, written by Vicki Simons for the week ending December 1, 2018.
We welcome your comments, thoughts and feedback on the items of your choice below.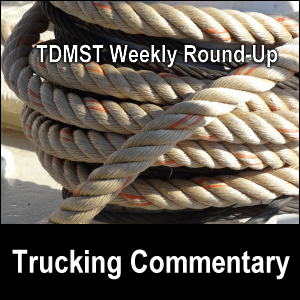 1. According to a November 27, 2018, article, "[the] U.S. DOT … has increased fines across the board for violations of federal trucking regulations."
You may see a list of the existing penalty and new penalty rates.
2. The president of the National Transportation Institute was quoted as saying that "pressure on driver pay and rates" will continue into 2019, unless GDP growth stalls or declines.
The article further stated:
Surveyed fleets agreed that raising pay was still critical to maintaining their existing driver count, with 98.7 percent saying that improving their pay relative to competitors was critical to retaining drivers and attracting existing drivers looking for new opportunities.
Another article about finding ways to "keep drivers wanting to stay" gave a really great word picture:
"turning up the faucet without closing the drain".
3. There is only one situation I can think of when a semi is properly parked — with the brakes applied — and then slides into a stationary object:
when it is parked on a slippery, sloped surface and then loses traction.
But that wasn't the case when a semi was supposedly parked at a diner but started to roll, gained speed, crashed into other parked vehicles, and caused other damage.
As soon as you stop your vehicle to park, make sure that you apply the parking brake.
In most large commercial motor vehicles:
– the yellow knob is the parking brake (pull to apply, push to release); and
– the red knob is the trailer air supply (pull to evacuate, push to supply).
In certain cases, putting a rubber chock behind truck tires may be able to help keep trucks from rolling.
4. It has been almost a year since the dreaded ELD mandate went into effect.
And now the California Highway Patrol (CHP) has said that it will no longer accept paper logs unless a trucker has a legitimate exemption.
I wish that the article has included the size of the violation of this rule.
5. Please be careful driving in winter weather, especially when the winds are blowing.
According to a November 24, 2018, article, "heavy snow and winds contributed to … a massive 20 vehicle pileup [that shut down] a portion of Interstate 70 near Frisco, Colorado, on Saturday afternoon."
If necessary, park, shut down, and refuse to drive until conditions improve.
6. If you have a toothache that is so bad that you can't concentrate on driving, contact your driver manager to get time off to have it attended to.
Don't let it become the reason why your semi tractor trailer rolls over.
7. Our deepest condolences go to the family of the truck driver who died from carbon dioxide poisoning while delivering a load of the liquid gas.
From the way a November 23, 2018, article about the accident was written, the chemical began leaking and an eyewitness said that "it appeared as though the truck driver must have attempted to drive off with the liquid CO2 hose still attached to a fitting."
Every time you attach and detach connections on a tanker, make sure that you follow the correct procedure in the correct order.
8. Here are lists of
– the "10 worst roads to avoid this coming winter";
– the "10 toughest states for hours of service violations"; and;
– the "15 toughest states for moving violations".
9. A November 27, 2018, article drew a parallel between warehouse workers and truckers working in our day when consumers want instant delivery.(a)
While truckers and warehouse workers are working themselves to the bone trying to keep up with the nearly impossible demands of consumers, companies are being forced to address the issue of meeting that demand while humans are still doing the work.
An article in The New York Times states that jobs with "poor work conditions … are not designed for humans."
Although it pains me to write it, watch for this argument — and the one about "solving work-life balance" issues — to be used against transporting freight by human labor.
Meanwhile, "autonomous vehicle makers" think instant delivery is good news (because it underscores the need for their products, which in turn will be able to provide service without human labor).
10. Land Line Magazine has encouraged truckers to "participate in [a] federal truck parking survey"(b), which you may access here.
11. I'm surprised that the state of New York hasn't already updated exit numbers along Interstate 84 to coincide with the mile markers.
I wonder which issue of motor carrier atlases will have the new information.
Even so, look for this conversion to take place "sometime next year".
My husband Mike and I wish you — and all professional truck drivers — safe travels and lots of money saving opportunities on the road.
---
---
Return from TDMST Weekly Round-Up: 2018.12.01 to our TDMST Weekly Round-Up Trucking Commentary or our Truck Drivers Money Saving Tips home page.
---
Reference:
a. tandemthoughts.landlinemag.com/commentary/instant-delivery-will-death-knell-logistics-workers/ (no longer online)
b. www.landlinemag.com/Story.aspx?StoryID=73378 (no longer online)