TDMST Weekly Round-Up 2023.01.21 is the trucking commentary on news affecting professional truck drivers for the week ending January 21, 2023, written by Vicki Simons.
We welcome your comments, thoughts and feedback on the items of your choice below.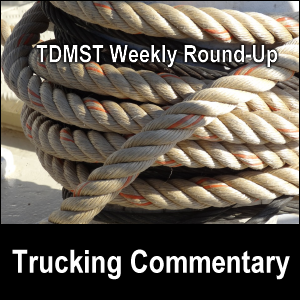 1. Regarding economy, employment, pay, theft, gig, and consumers:
Economy
The following are some of the most recent articles regarding the economy from the trucking industry's perspective:
---
Employment
---
Pay
From the first article in the section just above, we read:
Most truck drivers are paid by the mile instead of by the hour. In addition, the Fair Labor Standards Act exempts motor carriers from having to pay its drivers overtime. So there's often no pay for when drivers are getting fuel, inspecting the load, or waiting hours to be loaded or unloaded.

Another easy way to explain it is that drivers generally aren't earning if the wheels aren't turning.

"I spent unpaid time with (Anderson) while loading and unloading, and it just became crystal clear to me that the structure of compensation for drivers is a huge factor in industry success for safety and economic strength," [FMCSA Administrator Robin] Hutcheson said.
OK, that's all well and good, but what is the FMCSA doing to fix this problem in the Fair Labor Standard Act?
---
Theft
---
Gig
The infographic in the article linked above states:
Majority of gig workers say they are done with traditional employment.
I think that especially since C0VID, the employment landscape — especially toward those who were pushed toward working from home — has changed a lot of people's attitudes toward work.
I happen to know one person — who used to be a trucker and now works in the gig economy — who will never go back to standard employment.
Yes, he is totally responsible for determining which gigs he will accept — and he is very choosy about which ones he will accept — but he feels freer and more independent.
He has shared that when there is some adjustment that he needs to make in his schedule, he just makes it instead of having to ask for permission for time off.
I think that over time, we will see more and more of this kind of attitude in the trucking industry, too.
---
Consumers
Quoting from the article linked just above — and understanding that:
"CPG" stands for "Consumer Packaged Goods"; and
"Elasticities" means "negative change in sales volume in response to rising prices";
we read:
…as consumers become increasingly stretched each month, there is growing evidence that the changes in consumer behavior, which started with big-ticket, discretionary items like televisions and furniture, are extending to everyday items. industry in the past year. Despite two consecutive years of steeply rising prices, including last year's CPG price growth of upward of 15% or more in many categories, CPG elasticities have remained below historic norms and have been below most analysts and companies' internal expectations so far.

However, as consumers become increasingly stretched each month, there is growing evidence that the changes in consumer behavior, which started with big-ticket, discretionary items like televisions and furniture, are extending to everyday items.
An example of rising prices is the astronomical increase in the price of raw eggs.
This week, my husband Mike and I purchased in Aiken, SC, two 18-count large white eggs for $6.99 each (almost $0.39 for each egg), when compared to the price of eggs in October 2020, when a dozen eggs cost $0.59 each (under $0.05 each).
($6.99 / 18) * 12 = $4.66 per dozen
This Percent Increase Calculator shows that the increase from $0.59 to $4.66 is 689.83%.
Many people have started to raise their own chickens for both eggs and meat (which is a subject for another time).
2. Regarding training, videos, accidents, and fatalities:
Training
Please be on the lookout for any training program where the entity doing the training is the same one who pays you.
Don't allow yourself to be exploited.
---
Videos
---
Accidents
Please scan through the articles listed below to understand how some accidents involving large trucks occurred — and seek to prevent being involved in a similar accident yourself.
---
Fatalities
We extend our deepest sympathy and condolences to the families of those who died.
Another article about the tire separation article linked above is:
Police: Truck driver killed after another semi's tires fall off, strike vehicle
I posted this article on a trucking group on Facebook and one trucker disagreed with the law enforcement officer's assessment that a thorough pre-trip inspection would have caught the problem.
He said that "China bearings could of failed causing The Whole hub to come off."
I asked for — and received — a description and image showing how such a situation could have happened.
On the other hand, I commented on this article on my Facebook profile as follows (before that other trucker provided the detail I requested):
Unless this was a true mechanical failure that the trucker couldn't detect ahead of time, conducting a thorough pre-trip inspection would have found the problem.

Once the problem was found, the trucker should have put the truck out of service until the problem was completely fixed.

Had that happened, there would be one less dead trucker, one less truck demolished, and a lot less grief.

Another issue to consider is that somewhere down the road, there's a truck without a set of tires.

Chances may be that when the trucker whose truck is missing tires is found, he/she may yet be held responsible for the accident and all involved.

To help things like this from happening, we make available through our website a Free Download of a Pre-Trip Inspection Combo PDF:
3. Regarding AB5, legal, drugs, and trafficking:
AB5
---
Legal
---
Drugs
Never, ever haul illegal drugs, no matter how much of an incentive you are offered.
---
Trafficking
Do not engage in trafficking humans — ever!
4. Regarding fuel, autonomous vehicles, and electric vehicles:
Fuel
---
Autonomous vehicles
I totally oppose the operation of self-driving, autonomous, or driverless commercial motor vehicles on the same roads as the motoring public, but share these articles to help you stay current on the topic:
---
Electric vehicles
5. Regarding batteries, emissions, and environment:
Batteries
I believe that the title of this article is misleading because (if I read the article correctly) this article is about detecting when a battery is about to die, not about preventing a battery from dying.
Hmm…
---
Emissions
---
Environment
6. Regarding emergency, HOS, traffic, and speed:
Emergency
In my opinion, the Hours of Service regulation has become a gigantic joke if it can be suspended every time there is a declared "emergency"!
How many emergencies have we had in the last 3 years?
Frankly, I've lost count.
Every time there is severe weather, the FMCSA suspends the HOS in order to allow certain kinds of commodities to keep rolling to consumers.
So, why go through the charade of pretending that the Hours of Service — and the use of Electronic Logging Devices — are so important?
Please share your feedback through the form below.
Thanks.
---
HOS
---
Traffic
Unlike some lists, the top one in the article linked just above takes into account international locations.
---
Speed
In the first article in the section just above, there's a term used to describe split speed limits for big trucks and the general motoring public:
"Bifurcated" means "divided into two branches or parts."
If you live in a state where there are split speed limits — and you feel that it is dangerous for the speed limit to be divided — please contact your state legislators to let them know.
7. Regarding IFTA audit, insurance data, brokers, and safety:
IFTA audit
---
Insurance data
---
Brokers
---
Safety
The second article in the section just above concerns alcohol and drug-related crashes.
8. Regarding goals, health, savings, and loans:
Goals
Were you aware that January 17 has been designated as "Ditch New Year's Resolution Day"?
According to this resource (and others):
"January 17… is popularly thought to be the day when a large number of people abandon their New Year's resolutions."
We have a page on our website that may help you:
Trucker Goal Setting Instead of Making New Year's Resolutions.
---
Health
---
Savings
---
Loans
9. Regarding inspections, best to drive in, parking, and ports:
Inspections
---
Best to drive in
---
Parking
---
Ports
10. Regarding prediction, rates, recruitment, and regulations:
Predictions
---
Rates
---
Recruitment
Quote from the article linked just above:
Good recruitment efforts should require matching the right job with the right person. This comes with honest and up-front communication from the beginning, as well as prompt follow-ups after inquiries and interviews.

Solid retention efforts also involve maintaining your employees' level of expertise by providing the proper coaching and training regularly.
The article also addressed "Honest communication with good follow-up."
---
Regulations
11. Regarding snow chains, supply chain, and technology:
Snow chains
Quote from CHP:
With slick road ways it's important to slow down and obey chain restrictions. This crash happened last night when a truck drove through a snowy area without putting on chains and ended up going through a guard rail on US-97 at Dorris Hill. Fortunately the driver was not injured but a lot of time and resources were used to respond and handle the scene.
---
Supply chain
---
Technology
12. Regarding recognition, awards, and bonuses:
Recognition
Awards
If I'm reading the list correctly, here are the categories where there was a top person and then a runner-up:
Company Driver of the Year;
Independent Contractor of the Year;
Company Trainer of the Year;
Independent Contractor Trainer of the Year;
New Driver of the Year;
Owner Operator of the Year;
Team of the Year; and
Dedicated Driver of the Year.
Congratulations to all winners and runners-up!
Bonuses
There's no mention in the article of the average bonus per person. Hmm…
The second article just above states:
In April 2022, J.B. Hunt awarded more than $900,000 in safe driver bonuses as part of its Million Mile safety recognition program.
Nice!
My husband Mike and I wish you — and all professional truck drivers — safe travels and lots of money saving opportunities on the road.
---
---


Return from TDMST Weekly Round-Up: 2023.01.21 to our TDMST Weekly Round-Up Trucking Commentary or our Truck Drivers Money Saving Tips home page.
---