This is the TDMST Weekly Round-Up of news affecting professional truck drivers, written by Vicki Simons for the week ending September 7, 2019.
We welcome your comments, thoughts and feedback on the items of your choice below.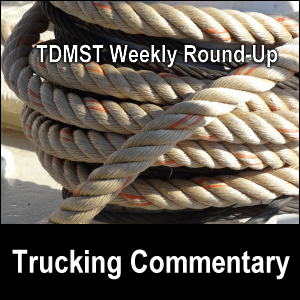 1. Regarding National Truck Driver Appreciation Week:
I've written this a number of times, but we appreciate professional truck drivers all year long!
We don't need reminders just one week out of the year regarding this.
Be that as it may, a number of ways of showing professional truck drivers appreciation during September 8-14, 2019 — National Truck Driver Appreciation Week — have been written about here, here and here.
One of the emphases leading up to NTDAW is "i Luv My Trucker!", as described here and here.
Lastly on this, I really like the video (embedded here) released by Pilot Flying J that asked viewers to "imagine what life would be like without the goods brought by truck drivers."
2. Regarding ATRI Study on Driver Detention:
According to a September 4, 2019, article, "A new report from the American Transportation Research Institute found detention time and frequency of detention have both increased since 2014."
The article further stated, "detention times at shippers and receivers has grown longer, and long detention times have become more frequent".
More about this has been written here, here, here, here, here, here and here.
On the page on our site where we listed the content of the email we received from ATRI, we listed the link to the page on ATRI's website where you may download the report for yourself.
3. Regarding comments to the FMCSA on detention:
The deadline to comment to the FMCSA about detention time is coming up on September 9 according to articles written here and here.
If you feel strongly about this, particularly in light of the study done by ATRI (referenced above), please speak up or forever hold your peace.
4. Regarding Hours of Service:
Another "listening session" regarding the proposed Hours of Service regulations change has been scheduled for September 17.
More on this was written here, here and here.
Meanwhile an August 31, 2019, article stated that of the driver violations that were identified during CVSA's 3-day International Roadcheck (held June 4-6), Hours of Service infractions topped the list.
If you feel strongly about the Hours of Service — particularly regarding the proposed change — speak up!
5. Regarding underguard trailers not defective, but… :
Even though a jury confirmed that Utility Trailers "manufactured without side underride guards are not defective," the manufacturer was "still found [the company] 45% liable for a crash that saw a crash victim's family awarded US$42 million."
How's that for not being guilty but being guilty at the same time?
Let's hope this doesn't lead to a bigger push for underride guards on different kinds of trailers.
6. Regarding bypassing weigh stations:
According to this article — reporting on a whitepaper from the Prepass Safety Alliance — "Trucking companies using weigh station bypass services save more than $8.68 and five minutes each time their truck bypasses a weigh station".
I wonder how much money and time that would save truckers on average during the course of a year.
7. Regarding controlling costs and other best practices for owner-operators:
According to a September 2, 2019, article, "Panelists in the Partners in Business seminar around owner-op best practices [spoke] on the final day of the Great American Trucking Show in Dallas".
See the article for their top tips.
8. Regarding passing inspections:
An August 31, 2019, article revealed how to pass an inspection with truck maintenance tips.
One writer said that the "number of trucks placed out of service during annual blitzes and inspection-focused weeks" is mind-boggling.
9. Regarding the misclassification of employees:
We totally disagree that misclassifying employees is not a violation, as the National Labor Relations Board recently ruled.
Harumph!
In my opinion, the only way to be rid of this problem once and for all is to find employment as a trucker in such a situation that you cannot be misclassified.
So there.
10. Regarding proper disposal of human waste:
This should not even have to be brought up, but since a September 3, 2019, article addressed it, so will I (because it could cost you as a trucker).
California Highway Patrol members are citing truckers for "non emergency" stops on the freeway and "[leaving] behind bags of human waste and other trash along the side of the freeway" (including urine and feces).
Dispose of your human waste properly, such as in a well maintained portable toilet.
We list 10 reasons why truckers who have sleeper berths on their trucks should consider having a portable toilet in-truck.
Note: Some trucking companies prohibit truckers from having a portable toilet in-truck, but we think that's inhumane.
11. Regarding trucker scams:
"Trucking companies are being warned against scams that ask for money to file their DOT biennial update", states a September 4, 2019, article.
Another article about that was written here and here.
12. Regarding the CVSA's annual Brake Safety Week:
"The Commercial Vehicle Safety Alliance's annual Brake Safety Week is scheduled for Sept. 15-22 with a focus on brake hoses and tubing", states a September 3, 2019, article.
Meanwhile, happy National Truck Driver Appreciation Week!
Drop us a line to let us how much money you save during this upcoming week.
My husband Mike and I wish you — and all professional truck drivers — safe travels and lots of money saving opportunities on the road.
---
---
Return from TDMST Weekly Round-Up: 2019.09.07 to our TDMST Weekly Round-Up Trucking Commentary or our Truck Drivers Money Saving Tips home page.
---