As we describe on our packing list page,we had a portable toilet in our 18-wheeler from the very first load we ever took as professional truck drivers.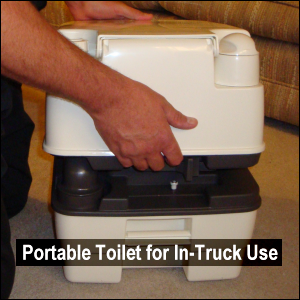 The type we bought in the early 1990s was a Thetford Porta Potti® 135, similar to the one shown here.
We considered this item to be even more important than having a bathroom at home because it served not only as a toilet, but also as a collection point for all waste water from
cleaning dishes,
brushing teeth, and
washing hands.
The Thetford Brand of Portable Toilets
Although there are different brands and designs for portable toilets, the only experience we have had as commercial truck drivers is with the Thetford brand.
Thetford sells a number of different size portable toilets, all of which have two basic parts which we call
a water reservoir (upper) tank and
a waste holding (lower) tank.
Attached to the top of the water reservoir tank is a seat and lid.
There is also a bellows that upon being hand-depressed, pumps water from the upper tank into the bowl to "flush" waste toward the lower tank.
A handle on the front of the waste holding tank slides to either open or close the "door" through which the waste and flush water flows.
When pushed in, the door to the waste holding tank is closed.
Assembling and disassembling the Porta Potti® is very easy.
The two tanks fit together and a slide mechanism locks them together. (In newer models, the lock may be automatic.)
To dump the contents of the waste holding tank:
disassemble the two parts,
carry the lower tank to any regular commode (such as at a rest area or truck stop),
swing out the capped pipe,
remove the cap,
hold the pipe over the toilet,
tip it down toward the bowl and
press the air relief valve.
You may wish to start flushing the receiving commode just before dumping your portable toilet so that the waste is removed quickly.
When the waste is evacuated properly, your hands never touch it. (You can't say that about putting waste in a plastic bag or bottle.)
In general we have observed that, as Thetford's model numbers go up, the larger the tank and the greater the number of accessories.
We upgraded from the 135 model to the 155 model because of the increased capacity of the waste holding tank (which means fewer trips to dump the waste).
As we recall, there may also have been a problem with the bellows leaking water.
We have never once had a problem with a leaking waste holding tank.
The Prohibition Against Portable Toilets In-Truck
Mike has about 16 years of professional driving experience.
In all those years, the only time when he did not have a portable toilet in his truck was the 13-month stretch during which he drove for Schneider, a trucking company which forbade all such devices from their trucks.
Supposedly, the company's leadership was afraid that they would leak and damage their trucks.
Whether this was just a suspicion or they had had a problem with a leaking mobile commode, we do not know.
We feel strongly that if they were to investigate, they would find that the Thetford brand is advertised as "sanitary, odorless, and leak proof."(1)
Cleaning the Porta Potti® is probably easier than cleaning your home's commode.
When we were based out of a residence, Mike would scrub our portable toilet with dishwashing liquid and a rag under running water outside, and let it air dry before putting it back in his truck.
Toward the end of his time driving regionally, he regularly cleaned the portable toilet, but still rinsed it under running water.
Great Advantage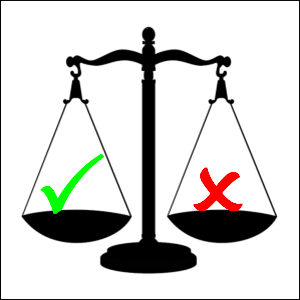 The great advantage of having a portable toilet in your truck is that you no longer have to depend on the availability or cleanliness of restrooms on the road.
You don't have to wait for the shipper or consignee to open up to use their facilities.
As for restrooms in some rest areas on the road, some are not cleaned as often as they should be.
You don't know who last sat on that public toilet or what he or she left behind for the next sitter to pick up!
In some cases, rest area restrooms are not open to the public 24 hours every day.
Any time you're parked and there is room in the waste holding tank, you can use your portable toilet.
This convenience has come in very handy over the years.
Vicki recalls a time years ago when she was driving east across Nebraska late at night.
She had eaten something for dinner that didn't agree with her and it roared through her like a freight train.
With no rest area anywhere nearby, all she had to do was
park temporarily on the shoulder of an off ramp,
go back into the sleeper,
use the portable toilet and
be on her way again.
She didn't even wake Mike, who was sound asleep.
Other Considerations
Deodorizer
As important as we feel it is to have a mobile commode in one's truck, it is just as important — even absolutely essential — to use a holding tank deodorant to break down and control the smell of the waste.
There are different brands of deodorizer available.
We have only ever bought the dry (powder) "CampaChem." (New units we have bought come packed with the liquid variety.)
Mike reports that the formaldehyde-free powder does not work as well for him as the regular powder does.
Other Places to Use
Mobile commodes can be used in other places besides a truck.
Some people take theirs in boats.
Most RVs come with built-in bathrooms, but they can be used in recreational vehicles without one.
We took our portable toilet with us on a camping trip once and it performed admirably. (No more using nasty camp site toilets!)
Portable Toilet Construction
The Porta Potti® is solidly built, unlike some emergency toilets that consist only of a seat on a frame with a bag suspended underneath.
Personal and Truck Security Issues
While there are tangible benefits to having a portable toilet in one's truck (that we share below), there are some intangible benefits, too:
During times when a driver is under a "hot load" — or has a high value load — it is best to stop one's truck for very short periods of time. Having a portable toilet in one's truck eliminates the need to spend the time walking back and forth to a public restroom.
There are rough places around the nation where there may be thugs waiting to ambush a driver or hijack a load. Rather than leaving one's truck to use the bathroom, one can use the mobile commode in the truck. Think of the peace of mind that comes from not risking getting stabbed or clunked over the head by those bent on evil.
Some professional drivers use a CPAP machine and must conform with compliance standards. Having in-cab bathroom facilities could mean the difference between meeting and not meeting the standards. For example, the standard used by one of Mike's regional trucking companies (as of May 14, 2009) was that a CPAP machine-using driver must use the machine at least 4 hours every night while on the road and 70% of sleeping time out on the road. If a CPAP machine-using driver awakens during the night to go to the bathroom and the machine is off for less than 30 minutes, then the machine is seen as being "on" for the full time. Drivers might like to think it takes them less than 30 minutes to use the bathroom at public facilities, but they cannot guarantee that they will not be sidetracked on the way to or from the restroom.
The Drawbacks
The unit is designed to hold water in the top reservoir and waste in the holding tank. Both of these can be heavy, individually or combined. Do not strain your back attempting to carry it.
The only other potential drawback we know of to using a portable toilet is trying to over fill
either the water reservoir tank
or the waste holding tank.
Recommendation
We strongly recommend the Thetford Porta Potti® portable toilet for use in an 18-wheel commercial motor vehicle.
And, of course, we recommend that users clean their hands after using any toilet.
This is a larger version of the Thetford Porta Potti from Amazon.com, with which we have an affiliate relationship.
Update: We wrote about 10 reasons why you should consider having one in your truck.
---

Money saving tip: We'll share a few money-saving tips with you on this page:
You can shop around for a portable toilet, including buying one second hand, in order to get the lowest cost. Just make sure that if you buy a used model, there are no cracks or leaks in either the upper or lower holding tank. Vicki once bought a unit with a smaller fresh water and smaller waste holding tank at a Goodwill store. The two pieces were together. It was only when she separated them that she discovered that the cap from the waste holding tank was missing. (This was probably the reason why someone had donated it to the thrift store.)
There are medical consequences from holding in urine or feces for too long. According to Wikipedia:

"Routinely resisting the urge to urinate can promote urinary tract infection." (2)
"If defecation is delayed for a prolonged period the fecal matter may harden, resulting in constipation." (3)

Both situations may require medical treatment, whether with or without the assistance of a health care professional. We encourage you to void your body's waste as your body needs to! Having your own commode comes in very handy for promoting your own health and wellness.

Don't risk getting a ticket for urinating on public property (such as a rest area parking lot) or for disposing of "trucker bombs" improperly. Remember, once waste leaves your body, it is considered by some to be a biohazard. If you use your own toilet — and dispose of the waste in an approved receptacle — you don't have to worry about that.
Depending on the micro-organisms or parasites present on a public toilet seat, very serious and costly health consequences can result. You can prevent the transfer of these entities to your body either by training your body to void waste products without sitting or by using your own portable toilet, cleaned to your own specifications.
---
Return from Review of Portable Toilet in a Big Truck: Thetford Porta Potti® to our Packing List page or our Truck Drivers Money Saving Tips home page.
---
References
1.http://www.thetford.com/HOME/Products/PortableToilets/tabid/83/Default.aspx
2. http://en.wikipedia.org/wiki/Urination
3. http://en.wikipedia.org/wiki/Defecation