This is the TDMST Weekly Round-Up of news affecting professional truck drivers, written by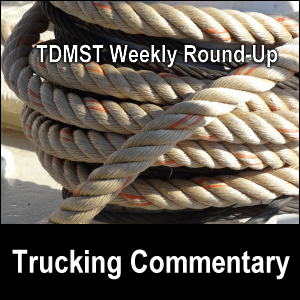 1. Regarding tolls:
A January 30, 2020, article states:
"The American Transportation Research Institute reports toll revenues have risen 72.54% over 10 years, with $14.7 billion in revenue collected in 2018 alone."
Furthermore, "toll costs amounted to 45 cents per mile, which exceeds every cost per mile metric from ATRI's 2018 operational cost survey with the exception of driver wages at just under 60 cents per mile."
You may read more about ATRI's report here.
---
A January 31, 2020, article states:
Trucker advocacy group Owner Operator Independent Driver's Association (OOIDA) has been fighting back against tolls that they claim are unconstitutionally high. But this week the United States Supreme Court declined to hear their case, effectively ending OOIDA's legal battle.
More was written about this here.
---
The Michigan Senate has advanced a bill to "create a panel to investigate the feasibility of charging tolls for roads and bridges."
---
We read from a January 29, 2020, article that "A plan to toll large trucks traveling in Connecticut could be settled in the coming days. An opportunity for the public to weigh in is scheduled for the end of this week."
2. Regarding trucker pay and the U.S. economy:
A January 31, 2020, article states that "Drivers for the Top 20 Best Fleets to Drive For put fewer miles under the bumper than the year before, but saw a small increase in their pay."
Meanwhile, you may read the list of "The Top 20 Best Fleets to Drive For for 2020" and 5 honorable mentions.
---
A January 31, 2020, article asked and answered the question: "What is a Freight Recession?"
---
One article stated that owner-operators need to be intentional about earning money in 2020.
---
Meanwhile, we read, "Experts agree [that an] economic recession [is] not imminent but 'concern' mounts".
3. Regarding alternative fuel:
A January 29, 2020, article stated, "Class 8 natural gas truck retail sales in the U.S. and Canada rose 20% year-over-year in the first 11 moths of 2019."
Meanwhile, we read: "The Canadian aftermarket that cares for Class 6-8 trucks, trailers and container chassis grew by 4% last year — reaching $4.06 billion."
4. Regarding trucking business and statistics:
For those considering starting a trucking business, a January 30, 2020, article listed these statistics about the industry:
"A staggering 80% of all cargo in the U.S. is transported by the trucking industry."
"This is four times the amount as air, rail, water, and pipeline combined."
"Additionally, 7.1 million people, or 6% of the U.S. working population, are employed by the trucking industry."
Read the article for more helps.
---
A January 28, 2020, article reveals:
The U.S. Department of Transportation's Bureau of Transportation Statistics reports that in November trucks moved more than 63% of NAFTA freight — with trains, planes, ships and pipelines picking up the rest. November NAFTA freight suffered the worst month-to-month loss of the year.
---
Thanks, truckers, for all of your hard work all year long!
5. Regarding ELDs:
According to a January 30, 2020, article, the president of Baylor Trucking "made significant investments in connected vehicle technology to be proactive in professional driver safety, productivity and customer service" before experiencing temporary lost connectivity with telematics provider Omnitracs.
The article raises "broader questions" about this ELD outage, including:
"what fleets should do in the age of connected vehicles and the ELD mandate when they lose touch with devices"; and
"what risks malfunctions present if trucks are involved in a crash."
A couple of potentially common sense moves are:
Be sure to have paper logs with you in case of an ELD outage in your truck and be sure to notify your trucking company whenever the ELD goes out in your truck.
To be on the safe side — and even though it might be costly — it might be a good idea to park your truck until ELD connectivity is reestablished.
---
It was revealed from "a newly released secret recording" that President Trump "expressed concerns about the negative impacts of the electronic logging devices (ELD) mandate at a 2018 private dinner hosted for campaign donors".
---
Meanwhile, we read that fleets are "a growing target for hackers".
---
This issue of lost connectivity and the potential for hacking has more terrifying potential: "What will happen if ELD/telematics connectivity is lost with an autonomous truck?"
Hmm…
6. Regarding driver turnover and idle time:
A January 29, 2020, article states:
While some carriers pay drivers minimum wage for non-driving work, many still do not, leaving drivers especially frustrated as this is time spent working and not earning. The ample amount of various non-driving work tasks eats into the driver's already busy workday.
What has been your experience?
Please comment below.
7. Regarding winter driving and preventive maintenance:
We read in a January 28, 2020, article: "Drivers must add some additional steps to their pre-trip checklist when prepping for winter driving, not only for their safety, but also for the safety of others trudging through these sometimes dangerous driving conditions."
Read the article to go over those extra winter steps.
Also, we read "Why Truckers Need to Take preventive Maintenance Seriously".
askthetrucker.com/why-truckers-need-to-take-preventive-maintenance-seriously/ (no longer online)
8. Regarding bad driving behaviors:
We read in a January 30, 2020, article "Truckers list top 20 bad driving behaviors of 4-wheelers".
---
A January 21, 2020, article lists "5 big driver violations (and how to avoid them)"
---
A January 31, 2020, article opens by saying, "New York Mayor Bill de Blasio has ordered city police to start handing out heavy truck violation citations as high as $7000 starting next week."
These heavy fines will be for overheight and overweight trucks.
With fines this high, truckers will take extra care not to violate limitations and wind up in preventable accidents.
Good!
I'm surprised New York didn't implement something like this years ago.
---
It never ceases to amaze me the rationale that some truckers use when preparing to haul loads.
A January 27, 2020, article states that "Georgia law enforcement officials say a truck driver recently tried to [argue] his way out of a load securement violation" by saying that "the load he was hauling was 'heavy enough to not be strapped down'"!
More on this was written here.
Every load needs to be properly secured — every time!
---
A recent blog post lists "3 Ways to Prevent Fleet Trucks Accidents".
9. Regarding annual Roadcheck inspection in May:
A number of articles covered the announcement that the CVSA is going to hold its International Roadcheck event on May 5-7, 2020, including the ones here, here, here, and here.
10. Regarding truck crash study to help autonomous truck manufacturers:
A January 26, 2020, article reveals:
"Findings from the Federal Motor Carrier Safety Administration's (FMCSA) upcoming trucker crash study will be used to help driverless technology developers and autonomous truck makers"; and
that "the Agency is working to speed deployment of autonomous trucks and wants help from truckers to do it".
To me, this seems cruel, not only to try to pin the cause of many truck accidents on truckers, but to use that crash information to cut truckers out of their jobs.
11. Regarding entry level driver training:
Numerous articles this week addressed the issue of how the FMCSA "has extended the compliance date for the Entry-Level Driver Training (ELDT) from Feb. 7, 2020, to Feb. 7, 2022", including these, from:
12. Regarding government involvement in human trafficking:
Transportation Secretary Elaine Chao said in a statement, "The U.S. Department of Transportation is committed to working with our public and private partners to fight human trafficking on America's transportation system".
While I appreciate very much the attention being put toward reducing human trafficking, I disagree with using taxpayer money to do so, as was revealed in the statement that the USDOT "is providing $5.4 million in grant funding to help achieve that goal".
I'd also like to know where and since when it has been a part of the USDOT's mission to reduce human trafficking.
13. Regarding equipment:
A January 27, 2020, article states, "U.S. trailer net orders closed 2019 down 51% from full-year 2018".
---
We read in a January 31, 2020, article, "The California Air Resources Board (CARB) has launched a $44 million voucher program aimed at accelerating the deployment of zero-emission off-road freight equipment used at ports, distribution centers, airports and rail yards."
---
Meanwhile, a January 28, 2020, article answers the question, "Why should you install telematics in your vehicles?"
If you drive a truck with a telematics package, please share with us below how this is helping you to save money, time or both.
14. Congratulations!
Our heartiest congratulations go to Robie Jensen, who was named "Company Driver of the Year finalist".
---
We also congratulate Scott Post, a driver contracted for FedEx Ground and employed by Spartan Logistics, who was "recently named the Minnesota Trucking Association's 2019 Driver of the Year." (another article here)
---
Did you know that "Several trucking and related companies are among the most admired businesses in the world"?
I wonder if there is a difference between the "most admired" trucking companies and the "best fleets to drive for". Hmm…
---
Meanwhile, we read, "Eighteen carriers have been recognized by a trucking industry organization for their commitment to safety."
---
We read that National Carriers recently recognized two "dependable and daring" truckers for their driving excellence: Reggie Ely and Ernie Garcia. Great going, guys!
---
Our congratulations go to the drivers named in a January 27, 2020, article as having been recognized by OOIDA for "truck driving excellence".
My husband Mike and I wish you — and all professional truck drivers — safe travels and lots of money saving opportunities on the road.
---
---
Return from TDMST Weekly Round-Up: 2020.02.01 to our TDMST Weekly Round-Up Trucking Commentary or our Truck Drivers Money Saving Tips home page.
---