This is the TDMST Weekly Round-Up of news affecting professional truck drivers, written by Vicki Simons for the week ending August 11, 2018.
We welcome your comments, thoughts and feedback on the items of your choice below.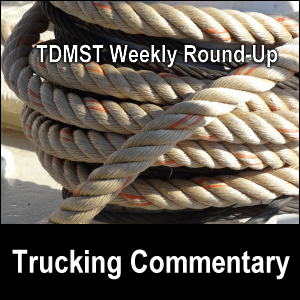 1. The author of an undated article stated that his trucking company has weekly safety meetings, one of which revealed something startling.
The Safety Rep at his company had statistics showing that "student drivers and drivers in training who already possess a CDL are hyper-vigilant", whereas experienced truckers "are overconfident in their own abilities… become complacent and lose the fear of the road."
Ouch!
Also, he wrote that when a trucker reaches "his/her sixth month mark… The driver now feels more relaxed" and that is where laziness enters in with dangerous behavior like "eating while driving, talking on the phone more, and driving faster than before."
If you are an experienced trucker, please be on your guard regarding your own level of confidence.
It might do you good to watch refresher training videos to help you stay sharp in your work.
2. If you're an owner-operator who has an ELD, are you using the data to help you maximize your driving time and hence your income and savings?
An undated article asserts, "There's the power of the ELD data – to know and understand what a trucker is doing with their time to make more profit."
3. Previously, we addressed trailer connection and separation.
Well, a video linked from an August 9, 2018, article shows what happens when a trailer becomes unconnected from its power unit.
Ouch!
There was a "fireworks show", but thankfully, no one was hurt.
Please pay attention to make sure that the locking jaws on your fifth wheel are actually in place behind the kingpin every time you connect to a trailer.
Get under the trailer and shine a flashlight into the area behind the fifth wheel to make sure the connection has been made.
It takes only a few seconds and can save you a lot of grief later on!
4. Do you know what happens during inspections during Brake Safety Week?
By way of reminder, the brake check "blitz" will take place from September 16 – 22, 2018.
According to an August 7, 2018, article,
Most trucks that are checked during Brake Safety Week will undergo the North American Standard Level I Inspection, a "37-step procedure that includes an examination of driver operating requirements and vehicle mechanical fitness. Inspections conducted will include inspection of brake-system components to identify loose or missing parts; air or hydraulic fluid leaks; defective rotor conditions; measurement of pushrod travel; mismatched air chamber sizes across axles; air reservoir integrity and mounting; worn linings, pads, drums or rotors; required brake-system warning devices; and other brake-system components."
If you haven't yet started preparing, please start now — and keep your brake system safe, legal and compliant.
5. Speaking of inspections, an August 9, 2018, article stated that the Illinois State Police stopped a tractor-trailer for "a routine commercial vehicle inspection".
Police "uncovered 260 pounds of hydroponic marijuana concealed within the legitimate load of fresh lettuce" that has a street value of $1,000,000.
Both truckers were "taken into custody and incarcerated."
Days earlier, an owner-operator "was pulled over in the early morning hours of July 23 by the Maryland State Police for going 70 in a 55 mile per hour zone", according to an August 6, 2019 article.
During an inspection, a "sizeable amount of drugs" was found and the trucker "could face up to 90 years in prison for charges related to possession" of the drugs.
A separate article states that the "drug sniffing canine unit" found "a duffel bag [containing the drugs] in the cab of the truck".
So, there was no excuse.
Furthermore, "The amount of fentanyl seized by police was enough to kill 780,000 people…"
Ouch!
Don't transport illegal drugs.
It just isn't worth it!
6. An August 8, 2018, article addressed a report that was "commissioned by the American Center for Mobility, led by Michigan State University and supported by Texas A&M Transportation Institute and projects that significant numbers of automated vehicles will not be deployed until the latter half of the 2020s."
Even so, the article stated that this report "finds that only a modest number of truck driver jobs, if any, will be affected."
7. According to an August 8, 2018, article, "Cargo theft volume and average values increased year-over-year in the second quarter of 2018, according to a report released this week by cargo theft recording firm SensiGuard."
Read the article to see a map of the hotspots for cargo theft in the USA.
Take every precaution necessary to prevent cargo theft.
8. Ever wonder how truck driver salaries rank by state?
An August 3, 2018, article lists "truck driver pay" in all 50 states, and says, "Average driver pay varies by over $17,000 from the highest paying state to the lowest paying state."
9. Upon watching the video embedded in an August 6, 2018, article — where a car driver who tried to make a "lazy merge into a truck driver's lane" — Mike and I attribute this accident mostly to the truck driver.
Even though it is possible that the car driver could have merged in front of the truck at one point, the trucker should have backed off long enough to let the other motorist merge in.
This would have been a professional courtesy.
Instead, both drivers were reported to have been ticketed.
This is so sad and was so preventable!
10. OK, this nonsense has got to stop!
According to an August 8, 2018, article, "A delivery truck driver who was paying a lot of attention to his GPS device — but not as much attention to the large body of water in front of him — [wound] up driving off of the roadway into Lake Huron this morning."
No matter what you're driving — but especially if you're driving a commercial motor vehicle — pay attention to your surroundings!
Trucker,
– if there's a low clearance sign, do not proceed!
– if there's a body of water in front of you, stop!
– if there are toll lanes for "cars only", don't try to squeeze in there!
11. We'd all like to automate certain tasks, if possible, especially if doing so will save us time and money.
However, an August 9, 2018, article states that electrically controlled "Automatic lube systems aren't 'set it and forget it' solutions".
12. If you start using Pilot Flying J's new brand of heavy-duty diesel motor oil, we would appreciate:
– your product review of it and
– your assessment of how it compares to the motor oil that you've been using.
13. An August 3, 2018, article states:
"Two researchers released a study that suggests there is no evidence that the cameras reduce total crashes or injuries. In fact, cameras possibly lead to an increase in rear-end crashes, the study findings state."(a)
Be careful when approaching any intersection with a red-light camera.
14. As the new school year starts in many places this month, be on your guard for vehicles shuttling students from home to school and back.
School buses may travel at slower speeds.
My husband Mike and I wish you — and all professional truck drivers — safe travels and lots of money saving opportunities on the road.
---
---
Return from TDMST Weekly Round-Up: 2018.08.11 to our TDMST Weekly Round-Up Trucking Commentary or our Truck Drivers Money Saving Tips home page.
---
Reference:
a. www.landlinemag.com/Story.aspx?StoryID=72754 (no longer online)