This is the TDMST Weekly Round-Up of news affecting professional truck drivers, written by Vicki Simons for the week ending April 25, 2020.
We welcome your comments, thoughts and feedback on the items of your choice below.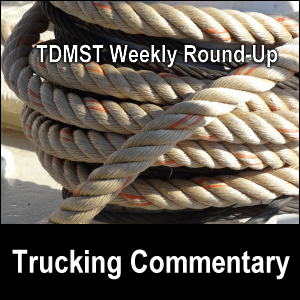 1. Regarding ups and downs:
Let's look at some articles about the economy, the trucking industry, trucking pay, etc.
Ups
Survey Finds 81% of Commercial Drivers See Rise in Distracted Driving
(also reported here)
Kentucky carrier increases driver pay
(CoreTrans LLC: 5 cents per mile)
Kentucky carrier increases hazard pay for drivers in response to COVID-19
(other types of incentives are also listed)
ATA's truck tonnage Index rises 1.2% in March, a gain of 4.3% over March 2019.
Downs
Mullen Group lays off 1,000 as 'wants' economy disappears
(also reported here)
All eyes on diesel as U.S. crude price turns negative
Pandemic Drop in Fuel Demand Triggers Historic Low Oil Futures
Diesel prices continue to tumble
("the benchmark U.S. crude oil futures price traded at a negative price for the first time ever on Monday," meaning that the suppliers basically paid the consumers to take the supply off their hands)
Freight Rates Plummet, Small Fleets Struggle:
"Spot rates continue to fall for vans, reefers, and flatbeds, and declining load-to-truck ratios signal that a rebound is not happening just yet."
Covenant closing Southern Refrigerated Transport terminal
(in Texarkana, Arkansas)
Trucking Economist Says Conditions Could Soon Rival the "Worst of the Great Recession"
ATRI data shows decline in April trucking operations due to stay-at-home orders
Owner-operators shut down over cheap rates
Low spot market rates prompts protests and letter writing
Small fleets feel impact of less freight due to coronavirus
U.S. Bank reports declining freight payments in 1Q; Southeast shipments soar:
"Despite the strong movement of consumer staples during the second half of March, both the shipment and spend indexes contracted from Q4 2019."
"Trucking operators in the grocery store and online retail supply chains should outperform most other sectors."
"…with businesses closed, and most people ordered to stay at home, spending will likely plummet and a continued drop in freight will likely be the result during the second quarter."
Today's Pickup: US Postal Service now does not deliver to roughly half the world
Landstar reports 20% to 30% drop in dispatched loads during April
How much lower can van rates go?
www.dat.com/blog/post/when-will-van-rates-hit-bottom (no longer online)
Oilpatch trucking company lays off 250
(Fast Trucking Service)
First one, then the other
ECONOMIC WATCH: ATRI data show see-saw truck activity
Data shows ups and downs of trucking during COVID-19
(6 states from Feb. 9 through April 18)
2. Regarding impact on truckers of coronavirus:
Truck drivers face added sense of isolation during Covid-19
Shippers in extreme power position, but for all the wrong reasons
(April 23, 2020): "The reopening of service industries will be positive for freight volumes, but not nearly as significant as when the manufacturing and industrial sectors come back online."
According to an April 23, 2020, article on CNN Business:
"American workers filed 26.5 million initial claims since March 14, according to the seasonally adjusted numbers."
"…roughly 16.2% of the US labor force is suffering from layoffs, furloughs or reduced hours during the coronavirus pandemic."
"Social distancing, while necessary, is hard." from
5 Takeaways from the Pandemic [Commentary]
3. Regarding automation:
Workhorse, UPS Test Drones to Deliver Medical Supplies
UPS Adding 'Smart Warehouse' Technology
Report: Autonomous vehicles would cause more congestion in D.C.
4. Regarding truck maintenance:
From Tips to Keep the Rubber on the Road, I like these tips best:
"Tracking wear patterns and damage is an essential part of any basic tire management program";
"Track each tire as an asset";
"…remember that tires have more than one life" (meaning the number of retreads that can be obtained);
"Tires can make or break your maintenance budget."
5. Regarding being on your guard about face masks:
It was reported on April 22, 2020, that some 800,000 face masks will be "distributed to truck drivers for free" by "the Department of Homeland Security, the Federal Emergency Management Agency and the Department of Transportation."
This giveaway was also reported here.
Be on your guard regarding free face mask giveaways.
I received an image from a friend recently that read that people are going door-to-door handing out masks as a new initiative from their local government.
These masks are loaded with chemicals that knock out the wearer, so that those who gave them away can rob you.
Before you accept anything for free from someone, beware of their motives.
---
List of States Threatening Fines and Imprisonment For Not Wearing Face Masks is Growing, we read:
"Leaders threatened a $1,000 fine, but newer orders in States such as California and New York threaten imprisonment" and;
"Public Health Agency of Canada announced all cross-border truckers are required to wear a facial covering or face an up to $750,000 fine or a term of six months in jail."
6. Regarding recalls:
Here are recent truck recalls:
7. Regarding bridges:
We read from an April 21, 2020, article:
…nearly 231,000 bridges in the U.S. need major repair work or should be replaced, according to an American Road & Transportation Builders Association's analysis of the U.S. Department of Transportation's 2019 National Bridge Inventory database. That figure represents 37 percent, or more than a third, of all U.S. bridges.
This news was also reported here.
You may search on the basis of states or congressional districts.
8. Regarding stimulus payments:
When asked how they would spend the $1,200 stimulus money provided to them through the CARES Act, as of April 24, 2020, the top 4 responses were:
Pay bills: 32.2%
Put it in savings: 28.81%
Some combination of things: 15.25%
Spend on household necessities (food, utilities, etc.): 11.86%
For what it's worth, an April 24, 2020, article indicates that lawmakers are beginning "another round of relief stimulus."
I must remind our readers that it was government entities that shut down vast segments of the economy to begin with.
All of those segments need to be reopened.
All of them.
9. Regarding truck booting:
If you're driving a truck in the Charlotte, North Carolina, area, watch out for "boot and tow" operations that could cost you thousands of dollars.
According to an April 18, 2020, article, "The towing company, Trust Towing and Recovery, demanded $3,500 to be paid within an hour or the towing and recovery charge would be $8,000."
Separately, Carolina's Towing demanded $3,000 to have the boots removed and "if payment was not rendered within an hour, the towing and recovery charge could go as high as $10,000."
Ouch!
The article further states that "a 2014 North Carolina Supreme Court decision prevents the state and municipalities from limiting what towing operators can charge on private property."
This may be very naive of me, but isn't there a way to make truck wheels "unbootable"?
10. Regarding owner-operator costs:
We read the following quote in an April 2020, article about the cost of being an owner-operator:
But let's not sugarcoat it: The profit margins can be razor-thin, not only because of COVID-19 (treat it as a slow Holiday season during your average year), but also because of the total cost of ownership that comes with running, maintaining and insuring your truck. Let's look at the numbers.
11. Regarding the supply chain:
A focus of an April 23, 2020, article entitled How the CARES Act will impact the supply chain is:
"Coronavirus shutdowns and restrictions cause inconveniences and hardships for people all over the world. However, the CARES Act contains numerous segments to assist the supply chain sector in reducing those as much as possible."
In my opinion, this focus is wrong.
We don't need more government intervention.
We need for government to get out the way so that people can go back to work and provide for their families as they were doing so well before this "plan-demic" started.
Recall that "The country's official unemployment rate … [was] a historic low of 3.5% in February [2020]."
An April 23, 2020, article:
shows the graph of "new claims for unemployment benefits";
states that "the five-week total of coronavirus-driven job losses to more than 26 million"; and
gave credence to "economists' prediction that the unemployment rate will by summer be within range of the 25 percent peak recorded in 1933 during the Great Depression."
Recall that the death rate from coronavirus in the United States was estimated to be 2.2 million, then was revised to be between 100,000 and 200,000, and then revised again on April 6, 2020, to 81,766.
providencejournal.com/opinion/20200330/editorial-coronavirus-and-numbers (no longer online)
In my opinion:
if governors across the USA had not over-reacted and shut down businesses;
if people had been educated with the right information to boost their immune systems;
if information had not been censored about what natural products doctors are using that help people to recover from coronavirus (COVID-19); and
if the powers that be were actually honest about the number of cases and fatalities arising from this virus;
we would all have been much better off.
My husband Mike and I wish you — and all professional truck drivers — safe travels and lots of money saving opportunities on the road.
---
---
Return from TDMST Weekly Round-Up: 2020.04.25 to our TDMST Weekly Round-Up Trucking Commentary or our Truck Drivers Money Saving Tips home page.
---