This is the TDMST Weekly Round-Up of news affecting professional truck drivers, written by Vicki Simons for the week ending May 2, 2020.
We welcome your comments, thoughts and feedback on the items of your choice below.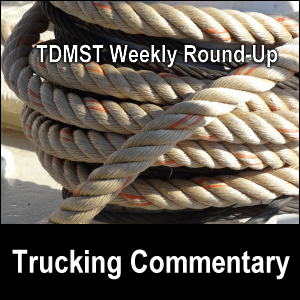 1. Regarding low freight rates:
Many articles have been written, many videos have been recorded, and numerous events have begun to take place regarding low freight rates.
Some folks claim that brokers are exploiting the coronavirus (COVID-19) crisis for their own benefit.
I am pasting below the articles I have found.
Please use best practices and common sense when obtaining loads.
---
The Owner-Operator Independent Drivers Association (OOIDA) sent out an email on Friday, May 1, 2020, which stated, in part:
We are aware that freight rates are at historic lows. Trucking has often suffered from chronic overcapacity – too many trucks and trailers and not enough freight. The resulting market conditions (i.e. low rates) are magnified right now. While there is no quick or easy solution, hauling cheap freight is not a viable or sustainable approach and we strongly advise against it – just as we always have.

We also realize some brokers and shippers are exploiting the ongoing crisis. While federal regulations require brokers to be transparent about certain rate information, there are far too many loopholes that effectively undermine those regulations. We continue to work with FMCSA and Congress to require additional transparency and close as many loopholes as possible. Unfortunately, this will not provide any immediate relief.

You should also be mindful of hauling for brokers that you are not familiar with. Especially during times like this, some unscrupulous brokers have no intention of ever paying carriers and drivers for the services they provide. When someone files a claim against the bond, the result is usually a payment of pennies on the dollar or maybe nothing at all. We refer to this issue as "Broker Bond" and have been trying to get FMCSA and Congress to remedy it for nearly a decade.

Finally, if you have an issue with a broker, we would strongly encourage you to file a complaint with FMCSA's National Consumer Complaint Database (NCCDB). While the NCCDB is far from perfect, we need complaints to be filed because it helps us show just how broken it is and might hopefully lead to meaningful changes. You can file a complaint by clicking on the following link:

https://nccdb.fmcsa.dot.gov/nccdb/home.aspx.

If you do file a complaint, you should also forward a copy to your lawmakers and OOIDA via questions@ooida.com.
---
2. Regarding closed rest areas:
Following the layoff of maintenance employees due to Covid-19, the state of Michigan has announced the closure of 5 restroom facilities at Welcome Centers at Coldwater, Detroit, Monroe, New Buffalo, and Sault Ste. Marie, according to articles here, here, here, here and here.
3. Regarding free masks and hand sanitizer:
According to the articles linked below, the FMCSA, DOT, and other entities are giving away face masks and hand sanitizer.
Again, please be careful from whom you accept a free mask to make sure it is not laden with chemicals before you put it on.
4. Regarding ELD manufacturer quits:
According to an April 30, 2020, article, "Continental Automotive Systems is discontinuing its line of RoadLog electronic logging devices (ELDs) and giving current customers until mid-August to make a switch."
Other articles on this topic were written here, here and here.
5. Regarding GATS was canceled:
The Great American Trucking Show has been canceled according to articles here, here, here, here, here and here.
6. Regarding reopening, repositioning and adapting:
Perhaps you will be encouraged or inspired by the following:
7. Regarding meals: free, paid, or delivered:
Numerous entities have stepped forward to provide either free meals or meals delivered to truckers.
8. Regarding increases:
Some increases are good. Others, not so good.
9. Regarding declines:
I wish there was better news:
More than 80% of fleets surveyed last week said they have seen a decrease in freight levels since the coronavirus pandemic hit the U.S. in early March, with more than half (56%) reporting a significant decrease. Fleets are split on whether there's more ground to lose, however, with just more than half (55%) saying they expect freight levels to remain the same or increase in the next 30 days, and 45% reporting they expect freight to decrease in that time. This survey data is based on 232 fleet respondents, ranging in size from 10 trucks to those with more than 1,000.
10. Regarding shifting laid off workers to trucking:
With data included in the April 28, 2020, article, we read this quote that is accompanied by a question as to whether the same thing will hold true due to COVID-19:
"After layoffs began to increase during recent recessions, there was a strong influx of new workers into trucking, according to data from the Census Bureau's Current Population Survey."
This just makes me wonder: If truckers are sitting idle right now because either there isn't enough freight to haul or rates are too low, where would workers from outside the trucking get freight that pays them to haul it?
Hmm…
11. Regarding discounts and calls for suspension:
A May 1, 2020, article described 5 time- and money-saving aspects of using transponders for toll management.
An April 29, 2020, article stated, "The American Truck Dealers (ATD) is pushing congressional leaders to suspend the 12% federal excise tax (FET) on new heavy-duty trucks and trailers through 2021. A total of 116 organizations, including the American Trucking Associations, added their support to the ATD-crafted letter."
Other articles about suspending the federal excise tax on trucks were written here and here.
12. Regarding payment for services:
An April 28, 2020, article states, "A trucker is facing a decade in prison after refusing to pay a semi-truck towing charge of more than $20,000 and allegedly causing $10,550 in damages."
If I'm reading the article correctly, there are a number of problems associated with this situation, the least of which is that the towing company did not clear with the trucking company what kind of payment it was willing to receive before the towing service was rendered.
Furthermore, it seems as though there was no estimate given on how much the service might cost before it was rendered.
This is a big lesson to always get an estimate before service is rendered.
Also, don't try to slink away without paying. That's wrong.
Another article about this topic was published here.
13. Regarding truckers and firearms:
As was reported on April 25, 2020, the Small Business in Transportation Coalition (SBTC) "is taking its emergency plea to President Donald Trump asking for regulatory relief for interstate truckers from restrictive state and local gun laws amid the COVID-19 outbreak."
14. Regarding reefer coverage:
An April 30, 2020, article covers the very important topic of insurance coverage, especially for truckers who are making the switch from hauling dry vans to refrigerated vans.
Three big takeaways I got from the article are:
Understand what type of coverage is provided;
Ask for additional coverage to protect yourself; and
Do not assume that "breakdown coverage" is the same as "spoilage coverage."
15. Regarding slowing down *before* curves:
The video embedded in an April 29, 2020, article shows why it is ultra important to slow down a commercial motor vehicle before entering a curve.
Any vehicle with a higher center of gravity is prone to flipping over in a curve.
16. Regarding pulling over when you're tired:
An April 27, 2020, article title described the embedded video perfectly:
"If this video doesn't convince you to pull over when you're tired, nothing will."
My husband Mike and I wish you — and all professional truck drivers — safe travels and lots of money saving opportunities on the road.
---
---
Return from TDMST Weekly Round-Up: 2020.05.02 to our TDMST Weekly Round-Up Trucking Commentary or our Truck Drivers Money Saving Tips home page.
---