This is the TDMST Weekly Round-Up of news affecting professional truck drivers, written by Vicki Simons for the week ending December 5, 2020.
We welcome your comments, thoughts and feedback on the items of your choice below.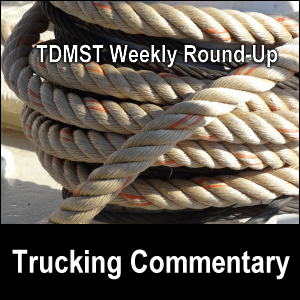 1. Regarding pay, rates, and taxes:
Pay
According to a December 1, 2020, article:
When the American Transportation Research Institute released its report on the Critical Issues In The Trucking Industry for 2020, driver compensation ranked second out of the top 10 issues overall.

…

The survey also found that personal finances worry truckers. When we asked, "What are your top three concerns right how?" 28% said their number one concern is paying their bills each month. Another 13% ranked paying their bills as their second concern and 11% more ranked it third.
Other recent articles about trucker pay include:
---
Rates
---
Taxes
2. Regarding economy and employment:
Economy
---
Employment
3. Regarding accidents:
According to a December 4, 2020, article — Semi destroyed after bursting into flames at Illinois truck stop — it appears as though the truck's brakes overheated.
This is the first time that I've heard of a truck catching fire from overheated brakes after it has been safely parked.
Also, remember that driving without a trailer's weight on the back of a tractor requires special handling: Wet roads spell trouble for bobtail driver
4. Regarding electric, fuel, and autonomous trucks:
Electric
---
Fuel
---
Autonomous
A December 2, 2020, article — Research: Automated driving techs increase driver disengagement — stated:
A four-week field trial conducted recently and released in November by the Insurance Institute for Highway Safety revealed common lapses in attention associated with driver-assist technologies that tend to compound in individual drivers the longer they drive with assist technologies active.
So, if you're driving a truck with "driver-assist technologies," do whatever is necessary to make sure that you don't allow your attention to "lapse" or wander.
5. Regarding COVID-19:
As I covered last week, please be on your guard against any and all potentially negative and irreversible impacts of any and all COVID-19 vaccines — for yourself and for others.
On a separate note, I wonder why the ATA wants for truckers to haul COVID-19 vaccines.
Remember that the best way to protect your body from pathogens is to boost your immune system with products that support your health and wellness.
As a courtesy, I am listing here the most recent articles on this subject.
6. Regarding technology and Hours of Service:
Technology
---
Hours of Service
7. Regarding drugs, smuggling, and legal:
Drugs
---
Smuggling
Never treat people like freight!
---
Legal
8. Regarding free shipping, operations, parking, statistics, violations, and goals:
Free shipping
---
Operations
---
Parking
---
Statistics
---
Violations
---
Goals
9. Regarding OOIDA:
10. Regarding roads, tolls, and routing:
Roads
---
Tolls
---
Routing
11. Regarding ELDs:
12. Regarding awards and charity
Awards and Opportunities to Win
We congratulate all truckers who have earned an honor for their trucking skills.
---
Charity
We also acknowledge and thank those who have contributed to truckers — and/or their families — from their own private means.
My husband Mike and I wish you — and all professional truck drivers — safe travels and lots of money saving opportunities on the road.
---
---
Return from TDMST Weekly Round-Up: 2020.12.05 to our TDMST Weekly Round-Up Trucking Commentary or our Truck Drivers Money Saving Tips home page.
---