This is the TDMST Weekly Round-Up of news affecting professional truck drivers, written by Vicki Simons for the week ending August 22, 2020.
We welcome your comments, thoughts and feedback on the items of your choice below.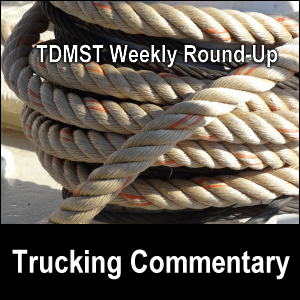 1. Regarding CVSA Brake Safety Week, International Roadcheck, and slack adjusters:
The Commercial Vehicle Safety Alliance's (CVSA) annual Brake Safety Week starts this coming Sunday and runs for the week, according to the articles listed here:
According to this article:
The CVSA said that August is Brake Safety Awareness Month. During that month, the CVSA works to educate drivers, motor carriers, mechanics, owner-operators and others on the importance of proper brake maintenance, operation and performance.
And one article reveals the Toughest 15 states for maintenance, brake violations.
---
Separately, the CVSA's International Roadcheck — a 72-hour event that was postponed from May — is scheduled to take place from September 9-11.
---
Recent articles focused on slack adjusters (aka brake adjusters):
2. Regarding USDOT and federal law:
In what has to be one of the most unjust and ludicrous rulings I've heard of in some time:
a "Judge Rules USDOT Does NOT Have a Duty to Enforce Federal Law Protecting Truckers."
On August 18, I responded to this issue on Facebook by writing:
OK, Ms. Chao, if it isn't the responsibility of the Secretary of Transportation to uphold the federal laws dealing with commerce or the transportation of commercial items, whose responsibility is it?

18 U.S. Code § 1951.Interference with commerce by threats or violence

"Whoever in any way or degree obstructs, delays, or affects commerce or the movement of any article or commodity in commerce, by robbery or extortion or attempts or conspires so to do, or commits or threatens physical violence to any person or property in furtherance of a plan or purpose to do anything in violation of this section shall be fined under this title or imprisoned not more than twenty years, or both."
3. Regarding brokers and transparency:
The following articles are about broker transparency, including the fact that the FMCSA is asking for comments on this issue:
Just so you know what you're dealing with:
– this article states:
"Broker margins increased in the second quarter of this year even as freight declined, according to a new report. Still, revenue overall revenue fell from the first quarter"; and
– this article — Largest Freight Broker Group Pushes Back Against New Proposals to Increase Transparency — states:
"The largest association representing third party logistics (3PL) companies is pushing back against two new proposals which would require more transparency in transactions."
If you deal with brokers, now is the time to speak up!
4. Regarding accidents:
Earlier this year when the world seemed focused on COVID-19 and there were fewer vehicles on the road, one hardly heard about truck accidents at all.
Why is it the case that some of these totally preventable accidents are happening in greater numbers these days?
They're NOT all because of other vehicles!
---
You may recall in my August 8, 2020, TDMST Weekly Round-Up under point #2 that I raised a serious concern about what I learned in this article:
This city's cops will no longer respond to non-injury vehicle accidents.
Although I'm not happy about the accident that transpired that led up to this, an August 18, 2020, article — Atlanta Police Reverse Controversial Policy After Crash Involving Big Rig Leads to Dispute — states:
However, following a public outcry and a high-profile accident involving a big rig, APD has reversed course on this policy.

On August 14, APD announced officers would once again be responding to non-injury accidents given that traffic has increased following the lifting of COVID-19 mitigation restrictions.
Hurray!
5. Regarding economy:
Here are some of the most recent articles about the economy from the perspective of the trucking industry:
6. Regarding electric trucks:
There may be a lot written and said about electric trucks in the days to come, especially from a climate perspective.
Here are some of the most recent articles about electric or zero-emissions trucks:
7. Regarding fires, road closures, and storms:
Please be careful driving in areas where there are wildfires, dust storms, and high winds and rain due to tropical storms and hurricanes!
---
---
FreightWaves CEO Craig Fuller was quoted in the article "What to look out for when hauling FEMA loads":
While trucking demand will increase and rates may soar… it's important for truckers to ensure that daily detention rates are built into their confirmation sheets. Often, it could take days, and sometimes weeks, before trucks are unloaded, which could prove costly if detention pay is not built into a driver's daily rate.
There are other helpful tips in the article.
8. Regarding FMCSA:
More was written about Jim Mullen, Acting Administrator of the FMCSA, stepping down:
9. Regarding lottery, trucker pay, theft, and big fine:
So, a Lucky trucker [won a] $480K Lottery ticket, huh?
If he doesn't have financial discipline, I wonder how his riches will affect him.
---
Here are recent articles about trucker pay:
---
Beware!
Cargo theft numbers rose during second quarter COVID slowdown
---
Ouch!
Wastewater with arsenic costs transport company $750,000
10. Regarding protests:
Recent articles about protests — planned or carried out — and the outcomes include:
Please prepare yourself and be on your guard if you drive into these hotspots.
11. Regarding solar power on trucks, innovations, and automation:
I love innovations that are genuinely helpful.
---
Watch out for more articles like this in the future — and read them with this in mind: "What is missing?"
Truck platooning company's synced-up convoys make first commercial deliveries
12. Congratulations!
I appreciate those who recognize truckers for the awesome jobs they do, truckers who are doing the great jobs, and the opportunities for truckers to be recognized.
My husband Mike and I wish you — and all professional truck drivers — safe travels and lots of money saving opportunities on the road.
---
---
Return from TDMST Weekly Round-Up: 2020.08.22 to our TDMST Weekly Round-Up Trucking Commentary or our Truck Drivers Money Saving Tips home page.
---