This is the TDMST Weekly Round-Up of news affecting professional truck drivers, written by Vicki Simons for the week ending August 8, 2020.
We welcome your comments, thoughts and feedback on the items of your choice below.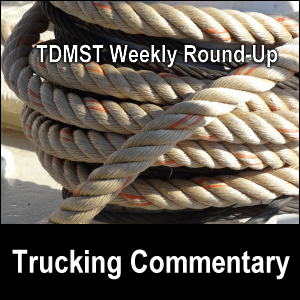 1. Regarding summit, HOS, ELDs, HVUT:
Part of the big news this week has been the "Trucking Safety Summit"
However, since the FMCSA [Loaded the] Safety Summit With Advocates for ELDs, Speed Limiters, Insurance Increases, like those scheduled to speak on Wednesday and Trucking Groups [Bringing Their] Wish Lists to [the] FMCSA, it is no wonder that OOIDA said that It's time to listen to truckers.
Even though the Trucking Safety Summit was supposedly a chance for truckers voices' to be heard, based on my brief look at articles about the event, it appears as though:
the powers-that-be at the FMCSA already had their minds made up about what they intended to do and
only conducted the summit for the sake of looking like they were earning their paychecks.
Oh, sure, there's a tip of the head from time to time, like when U.S. regulators applaud truckers….
But unlike commission-based sales, there is no tie between these bureaucrats' paychecks and the results that come from their rulings.
Hmm… perhaps that is exactly what needs to happen…
Tie their paychecks directly to positive results, like this:
Good performance: you get paid;
Bad performance: you're fired.
What do you think?
Comment below.
Other articles about the summit include:
---
Unless there is a major shift somewhere, it appears as though the "new" Hours of Service regulation will go into place on September 29.
These are the most recent articles about this, some of which seem to be positive.
What do you think?
Will the new HOS be positive for truckers?
Please comment below.
---
Two articles this week cover how OOIDA is calling on Congress to suspend the HVUT for one year:
2. Regarding accidents:
I'm not an insurance agent or lawyer, so my opinion on the following may not be valid.
However, when a driver has been involved in an accident, isn't there a procedure for a "police report" to be filled out — and in particular that the amount of the contribution from each contributor in the accident is written down by someone with the authority to make that assessment stick?
Well, that police report procedure has apparently flown out the window in Atlanta, Georgia, where This city's cops will no longer respond to non-injury vehicle accidents!
I'll be very interested to see how long the following (quoted from the article) lasts with any effectiveness:
Rather than calling police, drivers involved in non-injury crashes are now being asked to fill out a form to provide information on where and why the crash happened as well as the vehicles and drivers involved.
Can you just imagine the contents of the forms that get filled out?
[Purposely sarcastic] "He hit me, big bad trucker! I'm in so much pain! I'm going to sue! Owwww!"
If there was ever a time when truckers needed to have a dash cam in their trucks — preferably with multiple cameras running at different places around their rigs and continuously recording — now is the time!
See the page on our site about truck cams and request our free Truck Cam Comparison Sheet.
---
The accidents reported in these articles are testimony to the fact that you need to be looking well ahead of your truck for slowed or stopped traffic or vehicles pulling out on the road.
Even when you're traveling at highway speeds, be prepared to stop.
3. Regarding operations, deer, automation:
The following articles cover a number of aspects of truck operations:
4. Regarding economy, rates, final mile, and tolls:
The following articles cover various angles of the economy:
There was also this report about a definitive shift that has happened in transportation this year:
Final mile deliveries move from loading docks to driveways.
---
It seems that trucking rates are climbing, but owner-operators still need to pick and choose their loads carefully:
---
These articles are on the subject of tolls:
5. Regarding employment, whistleblower, pay, ROI, scam:
These are the most recent articles covering employment and transportation jobs:
---
I love it when truckers are vindicated, like the
Whistleblower trucker [who was] rehired per OSHA order.
---
Two articles this week focused on trucker pay:
If you wished you could earn more — particularly when you're stuck in a dock or hung in traffic — is it time to consider learning about how to earn a second income from the cab of your truck?
---
The quotes below come from the article entitled,
"JB Hunt: Driver Assistance Systems Deliver Immediate ROI":
JB Hunt has seen a direct return on its investments into advanced driver assistance systems (ADAS), says senior vice-president – safety, security and driver personnel Greer Woodruff.

Building on the widespread adoption of tools like automatic emergency braking (AEB) and forward-facing cameras, the fleet plans to begin spec'ing blind spot detection systems by the end of this year.

…

Forward collision warning systems can now be found on 98% of the JB Hunt trucks, and the technology has been credited for helping slash the number of rear-end crashes in half, while also reducing the severity of collisions that do occur.

…

While advanced driver assistance systems such as lane-keeping assistance are steps in the journey to autonomous vehicles, they still require drivers to remain engaged…
Please notice that last statement and realize that trucks with "advanced driver assistance systems" are there to assist the driver.
At least at present, trucks are not like airplanes and cannot be put on autopilot.
---
DAT has published a timely article:
It's sad to say, but in order to beat scammers at their game, you may have to think like one and be pro-active.
6. Regarding technology: DriveWyze, geotab, GPS, video, telematics:
Per the articles here and here, Drivewzye has expanded their weigh station bypasses in Montana and Illinois.
---
Numerous articles this week reported on Geotab:
---
Per my post on our Facebook page:
Two quotes from the article linked below:

"But the drivers ignore the signs and blindly follow their GPS."

"'I saw the signs, but my GPS said to go this way'."

Do NOT blindly follow any GPS device, even if it has supposedly been programmed for Commercial Motor Vehicles.

Save yourself a lot of time, money and embarrassment by checking your route against a Motor Carrier's Atlas (truckers atlas), a link to which is on our site. '

They will NOT make it': Cops warn truckers not to trust their GPS on this road
If you do not have one, get and learn how to use a Motor Carriers' Road Atlas (aka truckers atlas).
---
Two other technologically-related articles this week include:
7. Regarding guns, a hood-jumping pedestrian, and protests:
Yes, it is right for truckers to have the means of self-defense.
But please practice discernment.
Whenever you have a gun, things can go right or go terribly wrong.
Here are the most recent articles about truckers and guns:
---
Are some people just desperate for attention these days, strung out on drugs, or ailing from mental problems?
Until earlier this year, the only times that I had seen any mention of people riding on the outside of vehicles was overseas somewhere.
Not any more!
Be careful when you encounter folks like this:
---
I wrote the following on our Facebook page regarding the article linked immediately below:
Hurray!

A trucking company owner is standing up for the safety of his drivers!

Please comment below regarding your thoughts on this.
'No police, no delivery': Trucking co. owner tells Fox News his drivers won't deliver to defunded cities
Other recent articles about protesters and rioters include:
8. Regarding hurricane:
Although Florida, Georgia and the Carolinas had things pretty mild from Tropical Storm / Hurricane Isaias, states farther north experienced high winds that brought road closures and overturned trucks.
Rarely in the teeth of a storm is anyone called upon to be a hero and persevere "no matter what."
When rough weather blows up, it is best to park in a safe and legal spot until the weather clears up a bit.
9. Regarding legal, permits, smuggling:
For your information, the following articles were recently published:
10. Regarding preparedness:
Given that we're now in hurricane season (June 1 to November 1), now is a good time to look at:
Updating your disaster preparedness plan as a motor carrier
11. Regarding optimize and parking:
You may be able to glean some nuggets from:
5 Ways to Optimize Your Fleet.
I think that there will be more "private" truck parking places built to handle the need, even if they provide only paid parking:
US 1 Logistics offers secure overnight parking for commercial trucks in four 'truck parking crisis' areas.
Would you like to Report a Free Truck Parking Location at Shipper or Receiver?
12. Congratulations!
The following articles cover the news that a search is now being held to find the best company driver and the best owner-operator in North America:
I look forward to hearing who won the contests, but in my opinion, every trucker is a winner.
Thanks for all you do for consumers every day.
I appreciate you!
My husband Mike and I wish you — and all professional truck drivers — safe travels and lots of money saving opportunities on the road.
---
---
Return from TDMST Weekly Round-Up: 2020.08.08 to our TDMST Weekly Round-Up Trucking Commentary or our Truck Drivers Money Saving Tips home page.
---