This is the TDMST Weekly Round-Up of news affecting professional truck drivers, written by Vicki Simons for the week ending October 3, 2020.
We welcome your comments, thoughts and feedback on the items of your choice below.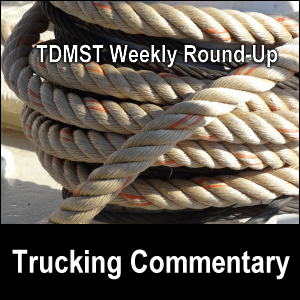 1. Regarding Hours of Service (HOS):
The new Hours of Service regulations went into effect in the USA this week.
In contrast to previous Hours of Service regulations changes, the FMCSA has rolled out an online, educational tool to help truckers "navigate" (pun intended?) the changes.
If your Electronic Logging Device (ELD) has not yet updated to handle the changes, please take the steps needed in order to be compliant.
Here are the most recent articles about this topic:
2. Regarding trucker fatalities:
Sadly and perhaps predictably, deaths of truckers on the job reached another new high, according to a preview of large-truck crash statistics released this week.
There could be many factors responsible, but no "cause" or "contribution" is listed on the preview.
Opinions vary as to cause(s), including but not limited to:
truckers are speeding because of ELDs,
newer truckers haven't been trained properly, and
the majority of these crashes are the fault of the non-trucking motorist(s).
Until the FMCSA assigns the cause/contribution of each accident, we may never know the entire truth.
Here are the most recent articles on this topic:
3. Regarding owner-operator info, technology:
These articles may be helpful to all truckers, especially owner-operators:
---
Cybersecurity
I wish to bring special attention to the article:
Security concerns with ELDs have been apparent for everyone but FMCSA.
In my Electronic Logging Devices Mandate Commentary, which I made on Monday morning, December 4, 2017, I said/wrote:
On November 29, 2017, Indiana Attorney General Curtis T. Hill, Jr. wrote a letter to the FMCSA "to propose an immediate delay in the implementation of new requirements currently set to take effect December 18, 2017, regarding the use of Electronic Logging Devices (ELDs) by commercial drivers."(1)

In that letter, we read:
"With manufacturers of ELDs currently responsible for 'self-certifying' their compliance with government standards — with no effective procedures seemingly yet developed to provide oversight over such 'self-certifying' — drivers and operators are left without any way of ascertaining which brands and models of devices ultimately will pass muster. They must 'fly blindly' into investing in products they are being required to purchase."

In what other industry besides trucking has the government ever mandated the purchase of a 'self-certified' product? None that I know of.
Evidently, the chickens are coming home to roost — at truckers' expense!
Please learn what it takes to prevent hacking of your ELD and potentially other electronic devices.
4. Regarding former FMCSA head having defected to autonomous trucking company:
Do you feel betrayed that "Jim Mullen, FMCSA's former acting administrator, [was] hired by TuSimple to serve as the autonomous truck company's chief legal and risk officer"?
According to this article, "Mullen's landing spot also raises additional questions about his tenure with the FMCSA and the Agency's role in developing policy to promote driverless technology."
That article and the ones below point to a potential conflict of interest while the FMCSA was processing Pronto.ai's petition for exemption.
You may read the other articles listed here:
I'll add that there could be other conflicts of interest that went on when Mullen was there — or are currently ongoing with other folks inside the FMCSA — that have not yet come to light.
If the agency is wise, they will make all of their appointments, intentions, and actions transparent.
5. Regarding accidents:
The following truck accidents were preventable, so please learn from them in order that you are not involved in any situations that are similar:
Our deepest sympathy goes to the family of John Henderson, who died following the blowout of a "front passenger side tire."
6. Regarding operations, inspections, apps:
Truck operations
---
Distracted truck drivers
---
Inspections
---
Weather apps
7. Regarding drugs and smuggling:
Never attempt to haul drugs or smuggle goods or people!
It's just not worth the cost.
8. Regarding economy:
The following are some of the most recent on the topic of the economy from the trucking industry's perspective:
9. Regarding employment, trucker jobs, pay, rates:
Here are some of the most recent articles on these subjects…
10. Regarding driver panel and FAST Act:
Trucker panel
---
FAST Act (Fixing Surface Transportation Act)
11. Regarding events:
12. Congratulations!
We extend our heartiest congratulations to truckers who have been named as finalists in these contests:

My husband Mike and I wish you — and all professional truck drivers — safe travels and lots of money saving opportunities on the road.
---
---
Return from TDMST Weekly Round-Up: 2020.10.03 to our TDMST Weekly Round-Up Trucking Commentary or our Truck Drivers Money Saving Tips home page.
---