Neither truckers nor trucking companies can afford fuel theft, especially in today's economy.
Unless one's truck runs on electric power or some alternative energy source, fuel is one of the most expensive purchases that a trucker or trucking company makes.
Diesel-powered trucks can't run without diesel — and the loss of any of it means that the truck from which it is stolen can't travel as far.
So, it behooves owner-operators and trucking companies to do what they can to thwart would-be fuel theives and fuel theft in general.
A January 2013 article revealed that Comdata is expanding its cardless fuel solution which "automates the fueling process and data entry requirements with the use of an RFID tag, automatically shutting off the pump when the truck pulls away."
Accountability
In the photo here, professional truck driver Mike Simons is inserting a fuel card into a truck stop fuel pump to be able to put diesel fuel in the tanks of his company-owned truck.
When professional truck drivers stop at truck stops or other fueling locations to get fuel, every gallon needs to be accounted for at the time of purchase or fueling.
With today's technology, trucking companies are able to keep track of fuel electronically better than they ever have.
Obviously, if a driver is caught stealing fuel purchased by his or her trucking company, he or she is subject not only to be fired but being arrested and thrown in jail.
The thief will most likely never drive professionally again.
A February 2012 article described how five truck drivers stole 3,000 gallons of fuel from a local station.
Note: this theft took place at a station, not directly from a truck.(1)
According to the article, "They were each charged with engaging in organized criminal activity." How about having that on your DAC report?
Practices to Prevent Fuel Theft
It is easier for thieves to engage in diesel theft in dark, unsecured lots with easy access to unlocked fuel tanks.
They can siphon off as much fuel as they have room to store and then sell the stolen fuel at a price break for seemingly quick cash.
Make it as difficult as possible for would-be thieves to take the fuel in your truck's tanks (including the tank on any refrigerated trailers).
To help prevent fuel theft, park in well lit, well populated and preferably secure parking lots. We know that these are not always easy to find, especially in the northeastern USA.
Keep an eye on your fuel level on your fuel gauge.
If you just filled up and parked overnight, but notice that you only have 3/4 tank of fuel the next morning, you've been robbed.
Notify your company, the management (and preferably owner) of the establishment where you parked and law enforcement.
Mike once drove for a regional trucking company that kept a "No Parking" list of truck stops. Any driver who parked there and had something stolen would become personally responsible for the theft.
In the case of one location, it wasn't fuel that was stolen but cargo. Still, if one type of truck theft takes place, so can another.

Generally speaking, it is safe to park at chain truck stops, the same places where you buy fuel. But do your own research to make sure.
A November 2011 article detailed fuel theft at a truck stop in Port Allen, Louisiana.
Products to Prevent Fuel Theft
There are at least two types of anti theft devices used to prevent fuel theft directly from truck tractors:
Locking fuel caps and
Anti-siphon fuel tank inserts.
Examples of these items are shown below from Amazon.com, with whom we have an affiliate relationship.
However, each trucker needs to make sure that items purchased will work with his or her particular truck as some items are supposedly make-specific.
Locking Fuel Caps
A locking fuel cap is designed to prevent access to the fuel tank by those without a key (a first line of defense).
Fuel Tank Inserts
An anti-siphon device is designed to prevent a hose from being inserted far enough into the tank to reach the fuel level for withdrawal.
(Previously, we reviewed a cheap siphon pump available for sale at a truck stop.)
We suppose that an anti-siphon device may also be used in the tanks on refrigerated vans.
Looking Closer at Anti-Siphon Products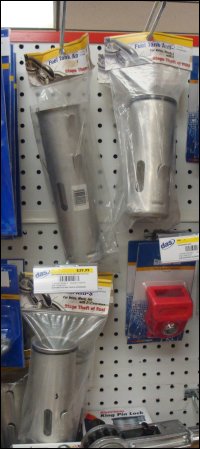 Anti-siphon fuel tank inserts are also available for sale at some truck stops.
Vicki took the photo at left of a display showing three different sizes of the device in October 2009.
We fully acknowledge the fact that the prices of the items may have changed either in the truck stop chain or online since that time.
However, because of our commitment to helping professional truck drivers save money, we feel it is necessary to tell you that we were astounded at the difference in cost between one item shown and a very similar (if not identical) item for sale through Amazon.com.
Let's zoom in for a look at product details and compare prices.
Fuel Theft Deterrent at Truck Stop
This product tag and price tag is for a Fuel Tank Anti-Siphon for Volvo, Mack, International with 2½" fill neck at a truck stop in October 2009.
The product info and the price tag info differ:
one says 2½";
the other says 3″ fill.
Still, the price for one item at the time was $39.99.
Fuel Theft Prevention Product on Amazon.com
We are listing this device from Amazon.com, with which we have an affiliate relationship.
As of January 2013, this Anti-Siphon Fuel Tank For Volvo Mack International W/ 2.5″ Fill Neck was listed on Amazon.com at $9.95
Is the convenience of buying these at a truck stop worth the price difference? How big of a fuel theft would it take for these to "pay off"?
---
Planning to Purchase Anti-Siphon Products?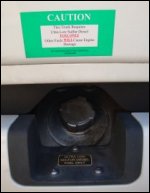 Note: If you plan to buy a pair of anti-siphon fuel tank inserts for your truck, please be super careful not only to look at the price but also the diameter of the fill neck and the angle of your fuel tank access.
This photo shows the fuel tank access on a Freightliner Cascadia.
Can an anti-siphon device be inserted?
Does it need one?
Already Purchased Fuel Theft Products?
Aside from the cost of the anti-siphon products, we'd like to know if they work. If you've used one, please review it.
We would also appreciate product reviews on locking fuel caps for large trucks, answering questions like these:
Are they all keyed identically?
How easy they are to "pick" open?
How much of a fuel theft deterrent is one to a determined fuel thief?
Other Types of Fuel Besides Diesel
Right now, diesel is the most common type of fuel used in Class A commercial motor vehicles in the USA. However, there is a huge move by some in the trucking industry to find less expensive alternatives to diesel. You can see for yourself a history of No. 2 diesel prices in the USA from 1994-2012.
Some trucking companies are investing in trucks that run on natural gas:
Based on what we know, it seems as though much more sophisticated equipment would be required for LNG or CNG to be stolen. We know that we have never seen products to prevent this kind of fuel theft in a truck stop.
If you know of natural gas theft — and particularly products to prevent that, please contact us.
---

Money saving tip: Besides the tips above, be vigilant. Be on your guard for theft at any time and in any place.
As of this writing (January 2013), the so-called "fiscal cliff" is supposedly "in the rearview mirror." However, America is facing a huge and growing tsunami of debt. Other countries are also facing massive debt situations "in terms of debt to GDP ratios."
The U.S. government reports one set of unemployment numbers based on its own definition, but at least one source says the actual figure (based on another definition) is much higher. Although there are jobs to be had in trucking, not everyone can or wants to drive a truck professionally. Some folks could never qualify.
As economic conditions tighten, we anticipate that more and more people are going to become more and more desperate.
Although it may be expensive to do so — and we certainly don't know of a device like this currently on the market — perhaps a sensor or other alarm can be invented and wired to alert drivers in the trucks — and even trucking companies remotely — to unauthorized attempts to access fuel on their rigs.
If we were designing something like this, it would not only monitor the fuel cap but also the fuel tanks and lines. The system would have to be sophisticated enough so as to be triggered by real fuel theft but not be triggered by tank withdrawals by APUs.
---
Return from Prevent Fuel Theft and Diesel Theft from Big Trucks to our Truck Operations page or our Truck Drivers Money Saving Tips home page.
---
Reference
1. www.kwtx.com/home/headlines/139042649/ (no longer online)