This is the TDMST Weekly Round-Up of news affecting professional truck drivers, written by Vicki Simons for the week ending October 31, 2020.
We welcome your comments, thoughts and feedback on the items of your choice below.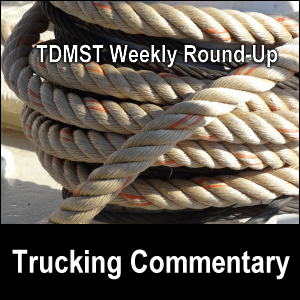 1. Regarding Daylight Saving Time and HOS:
According to this article, "Daylight Saving Time (DST) is the practice of setting the clocks forward one hour from standard time during the summer months, and back again in the fall, in order to make better use of natural daylight."
Although the observance has changed over the years, in the USA, DST:
starts on the 2nd Sunday in March and
ends on the 1st Sunday in November.
According to this article:
"The current schedule was introduced in 2007 and follows the Energy Policy Act of 2005"; and
"According to section 110 of the act, the US Department of Transportation (DOT) governs the use of DST. The law does not affect the rights of the states and territories that choose not to observe DST."
Daylight Saving Time ends on Sunday, November 1, so make sure your clock and alarm are set to the right times.
Many computers, cell phones, atomic clocks, and other electronic devices may auto-adjust from standard time to Daylight Saving Time or back.
If any of your devices do not auto-adjust, remember:
"spring forward, fall back."
---
Hours of Service
These are some of the most recent articles about the federal Hours of Service regulations:
2. Regarding ATRI's 2020 Top 10 lists:
The American Transportation Research Institute (ATRI) revealed the Top 10 trucking industry issues for 2020 from both motor carriers and truckers.
3. Regarding accidents and truck operations:
Accidents
Please observe how preventable these accidents were and endeavor never to repeat them.
---
Truck operations
---
Recalls
4. Regarding autonomous trucks:
As a courtesy to help keep you informed, here are some of the most recent articles about autonomous trucks.
5. Regarding pay, brokers, economy, tolls:
Pay
---
Brokers
---
Economy
---
Tolls
6. Regarding one's trucking career and becoming an owner-operator:
7. Regarding electric trucks, emissions, and fuel:
Electric trucks
---
Emissions
---
Fuel
8. Regarding FMCSA and politics:
FMCSA
---
Politics
The General Election is coming up on Tuesday, November 3.
Please see…
9. Regarding Brake Safety Week, inspections and tires:
Brake Safety Week
---
Inspections
---
Tires
10. Regarding technology, Canada's ELD policy, and testing:
Technology
---
Canada's ELD policy
Do you remember the angst associated with the FMCSA allowing ELD manufacturers to "self-certify" their products?
Well, an October 26, 2020, article states that Transport Canada Names First ELD Certification Body, "to help ensure the devices are not prone to tampering."
In other words, Canada completely outshines the USA regarding ELD certification!
FMCSA, are you listening? This is what you should have done!
---
Testing
11. Regarding violence and weather:
Violence
---
Weather and winter
12. Congratulations!
We honor those who deserve honor:
My husband Mike and I wish you — and all professional truck drivers — safe travels and lots of money saving opportunities on the road.
---
---
Return from TDMST Weekly Round-Up: 2020.10.31 to our TDMST Weekly Round-Up Trucking Commentary or our Truck Drivers Money Saving Tips home page.
---