This is the TDMST Weekly Round-Up of news affecting professional truck drivers, written by Vicki Simons for the week ending November 28, 2020.
We welcome your comments, thoughts and feedback on the items of your choice below.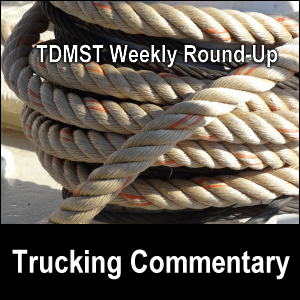 1. Regarding ELDs being hacked:
Prior to this week, I would have guessed that of all of the Electronic Logging Devices (ELDs) on the market, those devices manufactured by Rand McNally would be least likely to be hacked!
FWIW, many truckers warned transportation officials of the possibility of ELDs being hacked prior to ELDs being forced upon truckers.
Those officials would not listen.
ELD hacking is part of the fallout from ELD manufacturers needing only to "self-certify" their devices.
Furthermore, this is a preview of what may happen to autonomous trucks!
Please remember the regulations regarding needing to keep paper back-up log sheets or log books with you in your truck at all times — for times such as this.
2. Regarding economy and operational costs:
Economy
---
Operational costs
3. Regarding accidents, drugs, and DUI:
Accidents
---
Drugs
Never haul illegal drugs.
---
DUI
Never drive any vehicle — especially a semi-tractor trailer — while under the influence of alcohol.
4. Regarding operations, inspections, maintenance, and weather:
Operations
---
Inspections
---
Maintenance
---
Weather
5. Regarding re-routing, roads, tolls, and brokers:
Re-routing
---
Roads
---
Tolls
---
Brokers
6. Regarding health care and vaccines:
This is going to be very controversial, but due to reports about ingredients in at least a couple of COVID-19 vaccines, I'm going to encourage professional truck drivers to never, ever:
accept the vaccine or
haul this freight.
I understand full well the conflict of interest that exists regarding hauling controversial freight.
An example of this is when truckers who refuse to drink alcohol are assigned to pick up and deliver loads of beer.
Some truckers will say, "freight is freight" and "what the consumer does with what he/she buys is his/her responsibility, not mine."
The subject comes down to loving one's neighbor as one loves oneself and not putting a stumbling block or "offense" before anyone.
"Whoever then humbles himself as this child, he is the greatest in the kingdom of heaven. And whoever receives one such child in My name receives Me; but whoever causes one of these little ones who believe in Me to stumble, it would be better for him to have a heavy millstone hung around his neck, and to be drowned in the depth of the sea."
— Matthew 18:4-6
"If, however, you are fulfilling the royal law, according to the Scripture, 'YOU SHALL LOVE YOUR NEIGHBOR AS YOURSELF,' you are doing well."
— James 2:8
According to what is written in Ezekiel 33, I have now fulfilled my duty by sounding a watchman's warning on this kind of vaccine.
The subject of vaccinations is extremely complex and I simply ask you to do your due diligence before you haul this freight.
If you have questions, please ask through the form below.
Here are the most recent articles on this subject:
7. Regarding money, recalls:
Money
---
Recalls
8. Regarding technology:
9. Regarding fuel, electric vehicles:
Fuel
---
Electric
10. Regarding safety:
Trucking Tip: Don't forget to check your smoke detectors!Before reading this article, it never occurred to me to have a smoke detector in a semi-tractor trailer.Then again, if one's truck is one's home sweet home, it makes perfect sense!
VIDEO: Motorist narrowly escapes T-boning from red-light-running truck driver"[W]as the truck driver unable to stop in the wet, slippery conditions; or were they just not paying attention?"Upon watching the video, I noticed how short the green light cycle was (at least from the video-taking direction), which makes me wonder how short the yellow light cycle is.

Hmm…

If necessary, review "The formula to calculate Total Stopping Distance" on our Safe Driving Tips page.

When roads are wet, you need to allow extra time and distance to stop.

Familiarize yourself with the concept of "stale green" and "stale red" lights — and prepare in advance for them.
11. Regarding documents, theft, times:
Documents
---
Theft
---
Time
UPS slashes ground delivery transit times"UPS Inc… has reduced transit times by one business day on millions of parcels moving under its core U.S. ground delivery business, one of the most consequential service improvements the transport and logistics giant has implemented in years."Please do not allow haste to cause you to be involved in an accident!
---
Shipping deadlines
12. Regarding awards, charity, and thanksgiving!
Awards
My husband Mike and I extend our heartiest congratulations to those truckers who have made it either to the final round of — or have been named as the winner in — various competitions!
---
Charity
---
Thanksgiving
I gratefully acknowledge:
all of those who have thanked truckers in some way, shape or form; and
truckers who have gone above and beyond the call of duty to make Thanksgiving better for others.
Here are some of the most recent articles on this subject:
My husband Mike and I wish you — and all professional truck drivers — safe travels and lots of money saving opportunities on the road.
---
---
Return from TDMST Weekly Round-Up: 2020.11.28 to our TDMST Weekly Round-Up Trucking Commentary or our Truck Drivers Money Saving Tips home page.
---