This is the TDMST Weekly Round-Up of news affecting professional truck drivers, written by Vicki Simons for the week ending March 3, 2021.
We welcome your comments, thoughts and feedback on the items of your choice below.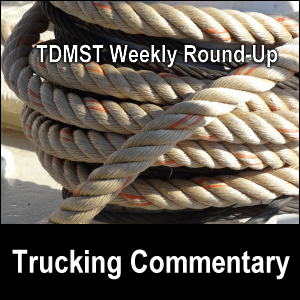 1. Regarding speed limiters and underride guards:
Please be watching for attempts to install extra parts on trucks that will not improve efficiency or return on investment.
Speed limiters
---
Underride guards
---
2. Regarding economy, employment, prediction, and retention:
Economy
---
Employment
---
Prediction
---
Retention
3. Regarding inspection, safety, and accidents:
Inspection
Always be ready for an inspection.
---
Safety
---
Accidents
Please learn what you can from these accidents and seek never to repeat what led up to them.
4. Regarding COVID-19, mobile vaccination sites, drugs, and smuggling:
COVID-19
There have been many, many reports of death and injury following being injected with a COVID-19 vaccine.
Even with all of the censorship that has been going on, some people are still publishing information about this topic.
According to a March 5, 2021, article:
"Between Dec. 14, 2020, and Feb. 26, a total of 25,212 total adverse events were reported to VAERS [Vaccine Adverse Event Reporting System], including 1,265 deaths and 4,424 serious injuries."
That article also states:
"Data released today by the CDC confirm several ongoing trends, including that 47% of deaths occurred in people who reported becoming sick within 48 hours of receiving a COVID vaccine, and 20% of deaths were cardiac-related."
Please be on your guard: 5 ways they're trying to trick you into taking the Covid "vaccine"
---
Mobile vaccination sites
I have my suspicions, but I don't think that truck stops are offering to be mobile vaccination sites for administering the "COVID-19 vaccines" out of the goodness of their hearts.
Children's Health Defense "is calling on anyone who has suffered a vaccine side effect to do three things: file a report on the U.S. government's VAERS website, report the injury on VaxxTracker.com and also… on the CHD website."
Injured by a Vaccine? Here's How to Report It
---
Drugs
---
Smuggling
5. Regarding vindication, violation, efficiency, and protest:
Vindication
---
Violation
---
Efficiency
---
Protest
6. Regarding autonomous trucks, electric trucks, and carbon:
Autonomous trucks
I am sharing these strictly as a courtesy to help you stay abreast of the news on this subject.
---
Electric trucks
---
Carbon
Cracking down on carbon is a scam because it is the universal building block for life.
Even so, be aware of what is happening regarding carbon in the trucking industry.
7. Regarding pay, AB5, purchase, fuel, taxes, tolls, and rates:
Pay
---
AB5
---
Purchase
---
Fuel
---
Taxes
---
Tolls
---
Rates
8. Regarding chips and ELDs:
Chips
---
ELDs
9. Regarding roads, tires, and bypasses:
Roads
---
Tires
---
Bypasses
10. Regarding operations, negligence, food, and repair:
Operations
---
Negligence
---
Food
---
Repair
11. Regarding regulations, lawsuit, legal, death, and warranty:
Regulations
---
Lawsuit
---
Legal
---
Death
---
Warranty
12. Regarding: award and humor:
Awards
---
Humor
My husband Mike and I wish you — and all professional truck drivers — safe travels and lots of money saving opportunities on the road.
---
---
Return from TDMST Weekly Round-Up: 2021.03.06 to our TDMST Weekly Round-Up Trucking Commentary or our Truck Drivers Money Saving Tips home page.
---