This is the TDMST Weekly Round-Up of news affecting professional truck drivers, written by Vicki Simons for the week ending July 14, 2018.
We welcome your comments, thoughts and feedback on the items of your choice below.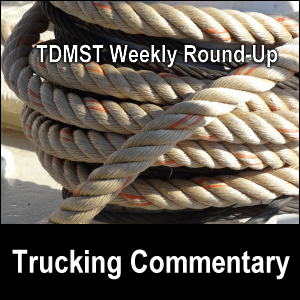 1. Watch those right hand turns! Make sure you clear all obstacles — all the way to the back of your rig.
On July 6, 2018, a video embedded in an article showed that a tanker driver cut a right turn just a little short.
Unfortunately, a bicyclist who was in the bike lane and had dismounted, was waiting to cross the driveway into which the tanker driver was turning. When the bicyclist didn't back away in time, the truck crushed the bicycle!
While we're glad that no one got hurt, it would have been better had the tanker driver waited for the bicyclist to cross the driveway first.
Mike and I summarize in our home the need not to be involved in any collisions by saying, "No crunchies!"
2. Recently, we've read a number of articles — most of the time with embedded videos — about how truckers are being "brake checked".
What this means is that another driver — most often the driver of a four-wheel vehicle — gets in front of a big truck and then applies the brakes.
Often, drivers who do this do not understand the momentum of big trucks or what is required to stop them.
They may ignorantly think that they're trying to "teach that trucker a lesson" for some perceived wrong.
There may be numerous (or overlapping) reasons for such actions, including but not limited to:
– road rage;
– an attempt to cause trouble;
– suicidal thoughts; or
– thinking that one is more important than someone else.
Note: a "brake check" is not the same thing as needing to stop quickly due to slowed or stopped traffic ahead.
There are times when a brake checker just flat-out harasses a truck driver and refuses to let him or her pass by and get on down the road.
On July 9, 2018, the video in an article shows that there was no traffic in front of the vehicle that brake checked the big truck on Interstate 40 in Tennessee.
Since the four wheel vehicle had braked briefly once — and didn't speed up to get in front of the vehicle in the right lane — an anticipating trucker might have sensed that another brake check would happen. In such a case, the trucker could have simply backed off on his/her speed and waited for the four-wheeler to move on.
Of course, there are minimum speeds for most interstate highways, so for the four-wheeler to have done what he/she did was inexcusable. I'm so glad the trucker's truck cam or dash cam was recording at the time!
Here are some resources for reference purposes:
– FMCSA: CMV Driving Tips – Following Too Closely;
– FMCSA: Tips for Driving Safely Around Large Trucks or Buses;
– FMCSA: Large Blind Spots ("No Zones");
– FMCSA: Leave More Space for Trucks;
– FMCSA: reference to TACT (Ticketing Aggressive Cars and Trucks);
– GeorgiaTACT.net: Georgia Targeting Aggressive Cars and Trucks: "… The Georgia TACT (G-TACT) initiative is helping to decrease Georgia's fatality rate by making the general driving public more aware of the safe ways to interact with trucks and provide large vehicles with more room and maneuverability. …"(1)
3. Here's a big lesson about truck brakes that I wish had turned out differently.
According to a July 9, 2018, article, a trucker whose truck was put "out of service for brake violations" was "attempting to make repairs to the truck's brakes in the weigh station's out of service lot when the truck rolled backwards over him."
He was fatally injured.
Our condolences go to his family.
If you
– are an owner-operator and
– own your truck and
– are certified to make brake adjustments on your truck, don't forget to set the tractor's parking brake and use chocks before you start to adjust your trailer's brakes.
4. The video from a dash cam recorded at least part of a truck jackknife in progress.
It is obvious that the truck — to the right of the vehicle with the dash cam — came up on traffic in front of it too fast.
When the trucker attempted to brake, the trailer did not slow down at the same rate and ended up pushing the tractor into a "jackknife" or "V" position.
One resource gave a good description of the cause and effect:
"Usually, a truck will jackknife because of a loss of traction. This can be the result of either slick roads, improper braking, or a combination of the two. Tires will then skid across the pavement instead of rolling."
bayandbay.com/news/2014-12-31/how-truck-drivers-can-avoid-jackknifing (no longer online)
Keep your brakes properly adjusted, be alert for traffic in front of your truck, and use your truck's brakes realizing that there is a limit to what they can do.
5. The Commercial Vehicle Safety Alliance's annual Brake Safety Week will be held Sept. 16 – 22, according to a July 5, 2018 article.
We encourage you to have your brakes properly adjusted at all times.
However, if an adjustment is needed, it will be far less expensive to get that done before an inspection than during an out-of-service violation during Brake Safety Week.
6. According to a July 9, 2018, article, "The Federal Motor Carrier Safety Administration has scheduled another listening session for later this week to gather information about autonomous trucks."
Autonomous vehicles were recently included in a list of "myriad new technologies" that had their initial problems but ultimately succeeded.
7. A July 12, 2018, article states,
"Monday, July 16, is the deadline to offer public comments on an application filed with the Federal Motor Carrier Safety Administration requesting the agency exempt carriers with 50 employees or fewer from the electronic logging device mandate."
Comments can be made online here.
Also, be aware that according to a July 10, 2018, article, "The FMCSA has rejected OOIDA's request to exempt small carriers with clean safety records from the ELD mandate requirements."
8. The "Ontario [Canada] Provincial Police [reported that] there were 25 fatal collisions involving large vehicles as of mid June, 25% above levels seen during the same time period in 2017," according to a July 12, 2018, article.
What could be accounting for this increase in fatal crashes?
9. According to a July 10, 2018, article,
"The American Trucking Associations announced Tuesday [that it and three trucking companies have] filed a lawsuit against the state of Rhode Island, seeking to have the state's RhodeWorks trucks-only toll plan overturned in court."
Good!
10. Although not exactly according to the prediction that we made on our hot truck page, we read the following in a July 10, 2018, article:
"On Friday, July 7, veteran postal worker and grandmother Peggy Frank, 63, was found unresponsive in her unair-conditioned mail truck as temperatures soared to 120 degrees in Southern California."
The article says that her family "believe heat exhaustion is to blame for her death."
Our condolences go to her family.
11. This question was asked in a short article accompanied by an infographic:
"Did you know that worn tires on a wet road increase your chances of an accident by 28%?"
My husband Mike and I wish you — and all professional truck drivers — safe travels and lots of money saving opportunities on the road.
---
---
Return from TDMST Weekly Round-Up: 2018.07.14 to our TDMST Weekly Round-Up Trucking Commentary or our Truck Drivers Money Saving Tips home page.
---
Reference
1. georgiatact.net/Home_01L1/ (no longer online)