This is the TDMST Weekly Round-Up of news affecting professional truck drivers, written by Vicki Simons for the week ending May 8, 2021.
We welcome your comments, thoughts and feedback on the items of your choice below.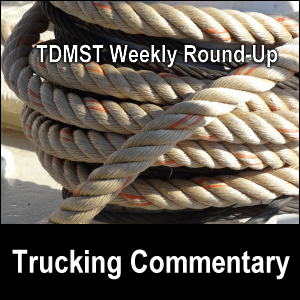 1. Regarding inspections, insurance, platooning, distractions, operations, and securement:
Inspections
Please be aware that inspections can happen at any time!
Some of these articles cover a recent major inspection blitz.
---
Insurance
If you feel strongly about this issue, please get in touch with your federal elected officials.
---
Platooning
I oppose platooning because of the increased potential for accidents.
---
Distractions
This article identifies visual, manual and cognitive distractions.
---
Operations
Please be aware of potential blunders when operating your truck.
---
Securement
Was this load even secured properly to begin with?
2. Regarding autonomous vehicles, electric vehicles and more, fuel, fuel/electric, and drones:
Autonomous vehicles
I am 100% opposed to autonomous, self-driving, or driverless trucks — and am sharing this info only to help you stay on top of the latest news.
---
Electric vehicles and more
Please stay informed about the "electrification" effort going on now.
---
Fuel
---
Fuel / Electric
This article covers both the potential fuel shortage this summer and New York State looking to go all-electric.
---
Drones
Please be aware that drones are increasingly being used to do delivery work — and I am sharing this info only to help you stay on top of the latest news.
---
3. Regarding accidents, seat belts, mandate, and weight:
Accidents
Many of the accidents reported in the articles below are entirely preventable!
Please learn what you can and seek to never be involved in a similar accident.
---
Seat belts
---
Mandate
If you feel strongly about other mandates on trucks and truckers, please contact your federal elected officials.
---
Weight
4. Regarding competition, event, and freebies:
Competition
I wish these truck competitions were kept as trucking skill competitions.
---
Event
I guess Mike and I won't miss anything this year.
We knew we weren't going as soon as they announced mandatory face mask wearing.
---
Freebies
5. Regarding tolls, fines, taxes and financial risk:
Tolls
---
Fines
---
Taxes
---
Financial risk
Especially for owner-operators and independent truckers:
6. Regarding CBD, vision and suicide:
CBD
Please pay attention to the possibility of legal trouble when using certain kinds of CBD products.
---
Vision
I have nothing against those who want to enter trucking but have vision problems, but in my opinion, truckers need two good eyes with good peripheral vision and good distinction of color.
---
Suicide
This is a shame. If you feel that you have nothing to live for, please reach out to a suicide hotline.
7. Regarding drugs, smuggling, theft and violence:
Drugs
Never ever haul illegal drugs, no matter how much you're promised.
---
Smuggling
Never ever haul humans as though they were cargo.
---
Theft
Please do everything you can to prevent cargo theft!
And don't take what doesn't belong to you!
---
Violence
Seek to avoid violence every time you can.
---
Protest
Well, it looks like if the federal government won't take the leadership regarding protests on highways, it is up to the states!
8. Regarding economy, employment, shortage and team driving:
Economy
These are the latest articles about the economy within or affecting the trucking industry.
---
Employment
---
Shortage
Is there really a trucker shortage?
Or is there really a lack of pay for the tasks being done?
---
Team driving
9. Regarding technology and ELDs:
Technology
---
ELDs
10. Regarding independent contractors, lawsuit, pay, rates and site audits:
Independent contractors
A number of these articles may address AB5.
---
Lawsuit
Finally, a state that seeks to limit liability.
---
Pay
---
Rates
---
Site audits
11. Regarding infrastructure, REAL ID, recalls, TCA and turnaround:
Infrastructure
---
REAL ID
The deadline has been pushed back again.
---
Recalls
If you own a vehicle under a recall, please arrange to have that part/issue addressed as soon as possible.
---
TCA
From the carriers' perspective.
---
Turnaround
Quickly!
12. Regarding award and humor:
Award
We congratulate those who have been recognized by their trucking companies.
---
Humor
Funny messages on road signs on May 4, you may see!
My husband Mike and I wish you — and all professional truck drivers — safe travels and lots of money saving opportunities on the road.
---
---
Return from TDMST Weekly Round-Up: 2021.05.08 to our TDMST Weekly Round-Up Trucking Commentary or our Truck Drivers Money Saving Tips home page.
---