This is the TDMST Weekly Round-Up of news affecting professional truck drivers, written by Vicki Simons for the week ending May 21, 2022.
We welcome your comments, thoughts and feedback on the items of your choice below.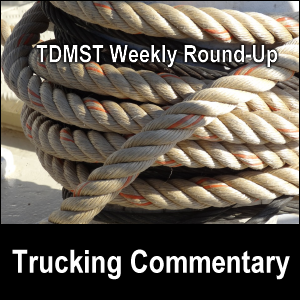 1. Regarding limiters, weather, accidents, fatalities, and lawsuit:
Limiters
If you feel that putting speed limiters on commercial motor vehicles is a bad idea, then please write and submit your comments here (noting that there are helpful tips in the Commenter's Checklist).
---
Weather
My husband Mike and I have seen it snow in the middle of the summer — in August — in Wyoming, so please understand that foul weather can occur at any time.
Plan ahead and stay safe.
---
Accidents
Tractor-trailer's failure to stop for construction led to chain-reaction crash, troopers sayQuote: "The tractor-trailer driver, 34, of Flint, Michigan, was cited for a violation of basic speed law and failure to stop within an assure cleared distance."Remember the total stopping distance you need to bring your truck to a stop and Maintain a Safe Following Distance Behind Other Vehicles.
Blind spot: WATCH: Convertible learns why you don't just chill on the passenger side of a truckThis accident was totally preventable — by the truck driver!Thanks to all of the professional truck drivers who answered my question in a Facebook group upon my inquiry.I wanted to know the name of the little mirror that is installed above the passenger window on some tractors to enable a trucker to see what is on the right side of the truck.Different names for the mirror were provided, but the most common was a "spot mirror" or a "blind spot mirror."

While a good convex mirror installed on the right side of a tractor's hood can help a trucker see if one or more vehicles are on the trucker's right side, the little "blind spot mirror" can prove very helpful (except, perhaps, for narrow tractors).

Pay attention to the traffic around you at all times!

Low clearance: Kansas City police share video of the moment that a notorious bridge defeated a garbage truckThis is another preventable accident: a low clearance accident.If the garbage truck was 13'6″ high, there's no way it would have fit under a 12'0″ high bridge!Even garbage truck drivers need to be aware of the height of their trucks!
Oversize: Unknown when WA bridge struck by oversize load will reopenHere we go again!Another oversized load hits another bridge in the northwest.The article does not provide the dimensions of the rig.However, this situation makes me wonder if the people in the DOT offices in Washington and Oregon know what they're doing regarding permitting.
Side swipe: Massive debris field' following double semi wreck closes highway overnightQuote: "…a semi truck was traveling on I-94 near mile marker 45 when it experienced mechanical issues and pulled off onto the shoulder of the highway. As the trucker was outside of his cab investigating the issue, a second semi truck clipped the rear of the trailer as it passed, ripping open both truck's trailers and leaving a large trail of debris across the westbound lanes."Please pay attention to your lane control and don't let your truck wander.
---
Fatalities
The first article linked below states:
"According to the preliminary report released by NHTSA on May 17, overall traffic fatalities reached a 16 year high in 2021, with 42,915 people killed in crashes";
"This marks a 10.5% increase from the 38,824 traffic fatalities in 2020";
"The NHTSA also reported that fatalities in crashes involving at least one large truck increased 13% in 2021, as compared to 2020. The NHTSA data only noted that a large truck was involved in a fatal crash and did not assign fault to either the commercial vehicle driver or passenger vehicle driver in these crashes."
To me, at least two things are obvious:
If "overall traffic fatalities" — not just truck crashes — are at a 16-year high, then other vehicle drivers are at least partially to blame for these; and
The "interventions" that the federal government insists on making to impose heavy Hours of Service regulations on truckers — in the name of safety — appear to be moving in the wrong direction.
Do you agree or disagree?
Please comment below.
---
Lawsuit
Both of these articles refer to the same accident that was load securement-related.
If you have not been trained on how to secure your load — or if you need a refresher — please get that training now.
2. Regarding fuel, autonomous vehicles, electric vehicles, and emissions:
Fuel
To give you a feel for the fuel situation in the USA, the titles of selected articles include:
"Gas Tops $4 a Gallon in Every State for the First Time"; and
"Diesel rationing could hit East Coast this summer, refinery owner says"
"Drivers warn that "a lot of these trucks are not going to be here anymore" if the cost diesel doesn't change"
You may wish to consult with your trucking company regarding fuel availability to keep you loaded and rolling.
---
Autonomous vehicles
I totally disagree with the idea of self-driving, driverless, or autonomous commercial motor vehicles sharing the roads with the motoring public.
However, I share these articles with you as a courtesy to help keep you informed on the topic.
---
Electric vehicles
---
Emissions
3. Regarding inspections and insurance:
Inspections
If you keep yourself and your rig in "inspection-ready" condition, you'll never be caught off-guard during an inspection.
---
Insurance
4. Regarding maintenance, measured, supply chain, and trade:
Maintenance
---
Measured
---
Supply chain
---
Trade
5. Regarding drugs, violation, violence, and fraud:
Drugs
Never ever haul illegal drugs, no matter how large of an incentive you're offered!
---
Violation
Always assume that a DOT officer is looking over your shoulder all the time and you'll never be surprised.
---
Violence
If at all possible, protect yourself on the road.
---
Fraud
Some offers seem too good to be true.
Practice discernment.
6. Regarding employment, shut down, pay, and savings:
Employment
---
Shut down
---
Pay
We do not endorse any of the companies listed in this section.
---
Savings
7. Regarding economy, inflation, bankruptcy, and seizure:
Prepare yourself as best you can for some hard times to come.
Economy
---
Inflation
---
Bankruptcy
---
Seizure
8. Regarding technology, operations, events, issues, and truckers:
Technology
---
Operations
---
Events
---
Issues
---
Truckers
9. Regarding last mile and parking:
Last mile
---
Parking
10. Regarding FMCSA, and baby formula:
FMCSA
Two thoughts about this turn of events:
It seems apparent that the federal governments wants to keep the hype over COVID-19 going — long after the most of the impact has worn thin on many Americans; and
If the FMCSA can trust those truckers who haul "special" loads, why can't they trust all truckers?
Do you agree or disagree?
Please comment below.
---
Baby formula
11. Regarding politics, roads, and safety:
Politics
House Passes Fuel Price Gouging BillEarning a reasonable profit is one thing; gouging customers is something else.In my opinion, gouging is a failure to love one's neighbor as one loves oneself.But do we have to have a fuel gouging bill to protect consumers?
---
Roads
---
Safety
12. Regarding awards:
We look forward to seeing who wins trucking championships.
Thank you to these folks who helped out their fellow human beings in need.
My husband Mike and I wish you — and all professional truck drivers — safe travels and lots of money saving opportunities on the road.
---
---

Return from TDMST Weekly Round-Up: 2022.05.21 to our TDMST Weekly Round-Up Trucking Commentary or our Truck Drivers Money Saving Tips home page.
---