This is the TDMST Weekly Round-Up of news affecting professional truck drivers, written by Vicki Simons for the week ending July 24, 2021.
We welcome your comments, thoughts and feedback on the items of your choice below.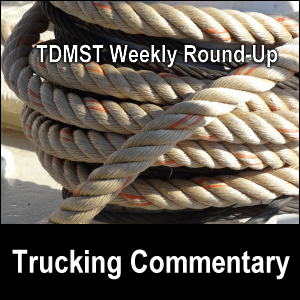 1. Regarding weather and insurance:
Weather
Please be ultra careful regarding driving in severe weather.
Never attempt to drive in floodwaters, through fires, in dense smoke, or during blizzards.
---
Insurance
2. Regarding electric vehicles and autonomous vehicles:
Electric vehicles
There's an aspect about pushing more trucking companies and other businesses to buy electric vehicles that I haven't seen discussed in a while (possibly ever):
How to pay for road maintenance and repair.
If a lot of states are currently getting fuel taxes to pay for road maintenance and repair — and if electric vehicles by their very nature don't use fuel — their operation represents fuel tax not charged or collected.
Some states may charge a special tax or fee for hybrid or electric vehicles up-front at the time of purchase, but we don't see that offsetting an entire vehicle's lifetime worth of fuel tax "missed."
I see the push toward electric vehicles as a means to implement electronic tracking of all miles driven — AKA "Vehicle Miles Traveled" (VMT) — for the purpose of implementing a VMT tax.
Once those in positions of power know where vehicles are being driven, don't you think that will be a step toward controlling where vehicles can can be driven — if they can be driven at all?
Before you invest in an electric vehicle, please consider the potential privacy and tax implications.
---
Autonomous vehicles
I am totally opposed to driverless, self-driving, or autonomous trucks, but am sharing this information to help you stay current on the topic.
As I have stated before, I am in mortal dread of the time that there is a fatal crash involving a driverless truck and motorist.
3. Regarding accidents, near miss, roads, and bridge:
Accidents
This week, it seems as though numerous truck accidents were caused by other motorists.
Please do your best to anticipate the actions of others so as to avoid accidents.
Also, numerous reported truck accidents were totally preventable by the trucker.
Here are some basic trucker safety tips:
Now, for the articles about accidents…
---
Near miss
This is another example of a motorist making a poor decision.
Even though we don't know how fast the trucker was going, one can clearly see the ramp speed limit sign in the video.
Our kudos to the trucker who was able to avoid an accident!
---
Roads
Kudos to everyone involved in fixing the I-16 bridge so quickly!
---
Bridge
Just wondering… If the bridge/overpass over I-16 was able to be rebuilt so quickly, why is the Memphis bridge taking so much longer to repair?
Are things complicated because the Memphis bridge is bigger, more extensive, over water, what?
4. Regarding economy, capacity, taxes, tolls, and inflation:
Economy
---
Capacity
---
Taxes
If this topic concerns you, please contact your federal elected officials to express your concern.
---
Tolls
If these tolls are instituted and collected on the state level — and if this matter concerns you — contact the right people on the state level to let your voice be heard.
---
Inflation
5. Regarding technology, chips, and maintenance:
Technology
Please regularly evaluate — and increase as needed — the level of security as it concerns your technology.
---
Chips
The White House does not have the constitutional authority to insert itself in the chip shortage situation.
---
Maintenance
6. Regarding fuel and fuel in South Dakota:
Fuel
---
Fuel in South Dakota
7. Regarding retention, detention, and employment:
Retention
---
Detention
---
Employment
8. Regarding inspections and safety:
Inspections
You'll never be surprised if you always keep your truck in a perpetual state of readiness for an inspection.
---
Safety
9. Regarding emissions, lawsuit, AB5, and last mile:
Emissions
---
Lawsuit
It's always good to read when a trucker whistleblower is vindicated!
---
AB5
---
Last mile
10. Regarding shortage, HOS, and investigation:
Shortage
---
HOS
---
Investigation
11. Regarding distraction and smuggling:
Distraction
---
Smuggling
Never transport people like they are livestock, no matter how much money you are promised!
12. Regarding award:
Congratulations to all truckers who have been recognized and rewarded!
My husband Mike and I wish you — and all professional truck drivers — safe travels and lots of money saving opportunities on the road.
---
---
Return from TDMST Weekly Round-Up: 2021.07.24 to our TDMST Weekly Round-Up Trucking Commentary or our Truck Drivers Money Saving Tips home page.
---