When it comes to low clearance bridges and overpasses, we never cease to be amazed at how some professional truck drivers think they can outsmart them or squeeze underneath them anyway.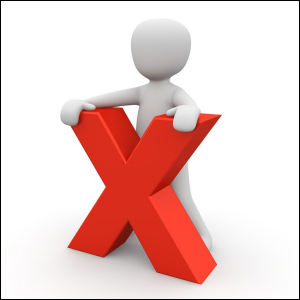 Being involved in an "under blunder" of this kind is a preventable accident and the kind that helps you lose a truck driving job really fast.
So, here is an overview of the subject and information about how to watch out for and avoid problems.
You're a professional.
You're supposed to know well in advance of going under an overpass whether or not your truck has the clearance to do so safely.
Basics about Low Clearance Bridges, Overpasses and Tunnels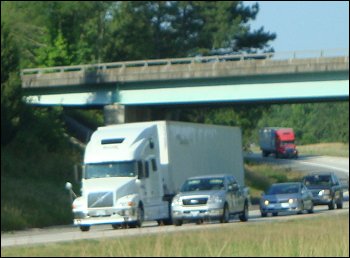 Many large roads (particularly interstate and U.S. roads) in the USA have overpasses with more than enough space for commercial motor vehicles to safely pass under.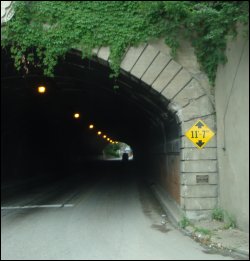 To the best of our knowledge, all permanent low clearances (at least in the continental USA) are well marked — both on the roads and in the front of a good motor carrier road atlas (like the one shown below).
There was a partial listing of bridge heights online, but it appears to have been removed.
See here a photo of a low clearance sign, telling drivers that the height is 11'7″ tall.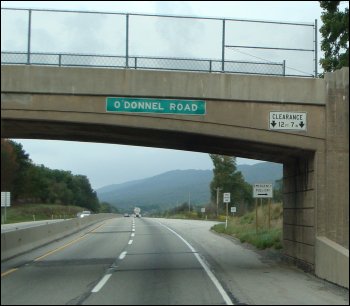 We will be the first to admit that there are some roads (even some interstates and toll roads) where only a part of an overpass is too low for a standard 13'6″ truck to go under (usually along the shoulder).
Here, the low part of the bridge is 12'7″ high, but the road is perfectly passable for 13'6″ tall trucks.
GPS Routing

Some professional drivers have relied on non-trucking specific GPS units to route them.
In following the advice of the device (and not authoritative instructions), they have unwittingly set themselves up for failure.
They may think, "But my GPS told me to go this way!" and proceed on without consulting their atlas, taking heed of warning signs or using common sense.
Ka-bam! Ouch!
In October 2009, FoxNews.com reported in an article entitled "GPS Causing Truckers to Crash Into Bridges"(1):
New York state wants to crack down on truckers who rely on satellite devices to direct them onto faster but prohibited routes and end up crashing into overpasses that are too low for their rigs.

…

New York state alone has seen more than 1,400 bridge strikes in the past 15 years, including 46 so far this year in suburban Westchester County, testing many old bridges already in need of repair, said County Executive Andrew J. Spano. One bridge in his county was hit nine times this year.

"This sort of culture of just following the GPS and almost ignoring the road signs has created this public hazard," Paterson told reporters.

…
If you're in the market for a Global Positioning System (GPS) in your truck, be sure that it is designed for large trucks (commercial motor vehicles) and has low clearance information.
Low Clearance Bridge Strikes In the News
Here are news reports about truckers who failed to avoid a low clearance and what happened:
The article entitled "Truck driver charged in collision with bridge" (August 31, 2011), states,(2)


"A Mississauga truck driver is facing several charges after his truck struck a notoriously low bridge in Tonawanda, New York and continued on its way — despite having its back doors blown off by the impact of the collision."

…

The driver indicated that he was relying on a GPS unit when he took the route that includes the low bridge. That's an explanation police have heard frequently from truck drivers in the past. They estimate two dozen trucks have become stuck beneath the overpass over the past 10 years. Larger signs have been erected to try to dissuade truck drivers from using the bridge, but the incidents continue to occur."

The driver was charged with "reckless endangerment, leaving the scene of an accident, imprudent speed and exceeding bridge height limits."

The article Semi-Truck Collides With P&W Railroad Bridge On Main Street (April 21, 2011), clearly states, "Two bright yellow signs that read 12′ are posted at Monument square on North Main Street., two more are posted right before Railroad Street in front of the bridge and two flashing yellow lights hang on the bridge itself."
Two articles reported the same low clearance accident on the northbound Hutchinson River Parkway in Rye Brook, New York, on May 26, 2011:

the first said,
"Tractor trailers are not permitted on the Parkway."
the second (3) said,
"…a tractor-trailer … being driven by a driver trainee hit the King Street overpass.The mishap ripped the roof off the trailer.The accident occurred about 2 a.m. …… Trucks are not permitted on the Hutch, and police said the driver would be ticketed for multiple violations.The truck was coming from Virginia, and the driver had taken Interstate 287 east and was looking for Interstate 95 when he wound up on the Hutch. An experienced driver was with the trainee, police said.The two were following handwritten directions, not using a GPS, police said."

The caption under the photo for this article indicates that the overpass was 9 feet high, definitely too short to drive a 13'6″ rig under.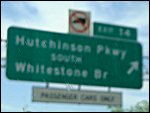 If the second set of articles refers to the same road, then you can clearly see from this image (taken along I-95) that the south bound sign for Hutchinson Parkway states (in image form at top) "No Trucks" and has the words "PASSENGER CARS ONLY" in white underneath.
It may have been difficult to see the "No Trucks" part of the sign on top at 2 a.m., but no one should have had difficulty seeing the white part of the sign that reads "PASSENGER CARS ONLY" (in all capital letters). If you are professional driver, you need to become familiar with a "No Trucks" sign and become sensitive to it.
Low Clearance Structures in the Northeastern USA
Many metropolitan areas in the USA were built long before the large modern trucks of today were even thought about.
Of particular concern to many truck drivers is driving in the northeastern USA and Chicago.
Truckers must continually be on their guard for low clearances, truck restrictions, local truck routes, etc.
Once, when we were fairly new truckers with Swift, we were routed to take a load to the Jacob Javitz Convention Center in New York City.
The shipper routed us to take Exit 1, Hudson Parkway.
We were not experienced with looking for truck restrictions in New York up to that time.
When we got to the exit, lo and behold, we found out that we couldn't take the route given to us.
It is expressly forbidden for commercial motor vehicles.
On the fly, we had to find an alternate route to get down to the customer — and also route ourselves back out without incident.
If it had not been for the fact that we were a team and the non-driving team member could quickly consult an atlas, this could have proven to be a very bad situation.
The following are some photos that we took going into New York City from New Jersey. They are probably the same as they were the day we had a load going to Manhattan.

When you're heading into New York City (or other metropolitan areas), you need to be alert for signs like these.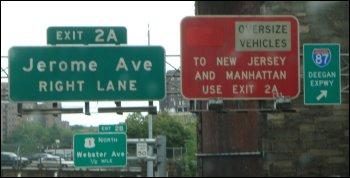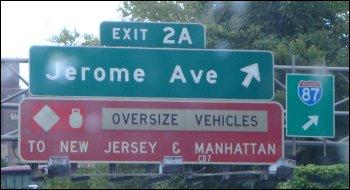 We have some other photos below.
---
Stay Alert for Temporary Low Clearances
A June 8, 2011, article entitled "Truckers fail to heed 'low clearance' signs at Chestnut and U.S. 65″ describes a situation in which construction taking place on a bridge will bring the clearance down to 13'1" temporarily, but the street will not be closed to all traffic and hence there will be no detours.(4)
This is a very tricky situation because
"The truckers are going to have to find their way," [MoDOT spokesman Bob] Edwards said. "We can't set a detour out because it's still open."
Trailer Roof Damage from Hitting a Low Clearance
Trailer roof damage can happen at the front or back.
Here are two photos showing trailer roof damage at the front of the trailer, most likely from taking the trailer under a low clearance.
Note that the top of the tractor's air deflector does not come up to the height of the trailer.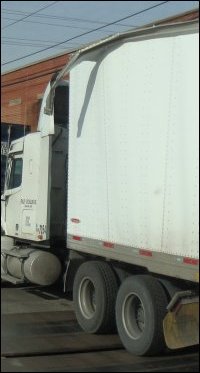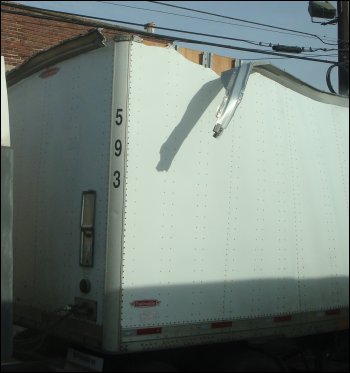 Another example of roof damage to a truck that a driver tried to take under a low clearance bridge was in May 2012 at the Lincoln Tunnel connecting New York and New Jersey (see photo).
Most of the time when a bridge is struck by a truck driver who tried to take his truck under a low clearance, he or she has to get towed out.
In Tulsa, Oklahoma, a driver was actually able to free his truck in July 2012, though not without damage.
If you zoom in on the top photo, you can see that the bridge height was listed as 13'0″, definitely too short for a 13'6″ rig to go under.
A classic "can opener" situation is at the 11 foot, 8 inch railroad trestle in Durham, North Carolina.
Under creative commons license, the folks at 11foot8.com and Yovo's Bridgecam (YouTube) publish videos of trucks that strike the trestle.
---
Overheight Trailers and Low Clearances
We have personally had some stressful experience in dealing with low clearances, all of which happened when we were driving for Swift.
By way of background, in 1993, Swift ran two different heights of trailers, the standard 13'6″ variety that could be used anywhere in the continental USA and the 14'3″ double trailers (aka "high cube doubles") that were used out west.
As you can imagine, a bridge or overpass that may not be considered a "low clearance" for a truck of standard height may suddenly become so when one is driving a higher profile vehicle. The following situations may not be in the order in which they occurred, but we most certainly experienced them.
We were instructed to take at least one high cube double (possibly two) from a customer in Plano, TX, to a department store location in Florida. We were told that there were three "low clearances" to watch out for along our route. Vicki was very uncomfortable with taking the load since any state east of Texas had a height restriction. Supposedly, Swift was swimming in so much cash at that time that they would rather pay an "overheight" fine than correct the problem.As it turned out, we were able to avoid the "low clearance" overpasses by exiting the interstate, crossing over the road and entering the interstate on the other side (a move that we call doing an "up and over"). But just because we managed to escape an "under blunder" along our route did not mean we were out of the woods.
With that same load, Mike entered a weigh station in Florida that measured our rig's height. Because at least one of the cubes was high, he was put out of service. Vicki determined that never again would we ever pull a high cube to the east coast.
It had taken some doing for another driver to take a high cube double to New Jersey, but the person who took it in did not have to pull it out. That's what we were assigned to do — on Memorial Day weekend in 1993.Of course, lots of folks inside the offices at Swift were gone on their holiday weekend. Nevertheless, we would not move until we had clear routing from someone fairly high up (who turned out to be the terminal manager at the Greer, SC, yard). Once we received assurance that we would encounter no "low clearance" bridges or overpasses for the high cube along our route, we carefully and with a great deal of trepidation eased our way back west, where the overheight trailer needed to stay. Whew!
We both try to lead our lives pleasing to the Lord. Sometimes when one does that, one encounters a situation where he or she has to choose between doing what is requested and what is right. Vicki had declared that she would absolutely not ever pull another high cube trailer to Florida. However, one day when Mike was on duty, he was dispatched to pull another overheight load from Texas to Florida. He accepted the load.Well, when Vicki woke up from her sleep break, she told him flat out: "If you take that load, you're pulling it every inch of the way!" Vicki asked Mike to turn down the load (even after he had accepted it). At the next place with truck parking, Mike called the Oklahoma City terminal manager. He was told that he had already accepted the load. But the load was illegal, you see. No, they wouldn't have the load reloaded onto a "legal" trailer. Well, we ended up being taken off the load — and punished by being taken off the "transcontinental team" (doing coast to coast runs). We paid dearly for taking a stand, by being assigned to run on the east coast only. For us as a team to be restricted to running up and down the east coast was very tiring, but by God's grace, we survived.Not long after that, we were assigned to go pick up a converter gear ("con gear" or "dolly") that goes between two pup trailers — but without any trailers. We had had no training on how to make the con gear "legal" for road usage behind a tractor alone. So, Mike got on the phone and was shuffled from person to person in the Phoenix office until he was on the phone with Swift's Vice President of Safety to learn how to take care of the situation. While he was on the phone with Mr. Safety, Mike asked him if he was aware that high cube doubles were being sent from Texas to Florida. Mr. Safety said that he was aware that it was happening "occasionally" (which was quite an admission!), but Mike said, "No, sir, it's happening every day!"It wasn't too much longer after that that we found out that the very Oklahoma City terminal manager and his dispatcher who had tried to force us to take that second illegal load had been brought to Swift's Phoenix, Arizona, headquarters and replaced in OKC. To our knowledge, no Swift driver was ever again forced to take another high cube load to Florida. We were eventually vindicated and restored to the "Trans Con" team, but rejoiced that we had taken a stand for what was right. (Please note that we do not know if Swift still runs high cube doubles or if they still try to route them to the east. Things may have changed since the 1990's.)
"Under Blunder" Photos
While we have a couple of photos above showing trailer roof damage to the front of a trailer that tried going under a low clearance, the following photos show low clearance damage to the back of a trailer — including the back doors.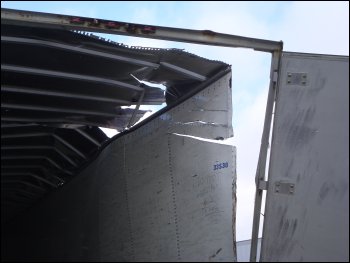 This view shows how badly the roof was damaged from inside.
This view shows the damage by looking straight at the back of the trailer.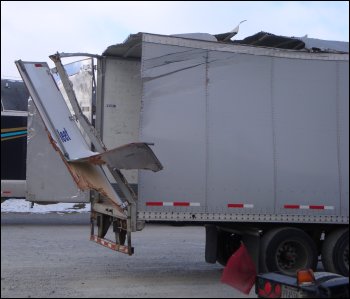 This view shows the damage from the side.
That right door has practically been demolished.
How to Avoid Low Clearance Bridges and Overpasses
If you have a GPS unit specifically made for commercial motor vehicles, keep the updates updated.
However, don't rely on the unit exclusively unless you want to run the risk of getting wedged under a bridge and have to deal with an embarrassing situation, exorbitant fine, and the loss of your job.
You need to have another reliable source that you can consult and that is a good map book or truckers atlas.
We personally recommend getting an up-to-date, large scale, spiral bound, laminated road carrier's atlas.
Update your atlas at least every other year to get the most recent updates in road construction, road restriction and other highway data.
If you don't know how to read a map book, you need to learn.
Make yourself familiar with the information in the front of the book (before the maps) to learn about low clearance overpasses, weight restrictions, hazmat restrictions and more.
Certain locations are known for a plethora of low clearances.
Chief among them are the northeastern USA and Chicago!
Therefore, if you are going into an area known for its low clearances, make sure you have extremely accurate directions before going to your customer.
We have always relied upon using a Motor Carriers atlas — aka truckers atlas — for routing a Commercial Motor Vehicle, the same kind you see listed here from Amazon.com, with which we have an affiliate relationship.
[adinserter name="Block 1″]
If need be, get the telephone number for your customer and call them.
You will want to speak with somebody who knows how to get commercial motor vehicles routed in.
As a general rule, Mike has found this to be on the shipping side.
However, there may be a case in which none of the workers at the receiver may know how to route a truck in.
Once when Mike worked for Epes, he had to deliver a load in New Jersey to a wholesale club.
Mike's driver manager talked with 5 people on the inside at the receiver's end who all knew how to get there in a car — but could not tell a large truck how to do the same.
We have found this to be a rare situation.
If you have to call for directions, make sure they know that you're driving a big truck or commercial motor vehicle so that they know you're not in something smaller.
Remember, too, that low clearance problems can also happen around buildings, docks and any construction locations.
Any time you are entering and exiting a building, be aware not just of the building but also anything protruding from it.
Make sure that you have adequate clearance to enter truck bays of any kind that have roll-up doors (that is, that the doors have gone up all the way before you move).
Low Clearance Issues Affect Smaller Trucks and Box Trucks, Too
Just in case you thought that this is a "semi" issue only, other shorter work trucks and box trucks have also gotten stuck under bridges.
---

Money saving tip: If your CMV-specific GPS unit allows you to obtain updates, allow it to download or fetch them as often as they are issued.
Not obtaining the most recent GPS info is kind of like having spyware that can get new definitions without downloading them.
It does your computer no good.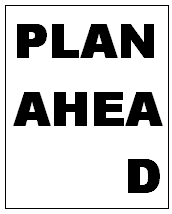 Plan in advance. Plan ahead. Don't be short-sighted.
Know how to get in and out of areas with low clearance bridges and overpasses.
Be especially careful in places you've never been before.
Don't be afraid to ask for directions from someone who is knowledgeable.
Sometimes information provided over the CB radio can be very helpful.
Evaluate the information you get so you don't wind up in trouble.
Do not rely strictly on directions you can obtain from the Internet.
Not only do they not usually report low clearances, but in some cases, the directions are absolutely false.
Vicki was going to a business conference back in 2008, and the location that came up on Google Maps was about 12 miles away from the actual location!
Although it was reported that Google Maps was going to have truck routing, we have never seen it.
Remember that in the winter, snow and ice can accumulate on roads.
Any build-up on the road can shorten the clearance under overpasses.
If necessary, call the DOT of the state where you're in to determine any trouble spots. The phone numbers are listed in the front of your atlas.
Read and heed all warning signs. Watch out for them. Never take risks. (Hint: This applies to drivers of straight trucks, too.)
Don't risk losing your job!
---
Return from Low Clearance Bridges and Overpasses: How to Watch for and Avoid to our Truck Operations page or our Truck Drivers Money Saving Tips home page.
---
Reference
1. www.foxnews.com/leisure/2009/10/17/gps-causing-truckers-crash-bridges/?test=latestnews (no longer online)
2. www.mississauga.com/news/article/1073738–truck-driver-charged-in-collision-with-bridge (no longer online)
3. www.lohud.com/article/20110526/NEWS02/110526001/Hutch-closed-N-B-Rye-Brook-tractor-trailer-hits-King-Street-overpass?odyssey=nav|head (no longer online)
4. www.news-leader.com/article/20110608/NEWS01/106080397/0/NEWS11/ (no longer online)