This is the TDMST Weekly Round-Up of news affecting professional truck drivers, written by Vicki Simons for the week ending December 18, 2021.
We welcome your comments, thoughts and feedback on the items of your choice below.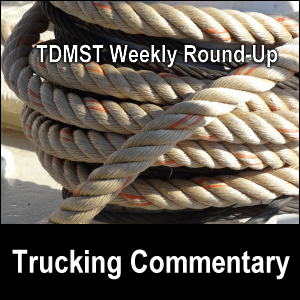 1. Regarding supply chain, capacity, bottlenecks, ports:
Supply chain
This situation is multi-pronged and I have written a good bit below regarding what I feel is one big part of it.
---
Capacity
---
Bottlenecks
---
Ports
2. Regarding closure:
It came as a huge shock to learn that after 96 years in business, Central Freight Lines is shutting down.
If you drive for CFL, please know that at least one other company is hiring their drivers.
3. Regarding COVID-19, politics (trucking), and politics (staged):
COVID-19
Of all people whose word should be considered regarding what a product can do, it is the inventor, right?
According to his LinkedIn profile, Dr. Robert Malone is the "inventor of the core mRNA vaccine technologies (including the idea of mRNA vaccines) and RNA transfection…"
linkedin.com/in/rwmalonemd (no longer online)
A December 15, 2021, article written by Dr. Malone states:
Before you vaccinate your child — which is irreversible and potentially permanently damaging — find out why 16,000 physicians and medical scientists around the world signed a declaration publicly declaring that healthy children should NOT be vaccinated for COVID-19.
Please read that one phrase again regarding the jab:
"irreversible and potentially permanently damaging".
Now, it is a well-known fact that children's body systems are not as mature as adults' body systems, but one has to admit that if these jabs are harmful for children, there is at least the potential for them to be harmful to adults.
And one need only look at the numbers on OpenVaers.com to see the impact that CV jabs have had (as of December 10, 2021):
965,841 COVID Vaccine Adverse Event Reports; and
20,244 COVID Vaccine Reported Deaths.
Now, back to the original question: What is the purpose for getting a CV-19 jab in the first place?
One reason why many people have taken one or more jabs is to protect them from dying from CV, right?
So, it is instructive to look to see the Infection Survival Rate of "C0V!D-19" from a Stanford University Study.
According to that study, the Infection Survival Rate ranged from almost 100% for youngest populations to over 94% for elderly populations.
With a survival rate so high, why is a jab even needed?
Do not fall for the lie that these CV jabs are for your health or anyone else's health.
There are many problems with these particular jabs, so in my opinion, they are not acceptable for use; the cost of compliance is too high; and compliance will affect our brothers, sisters, friends and neighbors.
Also, please understand that if some truckers are leaving their jobs because they value their health freedom more than their jobs, yes, that will add to the supply chain problem, but this issue is just as easily solved as it was started:
simply reverse the requirement to get jabbed!
Here are some of the most recent articles on this topic:
---
Politics: Feds Trying to Help Trucking
First, there is nothing at all in the Constitution of the United States that addresses transportation.
Second, the Executive Branch of the federal government does not have the constitutional authority to try to "help trucking" recruit and retain drivers.
According to the Tenth Amendment, that is a matter for the states and the people to take up.
So, please bear these things in mind when you contact your elected officials.
---
Politics: Staged Accidents
4. Regarding accident, near miss:
Accident
Please learn what you can from these articles and apply the knowledge to your life so that you don't get involved in the same situation yourself.
While we have written about driving in strong winds, how would you protect your rig in such a case?
This was completely preventable.
Quote: "Nebraska State Police said that Kratt was traveling at speeds of 75 to 78 m.p.h. in a 65 m.p.h. zone when the crash occurred."
How can you protect your rig when roads and bridges get slick?
Uh, the road sign in the photo clearly says 11'9″, so there was no excuse for this trucker trying to take a 13'6″ truck under there!
Since the "accident happened at around 4:35 a.m.," I wonder if this was a sleepiness or fatigue issue — or if a jab or medical episode is to blame.
---
Near miss
Is it standard operating procedures for someone to be in the trailer while dried corn is being loaded?
5. Regarding autonomous vehicles, electric vehicles, fuel, emissions, smog:
Autonomous vehicles
I most vehemently oppose autonomous, driverless, or self-driving Commercial Motor Vehicles being on the same roads as the motoring public, but share these articles as a courtesy to help you stay informed on the subject.
---
Electric vehicles
---
Fuel
---
Emissions
---
Smog
Dictionary.com defines "smog" as "smoke or other atmospheric pollutants combined with fog in an unhealthy or irritating mixture."
6. Regarding sentencing, training, employment, shortage, predictions, question:
Sentencing
There is supposed to be "equal justice for all" in the USA, and yet, states have the right to set their own laws.
Some people are in favor of the sentencing and others are opposed.
Some say that the trucker should have known better and others say that the trucking company is to blame for not training him properly.
A sentence of 110 years will not undo the damage that this trucker did, and yet I don't believe that he should get off completely scot-free.
What is a suitable punishment for this trucker?
Please comment through the form below. Thanks.
---
Training
---
Employment
I believe that these "official numbers" are skewed because many people have been forced out of their jobs because of tyrannical demands.
---
Shortage
I became aware of some of these articles from setting a Google Alert.
Do you agree that the so-called trucker shortage is a lack of regulation and a shortage of "good union jobs"?
Please comment through the form below. Thanks.
---
Predictions
---
Question
7. Regarding consumers, inflation, economy, insurance:
Consumers
---
Inflation
---
Economy
---
Insurance
8. Regarding CVSA, HOS, parking, dumping, drugs, and smuggling:
CVSA
---
HOS
---
Parking
---
Dumping
---
Drugs
Never, ever agree to haul illegal drugs, no matter how lucrative the promised pay-out is.
---
Smuggling
Never, ever agree to haul people like cargo or cattle.
9. Regarding weather, tires, roads, chains, operations:
Weather
There has been a lot of bad weather lately: snowstorms, high winds, and tornadoes.
Please do your due diligence before starting out.
Remember that high profile vehicles are more likely to be flipped over on their sides in strong winds.
It's also a good idea for truckers to have some kind of tire traction devices in their trucks, no matter whether they are in snow chain law territory or not.
If you were going to carry lightweight, non-bulky tire traction devices in your truck, what kind would they be?
Please comment through the form below. Thanks.
---
Tires
---
Roads
---
Chains
---
Operations
How do you make sure that all of your trailer's tires are turning while you're rolling down the road in icy conditions?
Please comment through the form below. Thanks.
Don't be a bully!
10. Regarding tolls, rates, recall:
Tolls
---
Rates
---
Recalls
11. Regarding ELDs, health, holiday, violence:
ELDs
---
Health
---
Holiday
---
Violence
This kind of behavior is never, ever acceptable!
12. Regarding recognition:
The following two articles are about those who helped truckers move down the road in snowy conditions.
This does not imply that I am in favor of truckers — especially company drivers — taking it upon themselves to use their trucks to push other trucks.
However, it is nice to know that kindness and a willingness to extend a helping hand still exist in our world today.

My husband Mike and I wish you — and all professional truck drivers — safe travels and lots of money saving opportunities on the road.
---
---
Return from TDMST Weekly Round-Up: 2021.12.18 to our TDMST Weekly Round-Up Trucking Commentary or our Truck Drivers Money Saving Tips home page.
---