When it comes to driving in wind — strong winds — in a high profile vehicle, there are times beyond which it is safe to travel.
Other times, if a trucker takes appropriate precautions, he or she can safely proceed.
A professional truck driver may confidently rest in the protections against being forced to drive a high profile truck (a semi tractor trailer included) when it is unsafe, which we cited on our whistle blowing page.
Only the trucker who is facing certain weather conditions can make the judgment call.
Really Up Close
When we went on a business trip in June 2013, we saw first-hand the effect of driving in wind when we went through tornado-prone Nebraska on I-80.
We had just finished getting fuel around 8 p.m. our time on June 16 when this alert came through on Vicki's Smartphone:
"Tornado Warning in this area til 7:30 PM CDT. Take shelter now. Check local media. -NWS"
Rather than "take shelter now", Mike decided to press on.
We had never experienced a vehicle so badly buffeted about by the wind as we did that day.
Just up the road, we encountered a large truck that had been overturned by the strong winds.
From this distance, we can see an overturned truck in the median and that law enforcement is present.
This view shows the skid marks where evidently a strong gust of wind blew the truck out of its lane and flopped it over.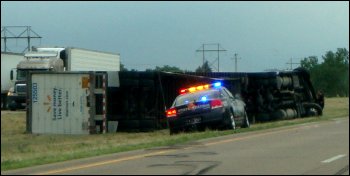 This close-up reveals that the trailer belonged to Wal-Mart.
We also noted when we passed that the tractor was not company-issued but rather that of an owner-operator.
We don't know if the trailer was empty or loaded, but we concluded that since high winds had laid this truck over on its side — and that the trucker was an owner-operator — that adverse events when driving in wind can happen to any trucker.
Our Trucking Experience with Strong Winds
Vicki specifically recalls a time when we team drove for Swift when she was driving in wind heading west in Wyoming.
An electronic sign read that there were 55 mph winds! Wow!
Back then, Swift's tractors were set to a maximum speed of 57 mph. Still, she slowed down even more.
Someone hollered at her on the CB, "Hey, Swift, whatcha goin' so slow for?"
She calmly replied because of the high winds.
The other driver scoffed but Vicki continued her slow and steady progress.
We got through unscathed.
Examples of High Winds and Overturned Trucks
Before researching information for this page, we did not realize how often driving in wind was responsible for overturned trucks. We noticed two things in particular. See if you can spot them.
On March 6, 2013, it was reported that the Bay Bridge in Maryland "saw sustained winds at 55 miles per hour for 10 minutes" during which a truck turned over.(1)
A writer on December 30, 2011, wrote about wind gusts reported at 90 mph in Wyoming, which blew over at least 2 trucks.
The Mackinac Bridge in Michigan has been closed due to winds blowing in excess of 50 miles per hour (Sept. 2012) and in excess of 65 miles per hour (Aug. 2015). On July 18, 2013, the high winds blew over a truck.
mlive.com/weather/index.ssf/2013/07/semi-truck_blown_over_on_macki/ (no longer online)
On June 12, 2008, TodaysTrucking.com reported about "a notorious section of the highway called 'the Wreckhouse'" near Port aux Basque, Nfld. in the Cape Ray area.

The article stated, "Dozens of times each year, high-profile vehicles are caught in the 100-km/h-plus south-east crosswinds and blown off the roadway."
The photo caption reads: "Wreckhouse wind-related rollovers are so common they don't even make the news pages any more."
What were the two things we noticed about driving in wind?
Pay attention to strong winds and crosswinds when crossing bridges; and
Be alert to high winds in the plains where there aren't very many trees.
High Winds May Turn Into Treacherous Tornados
Tornados are no respecters of persons or vehicles.
These three linked pages (that contain photos or video) reveal the fact that trailers can be demolished or even flung into the air in high winds.
We recall writing to friends years ago about the night we traveled through "tornado alley."
Vicki was driving in wind (a terrible storm) through Indiana and had turned on the weather radio channel on our CB radio.
The announcer was doing his job about which counties had tornado watches and warnings, but she had no idea where those counties were in relation to her continually changing location.
The rain was pouring down and since it was night time, there would have been no way to see a funnel cloud at a distance unless lightning from the same storm illuminated it such as is pictured.
She prayed, proceeded cautiously driving in wind and rain, and successfully got through.
We wonder: how many truckers agree with the advice that Overdrive Online provided about what to do in a tornado?
Variety of High Winds Signs
Vicki searched online for examples of signs warning about potential high winds. Truckers should be alert to various signs like these:
There was once a photo of a "High Winds Sign" in Guadalupe Mountains in Texas(3)
There was once a photo showing an electronic sign warning of High Winds Ahead On I-5 North at Smokey Bear Road(4)
Oregon.gov once had a photo on its site stating "Caution High Winds on Bridge When Flashing.(5)
There was once a sign showing "High Winds When Flashing" on the Sunshine Skyway Bridge over Tampa Bay, Florida(6)(7).

These signs warning about the area being subject to crosswinds are near the North Carolina-Virginia state line along I-77.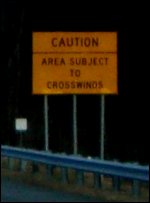 The photo at right is a close-up of one of the road signs warning about the area being subject to crosswinds.
Although we've never seen any overturned trucks in the Fancy Gap, VA, area as a result of crosswinds, this page records the experience of at least one person who knows about wind advisories and driving in wind in that area.
We have also seen "wind socks" (like this one) that lets a driver know at a glance not only the strength of the wind but its direction.
It's been a long time since we were in that area but we recall seeing a wind sock somewhere along I-40 not far from Albuquerque, New Mexico.
Be careful about driving in wind in the mountains.
What Truckers Can Do in High Winds
The state of Oklahoma provides tips about driving in high winds.
Some lists of tips for driving in high winds don't recommend trying to find an alternative route.
This may not always be possible and may not necessarily take you out of the danger zone.
---

Money saving tip: If delaying our start (or stopping somewhere) to let a storm system pass was not an option and we couldn't take another route — but we deemed that it was safe enough to drive — here's what we did whenever we were driving in wind, sometimes strong winds, in a high profile truck:
make sure that we had a load on the trailer (the heavier the load up to the maximum legal weight, the better);
keep both hands on the steering wheel to control the whole rig at all times;
increase following distance from other vehicles;
slow down to a reasonable speed and if necessary turn on the vehicle's flashers;
correct any changes to the lane of travel if the rig is blown off course;
stay alert to things being blown around, funnel clouds formations, sudden traffic stops, etc.; and
pray for the Lord's protection.
If while you are driving in high wind you collide with another vehicle or another vehicle collides into yours, be sure to stop to take care of necessary safety and insurance matters.
Remember that as the trucker responsible for your rig and the freight inside, you are the one who has to make the choice as to whether or not it is safe to drive in high winds.
Let your driver manager know about your decisions.
---
Return from On Driving in Wind — Strong Winds — in a High Profile Truck to our Truck Operations page or our Truck Drivers Money Saving Tips home page.
---
Reference
1. www.capitalgazette.com/news/for_the_record/bay-bridge-closed-due-to-wind-truck-accident/article_2bc440ef-29c3-52c1-a294-351e6971b8a2/ (no longer online)
2. www.telegraph.co.uk/news/worldnews/northamerica/usa/9184530/US-tornado-giant-twister-filmed-ripping-through-Johnson-County-Texas/ (no longer online)
3. www.flickr.com/photos/mattlanza/6023512811/ (no longer online)
4. www.flickr.com/photos/mattlanza/4909141988/
5. www.oregon.gov/ODOT/HWY/ITS/PublishingImages/highwind2.jpg (no longer online)
www.oregon.gov/ODOT/hwy/its/Pages/its_devices.aspx (no longer online)
6. interstate275florida.com/images/Thumbnails/ssb/SB/08.jpg (no longer online)
7. interstate275florida.com/ssb.htm (no longer online)