This is the TDMST Weekly Round-Up of news affecting professional truck drivers, written by Vicki Simons for the week ending January 15, 2022.
We welcome your comments, thoughts and feedback on the items of your choice below.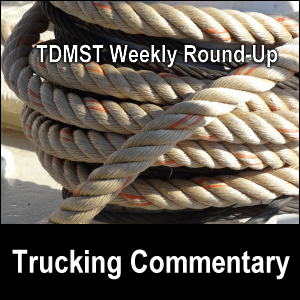 1. Regarding COVID-19, border, ports, and supply chain:
COVID-19
There are many non-chronological articles below about OSHA; the U.S. Supreme Court's decision regarding OSHA and vaccinations; the vax situation in Canada and regarding the US/Canada border; and much more. Please remember that although having a job is important, your health is more important and once pushed into your body, a jab can never fully be undone.
---
Border
---
Ports
---
Supply chain
2. Regarding accidents, missed exit, low clearance, pressure, roads, and tires:
Accidents
Please review these accidents and seek to avoid getting into a situation where one could happen.
---
Missed exit
Never back up on a highway where traffic is going forward, unless you have law enforcement directing you to do so!
---
Low clearance
Do not rely upon a non-motor-carrier-specific GPS unit!
---
Pressure
---
Roads
---
Tires
3. Regarding weather, chains, age, and training:
Weather
There are many articles below about the ever-changing weather across the USA and other areas. Before you head out, please remember to determine whether or not it is safe to drive. Your trucking company cannot force you to drive.
---
Chains
If you put chains on your truck's tires, remember to take them off in a timely manner.
---
Age
Based on well-known insurance rates, I totally disagree with lowering the age at which people can get a Commercial Drivers License (CDL).
---
Training
4. Regarding sentencing, mountains, operations, securement, and violation:
Sentencing
More news has been released about this situation.
---
Mountains
---
Operations
I totally disagree with having and showing a revengeful attitude on the road!
---
Securement
Before you close your trailer's doors, make sure any load locks in the trailer are securely in place. If you do not have load locks or need extra security, use straps to secure your load.
---
Violation
5. Regarding top news and predictions:
Top news
---
Predictions
6. Regarding autonomous vehicles, electric vehicles, fuel, EPA:
Autonomous vehicles
I 100% oppose autonomous, driverless, or self-driving vehicles on the road with the motoring public, but share these articles to help you stay current on the topic.
---
Electric vehicles
If you drive an electric truck and have had an issue with getting it charged when you needed a recharge, would you please contact me through the form below in order to let me know exactly what happened? Thanks.
---
Fuel
---
EPA
7. Regarding pay, tolls, technology, alerts, rates, recalls, and repair
Pay
Regarding the first two articles below, I'm glad that someone in an official position within transportation has got at least a partial grasp on this.
---
Tolls
Technology
---
Alerts
---
Rates
---
Recalls
---
Repairs
8. Regarding consumers, delivery, events, and inflation:
Consumers
---
Delivery
---
Events
---
Inflation
9. Regarding drugs, smuggling, and violence:
Drugs
Never, ever use drugs classified as narcotics before driving a truck, no matter how good they make you feel. Never, ever haul illegal drugs, no matter how much money you have been promised.
---
Smuggling
Never, ever haul human beings like they are cargo or cattle.
---
Violence
Consult with your trucking company to learn how to evade situations that escalate into violence.
10. Regarding economy, employment, and shortage:
Economy
---
Employment
These listings do not imply an endorsement of any kind.
---
Shortage
11. Regarding holidays, inspections, and middle mile:
Holidays
---
Inspections
---
Middle mile
12. Regarding awards, recognition, amazing:
Awards
Congratulations to this trucker for his tremendous achievement!
---
Recognition
Thank you to everyone who helped others in need.
---
Amazing
Wow!
My husband Mike and I wish you — and all professional truck drivers — safe travels and lots of money saving opportunities on the road.
---
---
Return from TDMST Weekly Round-Up: 2022.01.15 to our TDMST Weekly Round-Up Trucking Commentary or our Truck Drivers Money Saving Tips home page.
---