This is the TDMST Weekly Round-Up of news affecting professional truck drivers, written by Vicki Simons for the week ending March 5, 2022.
We welcome your comments, thoughts and feedback on the items of your choice below.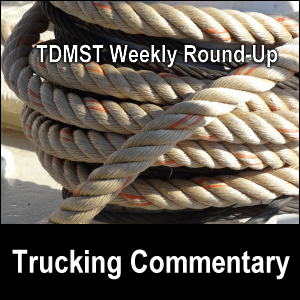 1. Regarding COVID-19 and convoy:
COVID-19
If you read back through some of my TDMST Weekly Round-Up trucking commentaries over the last two years, you will find that I was convinced that this whole COVID-19 situation was a put-up job and that what people needed to focus on was boosting their God-given immune systems from the inside-out, instead of imposing on their bodies oxygen-reducing face masks and injecting into their bodies man-made substances.
You must decide if it is more important to maintain your bodily sovereignty or to bow down to those who wish to control your body through tyr@nn!c@l dictates.
Be watching for a shift in the narrative away from COVID-19 and towards other types of pathogens — or infections that were caused the jabs.
Also, be watching out for financial repercussions as a result of these maneuvers.
---
Convoy
It's interesting that there isn't much news — even in the trucking publications — about the convoy of trucks heading toward Washington, DC.
Please be careful not to get yourself trapped into a situation where you could be detained against your will and have your truck impounded or stolen from you.
2. Regarding Russia/Ukraine, supply chain, and oil:
Russia/Ukraine
In his March 3, 2022, column — Ukraine Is Not A Victim — Chuck Baldwin wrote:
As a political analyst and more importantly as a spiritually minded student of the Scriptures, I am absolutely convinced of this: When the major establishments all pounce on one subject, collectively decide who is a victim and who is a villain and beat the same drum every day over and over in total unison, the narrative that is being presented is one hundred percent upside down.

And right now the power establishments have decided to bewitch us with an anti-Russia, pro-Ukraine agenda. But as with all establishment propaganda, the narrative is a big, fat lie.
You may also wish to read news from a trustworthy site:
TheNewAmerican.com.
One resource I read indicated that this whole situation between Russia and the Ukraine could be a precursor to nucle@r w@r.
Truckers who are away from home for days, weeks, or months at a time need to prepare as best they can for unexpected outages and shortages.
Be those things as they may be, here are some of the most recent news articles about the situation regarding Russia and the Ukraine from trucking sources:
---
Supply chain
The supply chain will be impacted or disrupted any time there is a threat and attack on energy.
---
Oil
According to Wikipedia, "West Texas Intermediate (WTI) can refer to a grade or a mix of crude oil, and/or the spot price, the futures price, or the assessed price for that oil; colloquially WTI usually refers to the price of the New York Mercantile Exchange (NYMEX) WTI Crude Oil futures contract or the contract itself."
3. Regarding accidents, weather, roads, and fatalities:
Accidents
Please review the articles listed below regarding trucking accidents and learn how to protect yourself from being involved in such a situation yourself.
I am appalled over how many truckers are plunging off bridges and overpasses these days.
What is going on that would cause such an uptick in this type of crash?
---
Weather
---
Roads
---
Fatalities
Mike and I express our condolences to the families of all of those who died in traffic crashes.
4. Regarding economy, buying, tolls, rates, surcharge, and UCR fee:
Economy
---
Buying
---
Tolls
---
Rates
---
Surcharge
---
UCR fee
5. Regarding inflation, pay, and consumers:
Inflation
---
Pay
We do not necessarily endorse any of the trucking companies listed in this section as potential employers.
---
Consumers
6. Regarding autonomous vehicles, electric vehicles, fuel, theft, and fuel savings:
Autonomous vehicles
I oppose with every fiber of my being the operation of driverless, self-driving, or autonomous commercial motor vehicles on the roads with the motoring public, but I share these articles as a courtesy to help you stay current with the topic:
---
Electric vehicles
---
Fuel
Some of the increase in fuel prices is due to inflation (and the faulty policies of politicians) and some is due to the activities of those who are supplying oil for fuel.
---
Theft
I watched the video embedded in this article and it certainly appears to be "theft" of some kind to me.
I encourage truckers to keep their eyes wide open on this.
---
Fuel savings
7. Regarding drugs, clearinghouse, testing, and health:
Drugs
Regarding the March 2, 2022, article — "Trucker claims he doesn't know how 6 duffel bags of cocaine got into his storage compartment" (subtitle: "His alibi is that he was away from his truck in the bathroom of a truck stop for about a half hour.") — I made this lengthy post on our TruckDriversMoneySavingTips Facebook page:
According to the article linked below, a truck driver was caught attempting to transport six duffel bags full of cocaine into Canada late last week, but told police that he did not know how the cocaine got into the storage compartment of his trailer.
There are 5 obvious questions to ask on an investigation on this:
1. Did the trucker have any drug paraphernalia anywhere in his rig (which would point to potential personal use)?
2. Did the trucker test positive for any drugs (assuming he was screened for them)?
3. Is there any surveillance video footage showing what happened all during the time the trucker was away from his truck?
4. Have drugs been smuggled from the shipper or someone at the shipper's location in the past?
5. Have drugs been delivered to the receiver or someone at the receiver's location in the past?
Without knowing more about this situation, it seems plausible that the trucker was made an unknowing mule for transporting drugs, but why would someone plant drugs on a truck without knowing where the truck was going?
Additional thought: Assuming this was a sleeper berth tractor, if the trucker had had a portable toilet in it, he might not have been away from his rig at the time the drugs were supposedly planted.
What are your thoughts on this?
Please comment below.
Here are some other articles about drugs in the trucking industry this week:
---
Clearinghouse
---
Testing
Regarding this "oral fluid" testing possibility, the first article linked below states this at the very bottom:
"USDOT is accepting public comment on the oral fluid testing proposal for 30 days after the NPRM is published in the Federal Register. To submit your comment at that time, you can visit http://www.regulations.gov and search for Docket No. DOT-OST-2021-0093."
I took the liberty of looking up that Docket number and found this:
Federal Register :: Procedures for Transportation Workplace Drug and Alcohol Testing Programs: Addition of Oral Fluid Specimen Testing for Drugs
If you feel strongly about this, please write up and submit your comments before the deadline.
---
Health
Please do your own due diligence — and feel free to consult with your physician — regarding starting or maintaining any health procedure.
8. Regarding transfers, distractions, and audit:
Transfers
---
Distractions
---
Audit
9. Regarding inspections and Jake brake:
Inspections
---
Jake brake
10. Regarding employment, MVR, and ports:
Employment
---
MVR
---
Ports
11. Regarding technology, aerodynamics, APU, and power:
Technology
---
Aerodynamics
---
APU
---
Power
12. Regarding awards:
Congratulations to all professional truck drivers who have been recognized for their skill!
We also recognize those who helped out their fellow human beings in a time of need.
My husband Mike and I wish you — and all professional truck drivers — safe travels and lots of money saving opportunities on the road.
---
---
Return from TDMST Weekly Round-Up: 2022.03.05 to our TDMST Weekly Round-Up Trucking Commentary or our Truck Drivers Money Saving Tips home page.
---