This is the TDMST Weekly Round-Up of news affecting professional truck drivers, written by Vicki Simons for the week ending October 19, 2019.
We welcome your comments, thoughts and feedback on the items of your choice below.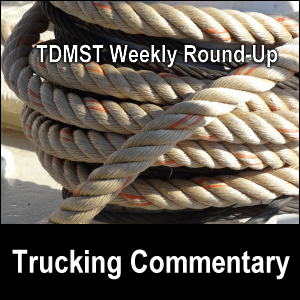 1. Regarding commenting on proposed HOS rules change:
The deadline for commenting on the proposed Hours of Service change is Monday, October 21, 2019.
While the Owner-Operator Independent Drivers Association (OOIDA) submitted their comments, an article summarized their comments in the title as "Eliminate 30-minute break requirement".
Other recent articles that have been written about this topic are here and here.
Meanwhile, you may know that the National Transportation Safety Board (NTSB) is both "the federal agency in charge of investigating transportation accidents … [and] the federal government's top safety advocacy group".
The NTSB is not happy about the proposed Hours of Service (HOS) changes because they say that "the changes could actually make truck drivers — and those who share the road with them — less safe."
If you feel strongly about this issue, please submit your comments online before the deadline.
2. Regarding marijuana, CTA, testing for drugs and alcohol, THC and CBD:
According to an October 17, 2019, article, "The Canadian Trucking Alliance (CTA) is repeating its call for the federal government to implement a comprehensive drug and alcohol testing program for workers in safety-sensitive positions."
The article further states, "Meanwhile, positive drug tests among truck drivers — particularly those that relate to THC, the psychoactive ingredient in marijuana — are on the rise."
You may read more about the Commercial Driver's License Drug and Alcohol Clearinghouse already in place in the USA.
Separately, an October 16, 2019, article states, "A long time hazmat truck driver was using CBD oil for pain management and thought that it contained no THC. But when he tested positive for high levels of THC in his next drug test, he lost his job of 10 years" and he is suing the company from which he bought the product.
So, be aware of issues like this.
3. Regarding trucker pay:
ATRI's "Critical Issues in the Trucking Industry — 2019" lists "Driver Compensation and Detention/Delay at Customer Facilities" in the top 10 for the first time.
A related article dated October 17, 2019:
quotes Bob Costello, chief economist of the American Trucking Associations (ATA), as stating during an association event that "driver pay packages have increased, but their take-home pay has not kept pace" and
then lists the reasons why, foremost among them being that while per-mile pay has increased, the number of miles that truckers are driving have declined.
In my opinion, what is desperately needed is a hybrid system of paying drivers that includes a base rate for ALL of the time that they spend on any aspect of their trucking work, including waiting for loads, having to stay in their trucks away from home, and more.
Some trucking companies have implemented a "guaranteed" pay rate per week, which is nice, but is that enough?
Please comment below.
---
The 2018 Urban Congestion Trends report from the Federal Highway Administration (FHWA) underscores the need for truckers to be paid for all of their time: "The report rates congestion in the 52 largest metro areas in three categories: hours of congestion, travel time index and planning time index."
---
Separately, we read in an article dated October 15, 2019:
She Drives did a survey of its own recently and asked several compensation-related questions. And, the major takeaway is that the majority of women drivers who responded earn more than the current national average for women in the U.S. and almost as much as the average for men.
Ladies, is that what you're experiencing?
Please comment below.
---
Meanwhile, if you drive for Werner Enterprises, don't be expecting a pay raise anytime soon because
a New Mexico jury found the company negligent following the wrongful death of a woman, which followed one of their truckers losing control of his rig, and
the company will be required to pay $40.5 million.
Ouch.
More on the Werner verdict was written here.
4. Regarding reducing deadhead miles:
"Following the push to make freight more efficient after the global oil crisis of the early 1970s, the share of total miles that truckers drive empty has been consistently stuck around 35 percent since at least the late 1990s", states an October 17, 2019, article.
The article further explains that deadhead miles across the trucking industry range:
from a low of nearly zero percent
to a high of 55 percent.
Artificial intelligence and algorithms may be able to help.
I also suggest using the services of the TruckersEdge load board, where new subscribers can get their first 30 days free.
5. Regarding electric trucks:
An October 17, 2019, article stated:
…in recent years, globally driven economic, environmental and market forces, combined with developments in new battery technologies and computer-controlled energy management systems, have brought electric commercial vehicles to the point where they may soon be a viable option for fleets in specific applications well-suited to the range limitations and charging requirements.
The article further states that there are "essentially two types of electric trucks in development today":
"pure electric" or "battery electric" vehicles; and
hydrogen fuel cell vehicles.
One example of a truck manufacturer who has jumped on the electric model bandwagon is Peterbilt, which according to an October 16, 2019, article, has delivered the "first of six battery electric" trucks.
While you may read the articles for more details, these are my questions about electric trucks right now:
What are the up-front costs of an electric truck compared with one that runs on diesel or another form of fuel?
What are the ongoing costs (including maintenance and specialty equipment replacement) associated with electric trucks?
How do the ongoing costs of electric trucks compare to the ongoing costs of trucks running on fuel?
Do electric trucks perform as well as non-electric trucks?
Are there any eccentricities about operating an electric truck compared to those that are fueled differently?
Do electric trucks ever have to be powered from external sources, especially for climate control purposes?
Will truckers who drive electric trucks be treated any differently at truck stops than those who buy fuel on a regular basis?
6. Regarding Mack Trucks employees going on strike:
"About 3,500 Mack Trucks employees who are members of the United Auto Workers union went on strike at six manufacturing facilities on Oct. 13", states an October 14, 2019, article.
The stated "unresolved issues between the employees and Mack Trucks… include wages, job security, wage progression, benefits and several others".
Another article puts the striking number at "More than 3,600 hourly workers" and lists a longer set of issues.
Furthermore, another article states, "The impact of a United Auto Workers' strike at Mack Trucks will nearly double next week when Volvo Trucks North America lays off about 3,000 employees because of a lack of engines and transmissions that come from a Maryland plant the companies share".
More about this topic was written here and here.
Just a few questions to consider are:
Do you work at a trucking company where truckers could go on strike?
Would you be prepared financially if that happened?
Wouldn't it be easier to bear if you had a second income?
7. Regarding a tropical disturbance in the Gulf of Mexico:
An October 17, 2019, article states that drivers in the Mississippi-Alabama coast areas need to "be prepared for gusty winds, heavy rain, and some coastal flooding" on Saturday due to a tropical disturbance.
Winds are forecast to:
peak at 35-45 miles per hour and
gust up to 65 miles per hour.
According to Weatherbug, "The National Hurricane Center has issued Tropical Storm Warnings from the Mississippi and Alabama border to Yankeetown, Fla., and from Grand Isle, La., to the mouth of the Pearl River on the Mississippi border."
According to an October 17, 2019, article, "Supply chain issues [are] possible from Louisiana to Florida".
If you are in the forecast zone, please be aware of the difficulty or impossibility of driving a high profile vehicle in high winds or strong winds.
8. Regarding top trucker rewards:
"The top company driver and owner-operator [will] each win $25,000 and the runners up in both contests [will] get $2,500" in annual contests, according to an October 15, 2019, article.
More about this was written here.
Please feel free to nominate outstanding truckers.
9. Regarding truck accidents and near misses:
Numerous truck accidents and crashes have happened in the last week, some resulting in either injury or death.
While at least one of these accidents have been the result of the driver from a non-CMV, others have been totally truck-related.
If you feel drowsy or fatigued, please find a safe and legal place to park as quickly as possible.
No load is worth your life.
10. Regarding truck parking in Pennsylvania:
PennDOT spokesperson Fritzi Schreffler stated that the closure of rest stops on both north and southbound sides of I-81 near Grantville "is going to [have] a big impact, especially with the Thanksgiving travel, the holiday travel, pretty much anyone who drives in this area on a regular basis."
If you regularly drive in the area and park there, please make other arrangements.
11. Regarding saving money on A/C without an expensive APU:
An October 15, 2019, article stated, "Owner-operator Doug Hasner's generator powers anything needing a hotel load of electricity in-cab to eliminate idling, including an electric grill he carries, refrigerator, microwave and more."
Read the article for the differences between an APU (ranging in cost from "several thousand to more than $10,000") and Hasner's system.
Bear in mind that with respect to climate control:
just as was the case with the compact refrigerators that Mike attempted to use in his trucks to help cold food stay cold — but didn't last —
standard window-unit-type air conditioners are not built to withstand the rigors of vibrations from a moving vehicle.
Just saying.
12. Congratulations!
While I congratulate Iowa-based Solar Transport for having recently been named the recipient of two safety awards from the Iowa Motor Truck Association, I wonder how their drivers will be recognized and rewarded.
Hmm…
My husband Mike and I wish you — and all professional truck drivers — safe travels and lots of money saving opportunities on the road.
---
---
Return from TDMST Weekly Round-Up: 2019.10.19 to our TDMST Weekly Round-Up Trucking Commentary or our Truck Drivers Money Saving Tips home page.
---