This is the TDMST Weekly Round-Up of news affecting professional truck drivers, written by Vicki Simons for the week ending April 23, 2022.
We welcome your comments, thoughts and feedback on the items of your choice below.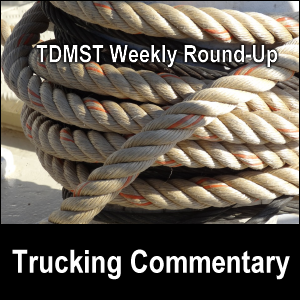 1. Regarding emissions, environment, idling, and zero:
According to Genesis 1 and 2 in the Bible, after God created male and female, He gave them specific tasks, one of which was to take care of the place He had made and where He had located them.
In our day, some people have put a heavy emphasis on protecting the earth, perhaps at the expense of the humans who inhabit it.
Earlier this week, I conducted a Facebook livestream about "Earth Day" in which I referenced the following:
article 1, article 2, and a video.
Please understand that there is a political agenda — and sometimes even a spiritual ideology — behind fuel choices, emissions, vehicle production, the "net-zero carbon" initiative, and other related endeavors.
Here are some of the most recent articles on these topics:
Emissions
---
Environment
---
Idling
---
Zero
Please feel free to look at other trucking commentaries on this site in which I examine the issue of "carbon."
Even though I do not necessarily agree with the articles in this section, I am listing them for your convenience.
2. Regarding spot market, tolls, pay, coercion, and warranty:
Spot market
---
Tolls
Louisiana Truckers Battle Proposed Bridge TollPlease note the references to how poorly the first bridge was planned, how long overdue the replacement is, and other things.I suggest that everyone beware of "public-private partnerships."
---
Pay
Most of the articles in this section address a bill that was introduced in the U.S. House of Representatives by Rep. Andy Levin entitled "Guaranteeing Overtime for Truckers Act," which would repeal the motor carrier overtime exemption in the FLSA (Fair Labor Standards Act).
In a Facebook truckers group that we're both members of, an owner-operator friend of mine stated that this bill would create tension between company drivers and independent drivers and cause other problems.
I asked for specific details and am eagerly looking forward to learning more.
---
Coercion
Never put up with coercion!
There are other trucking companies out there that respect professional truck drivers.
---
Warranty
3. Regarding accidents: alcohol, bridge, distracted, fatal, parked, shoulder, sleep, and train; and close calls:
Please learn what you can from the articles listed in this section so that you will be able to avoid getting into these kinds of accidents or "close calls."
Accident
---
Accident: alcohol
---
Accident: bridge
---
Accident: distracted
---
Accident: fatal
---
Accident: parked
---
Accident: shoulder
---
Accident: sleep
---
Accident: train
---
Close calls
4. Regarding fuel, green diesel, green hydrogen, renewable diesel, electric vehicles, and autonomous vehicles:
Fuel
---
Green diesel
Green Diesel Is Suddenly a Booming BusinessFrom what I understand in the article, "green diesel" is biofuel derived from vegetable oils, used cooking oil, and animal fats.You can read in the article about the process that is used to create "renewable diesel."
---
Green hydrogen
Walmart will run up to 9,500 lift trucks on green hydrogen from Plug PowerQuote: "Green hydrogen is produced by using electrolyzers powered by renewable electricity to split water into hydrogen and oxygen. Oxygen is the only byproduct, making it a 'clean, secure and affordable energy solution,' the companies said."I would love to know how large the electrolyzers are, if green hydrogen can be converted into electricity, and if some day, trucks will be able to run on fuel that is basically pulled out of thin air and converted just a short time before it is needed to power the vehicles.
---
Renewable diesel
Why These Fleets Use Renewable Diesel FuelQuote: "Refiners make biodiesel from vegetable oils and/or animal fats, which they process through a method called transesterification."The article describes how one trucking company realized a "36% emissions reduction over the entire three-state fleet and lowered its overall costs."According to the article, "With the same chemical structure as petroleum diesel, fleets don't have to use blends; they can use 100% renewable diesel in engines that run on conventional diesel fuel."
---
Electric vehicles
---
Autonomous vehicles
I am 100% opposed to truly driverless, self-driving, or autonomous commercial motor vehicles sharing the same roads at the motoring public, but share these articles to help you stay informed about the subject.
5. Regarding delivery, ALD, same-day delivery, state of emergency, HOS, supply chain, doubles, and COVID-19:
Delivery
---
ALD
---
Same-day delivery
---
State of emergency
One of the articles linked below states, "The executive order [issued by Georgia Gov. Brian Kemp] aims to soften many of the detrimental effects of the COVID-19 crisis that is still having impacts on the global supply chain."
However, there are no details on exactly:
which "detrimental effects" those are; or
why — after the so-called "pandemic" has been going on for two years — supply chain issues are just now a problem.
Furthermore on the 2020 list of Executive Orders issued in the State of Georgia, the one issued on March 14, 2020 — entitled "Declaring a Public Health State of Emergency for Novel Coronavirus (COVID-19)" — addresses commercial motor vehicles and their drivers a number of times.
So, I'm puzzled over this.
Here are some of the most recent articles on this subject:
---
HOS (Hours of Service)
---
Supply chain
---
Doubles
---
COVID-19
6. Regarding inspections, Roadcheck 2022, and staged:
Inspections
I hope that the Texas governor got what he was after.
---
Roadcheck 2022
---
Staged
7. Regarding age, technology, chips, flatbed, drugs, and fire:
Age
---
Technology
---
Chips
---
Flatbed
---
Drugs
Never ever haul illegal drugs, no matter how much you are offered.
---
Fire
There have been reports of an increasing number of fires at food processing facilities, particularly in the USA.Please prepare yourself for tight food supplies in the days to come, per these posts:Telegram post 1Telegram post 2
8. Regarding shortage, economy, middle mile, last mile, and rates:
Shortage
---
Economy
---
Middle mile
---
Last mile
---
Rates
9. Regarding recall, roads, shippers, and weather:
Recall
---
Roads
---
Shippers
---
Weather
10. Regarding theft, fraud, and gambling:
Please don't take something that isn't yours — unless it is given to you by the owner.
Theft
---
Fraud
---
Gambling
11. Regarding mode, oil, operations, parking, and parts:
Mode
I have read other articles (including this one) about how some rail companies are refusing to haul fertilizer and Diesel Exhaust Fluid (DEF), so I wonder if the trucking industry is going to pick up the slack.
According to Wikipedia, "Diesel exhaust fluid (DEF; also known as AUS 32 and marketed as AdBlue[3]) is a liquid used to reduce the amount of air pollution created by a diesel engine. Specifically, DEF is an aqueous urea solution made with 32.5% urea and 67.5% deionized water. DEF is consumed in a selective catalytic reduction (SCR) that lowers the concentration of nitrogen oxides (NOx) in the diesel exhaust emissions from a diesel engine.[4]"
I found a resource that answers my question (worded a little differently from #10 on the website list):
"What happens to the engine if the DEF Tank is empty?"
Meanwhile, here are some of the most recent articles on this topic:
---
Oil
---
Operations
---
Parking
---
Parts
12. Regarding recognition:
We recognize all truckers who helped out their fellow human beings in a time of need.
Thanks so much for your compassion!
My husband Mike and I wish you — and all professional truck drivers — safe travels and lots of money saving opportunities on the road.
---
---

Return from TDMST Weekly Round-Up: 2022.04.23 to our TDMST Weekly Round-Up Trucking Commentary or our Truck Drivers Money Saving Tips home page.
---