This is the TDMST Weekly Round-Up of news affecting professional truck drivers, written by Vicki Simons for the week ending April 17, 2021.
We welcome your comments, thoughts and feedback on the items of your choice below.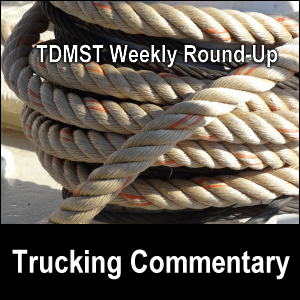 1. Regarding apps, accidents, and staged:
Apps
It's time to quit blaming navigation apps for bad drivingIn answer to the two questions asked —

"Is it fair to blame tech companies for not including truck-specific information in navigation apps, especially when they make it clear they are for passenger vehicles only? How did truckers survive before phone apps were available?"

— no, it isn't fair to blame tech companies for routing errors caused by truckers!

That's why we have consistently recommended that truckers buy and use a truckers atlas.

We also have an as-of-yet unclaimed Amazon gift card for the first trucker who can prove to our satisfaction that his/her CMV-specific GPS unit routed him/her to a low clearance within the lanes of travel on a truck route.

Save yourself the cost of your truck, your things in your tractor, your trailer, the freight in the trailer, the cost of towing and clean-up, the cost of legal expenses, and the potential loss of your job by NOT getting involved in a situation that could have been avoided by using the right routing tools!
---
Accidents
---
Staged
2. Regarding economy, ports, rates, and consumer:
Economy
---
Ports
Please don't let the fact that ports are booming make you take shortcuts or go so quickly that you make mistakes.
---
Rates
---
Consumer
3. Regarding drugs, clearinghouse, and smuggling:
Drugs
---
Clearinghouse
---
Smuggling
Never ever treat people like freight — no matter how much money you've been promised!
Be especially cautious near the U.S.-Mexico border.
It's a good idea to keep a lock on the back of your trailer all of the time so that no one gains unauthorized entry.
4. Regarding autonomous vehicles and electric vehicles:
Autonomous vehicles
Because I do not at all favor driverless, self-driving or autonomous vehicles, I am sharing these articles as a courtesy to help you stay up-to-date on the advances in technology and within the trucking industry.
---
Electric vehicles
5. Regarding scams, theft, and violence:
Scams
Please be aware of and speak out against these and other types of scams that can impact truckers and trucking companies.
---
Theft
Please help to stop crime, including the types of theft reported here.
---
Violence
I deplore unjust violence and urge you to help prevent it whenever you can and wherever you are.
6. Regarding employment, insurance, lease, and VMT:
Employment
I know that the way employment statistics are calculated change over time.
I would like to know how many total people in the USA are unemployed, not just the number of "jobless claims."
---
Insurance
Be aware that insurance spreads the risk.
However, insurance is guided by — among other things — laws and regulations.
Some people who make insurance-related laws and regulations for the trucking industry may not understand everything they need to know, so whenever you have the opportunity to educate them, please do.
---
Lease
---
VMT
Please be aware that a Vehicle Miles Traveled (VMT) tracking device is a back door method of control.
7. Regarding operations, carbon, commercialization, impatience, and fuel:
Operations
---
Carbon
In my March 27, 2021, issue of TDMST Weekly Round-Up, I went into more detail about carbon.
Among the things I said was, "the quest to have a 'carbon tax' is, in effect, a tax against humanity and other organic life forms."
Perhaps these articles will help you learn more.
---
Commercialization
The fight against commercializing rest areas is most often done by those who have businesses off the road nearby.
In the past, I have suggested putting up for bid every so often the opportunity to set up a business at a rest area.
It is a trucker's choice to go elsewhere for sustenance or other products and services.
---
Impatience
Please watch out for — and to the best of your ability, avoid driving around — impatient four-wheelers like the one video recorded in this article.
---
Fuel
8. Regarding inspection, safety, and hazmat:
Inspection
If you are always prepared for a thorough truck inspection, then blitzes like Roadcheck won't bother you so much.
---
Safety
Never drive while you're under the influence of drugs or alcohol.
---
HazMat
If you routinely haul hazardous materials, please be aware of the following…
9. Regarding roads and infrastructure:
Roads
---
Infrastructure
Perhaps this has been said before now, but the "infrastructure" bill that Mr. Biden is pushing is being called the "American Jobs Plan" — as though the "jobs" come first and the "infrastructure" comes second.
Even so, the first article linked below states, "On April 12, the White House released facts sheets for each state, the District of Columbia, and Puerto Rico. The fact sheets highlight each state's needs for investments that are proposed in the American Jobs Plan."
Please see these articles for more information.
10. Regarding parking and regulations:
Parking
---
Regulations
11. Regarding recalls, taxes, and technology:
Recalls
---
Taxes
---
Technology
12. Regarding assisting, and recognition and awards:
Assisting
We commend the trucker who helped police and hope that he is able to quickly repair his rig.
---
Recognition and Awards
We recognize and appreciate the unselfishness of truckers who have helped others.
We encourage eligible truckers to apply for any and all trucking awards.
We further congratulate those truckers who have earned recognition.
My husband Mike and I wish you — and all professional truck drivers — safe travels and lots of money saving opportunities on the road.
---
---
Return from TDMST Weekly Round-Up: 2021.04.17 to our TDMST Weekly Round-Up Trucking Commentary or our Truck Drivers Money Saving Tips home page.
---