TDMST Weekly Round-Up 2022.08.06 is the trucking commentary on news affecting professional truck drivers, written by Vicki Simons for the week ending August 6, 2022.
We welcome your comments, thoughts and feedback on the items of your choice below.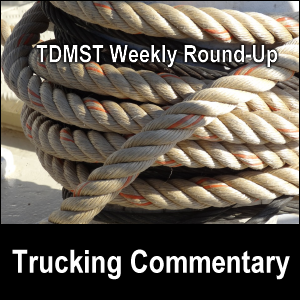 1. Regarding AB5, accidents, and fatalities:
AB5
I shouldn't be surprised that the truckers who protested AB5 in Oakland are now being sued.
What legal recourse do they have?
Feel free to comment through the form below.
---
Accidents
Please review these articles to see how the accidents described could have been prevented.
In the second article from the bottom, there is an embedded video which I've watched numerous times.
The author of the article made it seem like the accident was the fault of the four-wheeler.
I counted 5 seconds from the time the four-wheeler made his/her intentions clear that he/she was moving over and when the trucker could have backed off and given the motorist room.
I consider this accident totally preventable by the trucker!
---
Fatalities
We extend our deepest sympathies to the families of those who died.
2. Regarding autonomous vehicles, electric vehicles, fuel, and emissions:
Autonomous vehicles
I am 100% opposed to the use of autonomous vehicles, driverless, or self-driving commercial motor vehicles on the same roads as the motoring public, but share these articles as a courtesy to help you stay informed on the topic.
---
Electric vehicles
---
Fuel
---
Emissions
Quote from article:
Teams that were developing engines knew they couldn't meet targets and felt so pressured they falsified test results, Ogiso said. That led to more deception, as workers covered up their wrongdoing.
This makes me wonder if any other kind of data that is used in the transportation industry has been "faked."
3. Regarding economy, rates, and capacity:
Economy
---
Rates
---
Capacity
4. Regarding inspections, brakes, and safety:
Inspections
If you keep yourself and your truck in perpetual readiness for an inspection, you'll never be caught off-guard.
---
Brakes
---
Safety
5. Regarding technology and drones:
Technology
---
Drones
I include this section because drones are an option to deliver lower-weight objects.
Perhaps the items that can be delivered by drones are those that truckers don't want to haul.
What are your thoughts about the use of drones?
Please comment through the form below.
6. Regarding operations, HOS, weather, and fire:
Operations
---
HOS
---
Weather
---
Fire
To learn about the direct and indirect costs of smoking, please review the information on this page of our site:
Truckers, Quit Smoking to Save Your Money and Improve Health
7. Regarding pay, tolls, rates, employment, and issues:
Pay
---
Tolls
---
Rates
---
Employment
---
Issues
8. Regarding legal, smuggling, and border:
Legal
---
Smuggling
Never, ever agree to haul people as if they were cattle or cargo, no matter how much you are promised.
---
Border
9. Regarding prevention, supply chain, and sustainability:
Prevention
---
Supply chain
---
Sustainability
10. Regarding taxes, business, and HHVUT:
Taxes
---
Business
---
HHVUT
11. Regarding roads and parking:
Roads
Road closures can affect your Hours of Service, your delivery appointments, your fuel stops, and much more.
Depending on which routing software you use, it may or may not take into account road closures.
So, please be prepared.
---
Parking
12. Regarding recognition and awards:
We recognize those who helped their fellow human beings in a time of need.
We congratulate those who achieved a milestone or were awarded for their skill.
My husband Mike and I wish you — and all professional truck drivers — safe travels and lots of money saving opportunities on the road.
---
---

Return from TDMST Weekly Round-Up: 2022.08.06 to our TDMST Weekly Round-Up Trucking Commentary or our Truck Drivers Money Saving Tips home page.
---