This is the TDMST Weekly Round-Up of news affecting professional truck drivers, written by Vicki Simons for the week ending March 27, 2021.
We welcome your comments, thoughts and feedback on the items of your choice below.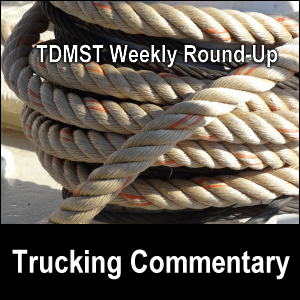 1. Regarding aerodynamics, maintenance, and technology:
Aerodynamics
---
Maintenance
---
Technology
2. Regarding autonomous vehicles, electric vehicles, and fuel:
Autonomous vehicles
I am adamantly opposed to self-driving, driverless or autonomous vehicles, but am sharing these articles as a courtesy to help you stay current on the most recent developments.
---
Electric vehicles
---
Fuel
3. Regarding chips, ELDs, emissions, carbon, and events:
Chips
The shortage of chips is hurting more than the vehicle markets.
Why isn't some alternative being created?
Are vehicle manufacturers going to be forced to go back to making cars without a lot of computers in them?
And what about ELDs? Do they have chips in them? Hmm…
---
ELDs
Canadian truckers, please bear in mind your deadlines regarding ELDs for truckers in your country.
---
Emissions
---
Carbon
Please bear in mind that:
Therefore, the quest to have a "carbon tax" is, in effect, a tax against humanity and other organic life forms.
---
Events
My husband Mike and I were looking forward to going to the NACV show this year, but after we got their email saying that attendees had to wear a face mask, we made the decision not to go.
This madness of requiring people to restrict the oxygen they breathe in — and trap carbon dioxide and other debris inside a face mask that will lead to sickness and disease — has got to stop!
4. Regarding accidents, inspections, distractions, and nuclear verdicts:
Accidents
Please learn from these accidents and strive never to get into the same situations.
---
Inspections
Always be ready for an inspection — at any time.
---
Distractions
---
Nuclear verdicts
5. Regarding classification, employment, clearinghouse, and drugs:
Classification
---
Employment
---
Clearinghouse
---
Drugs
6. Regarding reflections, economy, consumers, and COVID-19:
Reflections
Let the reader beware that these may be propaganda pieces that have nothing to do with freedom and liberty.
Please practice discernment.
---
Economy
---
Consumers
---
COVID-19
If you research information from VAERS (Vaccine Adverse Events Reporting System), you will find that thousands of people have died and tens of thousands of people have had adverse reactions following getting a COVID-19 jab.
Also, please be aware of one of the articles listed below states that some COVID-19 "vaccines" are fake.
I have also become aware that due to the "Emergency Use Authorization" (EUA) nature of these "vaccines" — and the clear consent given by those receiving them — some life insurance companies may not pay out upon a covered recipient's death.
I read on Friday, March 26, 2021, of one fitness center (location unknown) that was going to turn away those who had received the vaccination — at least in part due to their insurance not covering that.
Again, remember that you can always delay taking an injection, but once you receive it, you may never again be the same.
Focus instead on boosting your God-given immune system, so that you will be more likely to survive a virus that you are more than 99% likely to recover from anyway.
7. Regarding parking and drop zones;
Parking
I wish that lawmakers would get smart and provide for truck parking adjacent to industrial parks!
---
Drop zones
These sound like a great idea!
8. Regarding supply chain, mail, and tires:
Supply chain
---
Mail
News that mail may take longer to get from Point A to Point B will simply push parcels — and even some letters — to be sent through alternative services.
---
Tires
9. Regarding politics and VMT:
Politics
---
VMT
Keep watching for more of this "pay for what you use" type services.
10. Regarding tolls, taxes, and inflation:
Tolls
---
Taxes
---
Inflation
After at least 3 COVID-19 "stimulus" payments having been made — and the money supply having increased greatly — be watching for inflation to escalate into hyperinflation.
If there was ever a need for truckers to look for more income — perhaps a second income — it is now.
11. Regarding snow and weather:
Snow
Below the listing for this article, please see the listed resources on our website.
TDMST articles about snow on trailer roofs:
---
Weather
12. Regarding awards:
My husband Mike and I congratulate all professional truck drivers who have achieved safety milestones or earn some kind of recognition in their field!
My husband Mike and I wish you — and all professional truck drivers — safe travels and lots of money saving opportunities on the road.
---
---
Return from TDMST Weekly Round-Up: 2021.03.27 to our TDMST Weekly Round-Up Trucking Commentary or our Truck Drivers Money Saving Tips home page.
---