This is the TDMST Weekly Round-Up of news affecting professional truck drivers, written by Vicki Simons for the week ending October 29, 2022.
We welcome your comments, thoughts and feedback on the items of your choice below.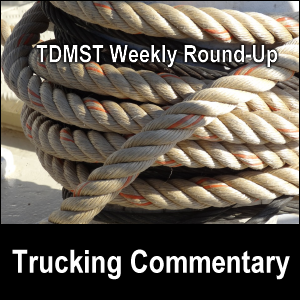 1. Regarding diesel availability, recession, economy, comments, and fees:
Diesel availability
I am amazed that trucking publications are not covering this topic as well as other media sources are.
I am hopeful that the situation will be corrected as soon as possible!
Please also see the "supply chain" section below…
If this situation concerns you, please call your federal elected officials, whose contact info is here:
---
Recession
This is the first week in quite some time that I've seen so many articles about the poor economic conditions in the USA being referred to as a recession (or possible one).
Please prepare yourself and others about whom you care.
---
Economy
The articles in this section address some aspect of the economy from the trucking industry's perspective.
---
Comments
As much as some truckers — and others — like to grumble on social media about things adversely affecting the trucking industry, it does no good if we're not expressing our feelings and perspective to those who can actually do something about it.
Our elected officials represent us, so please contact them — regularly — to make them aware of who you are and where you stand.
See the links above for info about how to reach them.
---
Fees
2. Regarding fuel costs, fuel, autonomous vehicles, and electric vehicles:
Fuel costs
The cost of fuel is a major sticking point in the transportation industry (including, but not limited to, trucking).
---
Fuel
---
Autonomous vehicles
I emphatically disagree with self-driving, driverless, or autonomous commercial motor vehicles sharing the same roads as the motoring public, but I share these articles to help you stay current with the topic.
---
Electric vehicles
Before you go out and buy an electric truck of any kind, please do your due diligence regarding such things as:
battery life;
recharging fees;
recharging station locations;
battery fires;
battery replacement costs;
environmental aspects of battery procurement;
range of miles per charge;
the effect of loads, terrain, and temperature on batteries;
and more.
Meanwhile, here are some of the most recent articles about electric vehicles.
For further reading on this subject, please see the 7-part series starting here:
Back to Energy's Future? — Part 1
3. Regarding accidents, fatalities, legal, drugs, and smuggling,:
Accidents
Please review these articles about accidents and see what you can glean so that you are not involved in the same kind of set-up yourself.
Regarding the last article in the section just above, based on what I saw in the video, it looked like the motorist was gaining on passing the trucker at a pretty good clip, meaning that even though the trucker had his left turn signal on, he (the trucker) was the one at fault for starting to merge when there wasn't room.
Do you agree or disagree?
Please comment through the form below.
---
Fatalities
We extend our deepest sympathies to the families of those who died.
---
Legal
Please learn from these articles how to protect yourself and your rig.
---
Drugs
Never ever attempt to haul illegal drugs, no matter how big of an incentive you're offered.
---
Smuggling
Never ever haul illegal aliens in your tractor or trailer, no matter how much you're offered.
4. Regarding AB5, border, broker, and ESG:
AB5
California AB 5 Law: Many Challenges, No Easy Solutions (link no longer online)
In my opinion, there is a fix for AB5: rescind, repeal, or overturn it.
But it will require many, many people who live in the state of California putting continual pressure on their state-level elected officials to get that done.
---
Border
---
Broker
---
ESG
Just so that you understand the big deal of "ESG" — and why it must be resisted with all of our might — please read/watch what's in these resources:
5. Regarding ELDs, technology, and business:
ELDs
---
Technology
---
Business
6. Regarding FMCSA, HOS, regulations, emissions, and shortage:
FMCSA
---
HOS
---
Regulations
California Lawmakers Seek to Phase Out Diesel Big Rigs (link no longer online)
---
Emissions
---
Shortage
It has been said over and over again that there is no shortage of those who have active CDLs in the USA, but that there is a problem with retaining qualified truckers in the trucking industry.
If that is true, then trucking companies need to make the positives for truckers staying in trucking so much larger than the negatives that make them want to leave.
7. Regarding inspections, insurance, maintenance, recalls, and operations:
Inspections
If you keep yourself and your rig in a state of perpetual readiness for an inspection, you'll never be caught off-guard.
---
Insurance
---
Maintenance
---
Recalls
---
Operations
8. Regarding Daylight Saving Time, issues, safety, and saving:
Daylight Saving Time
I personally wish that we could get rid of Daylight Saving Time across the entire USA.
---
Issues
---
Safety
---
Saving
9. Regarding winter, weather, and roads:
Winter
---
Weather
---
Roads
10. Regarding tires, tolls, and theft:
Tires
---
Tolls
---
Theft
11. Regarding speeding, supply chain, and returns:
Speeding
---
Supply chain
---
Returns
12. Regarding recognition, awards and freebies:
Recognition
We recognize those who helped their fellow human beings in a time of need.
---
Awards
We congratulate professional truck drivers who have achieved a milestone or level of excellence in their trucking jobs.
---
Freebies
Veterans Day 2022 — November 11 — falls on a Friday in 2022.
Some truck stops may offer freebies to truckers who are veterans on that day or that weekend.
You may want to be prepared to show identification to prove that you are a veteran before asking for a freebie associated with this holiday.
My husband Mike and I wish you — and all professional truck drivers — safe travels and lots of money saving opportunities on the road.
---
---


Return from TDMST Weekly Round-Up: 2022.10.29 to our TDMST Weekly Round-Up Trucking Commentary or our Truck Drivers Money Saving Tips home page.
---